Our State Of Wellness In Consumer & Retail report highlights solutions focused on promoting well-being, from mental health to financial wellness. We break down what these trends mean for 2021 and beyond.
Wellness was already gaining momentum before the pandemic, and 2020 has only brought it into sharper focus. Drastic changes to how we live and work, the constant threat of infection, and economic uncertainty have put the spotlight on how individuals can maintain and improve all aspects of their well-being. 
Going forward, wellness solutions — from fitness tech to mental health platforms — will become increasingly relevant as the world reopens and people begin to adjust to new realities. 
In this report, we highlight the wellness trends that are set to influence the consumer and retail industries in 2021. These trends and solutions are expected to persist as the pandemic eventually subsides.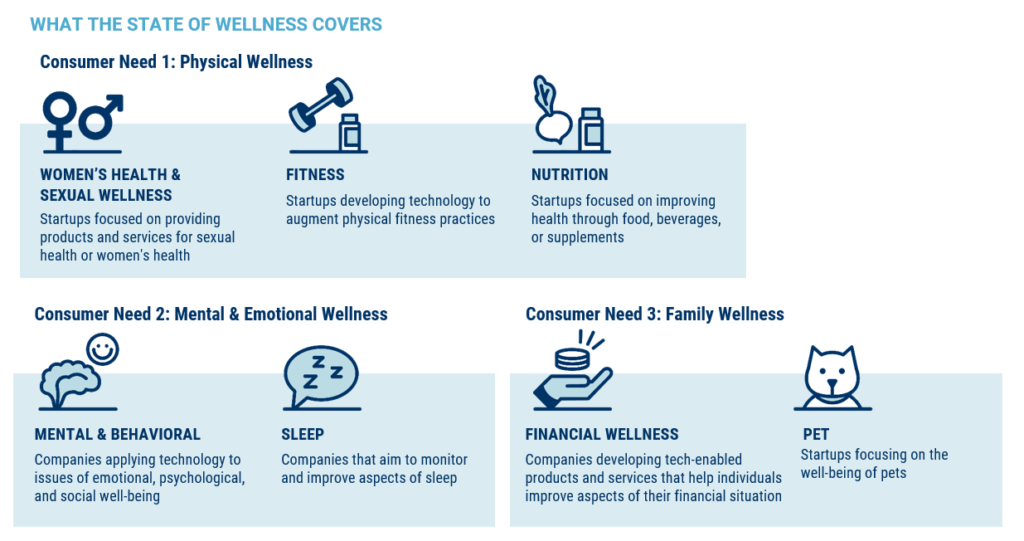 REPORT HIGHLIGHTS
Fitness tech leads mega-rounds and carries momentum into 2021.

Despite a decline in deal activity, fitness tech saw record funding in 2020, largely driven by mega-rounds ($100M+ deals). Since Q3'20, fitness tech has raised 10 mega-rounds totaling $2.4B.  

Employee mental health comes into the spotlight.

Mental health and financial wellness platforms designed for workers are raising new funding, with several companies reaching unicorn status ($1B+ valuation) in 2021.

Telehealth connections are becoming crucial for many forms of wellness.

One of the greatest enablers of at-home wellness solutions has been telehealth, which is being utilized for therapy, vet visits, and more. 

Wellness categories previously considered taboo are gaining traction.

Psychedelics for mental health treatment, CBD supplements, and sexual wellness products and services are increasingly being seen as normalized components of health and wellness.