Our State Of Wealth Tech report features data-driven insights from our emerging tech insights platform. We take a look at global wealth tech investment trends in key wealth management verticals, M&A activity, top deals, and more.
Wealth tech saw one of the largest quarters on record in Q1'21 across deals, funding, exits, and mega-rounds.
In this report, we look at what drove the quarter's $5.6B funding boom and explore key trends across robo-advisors, retail investing platforms, personal finance management apps, and wealth management software providers.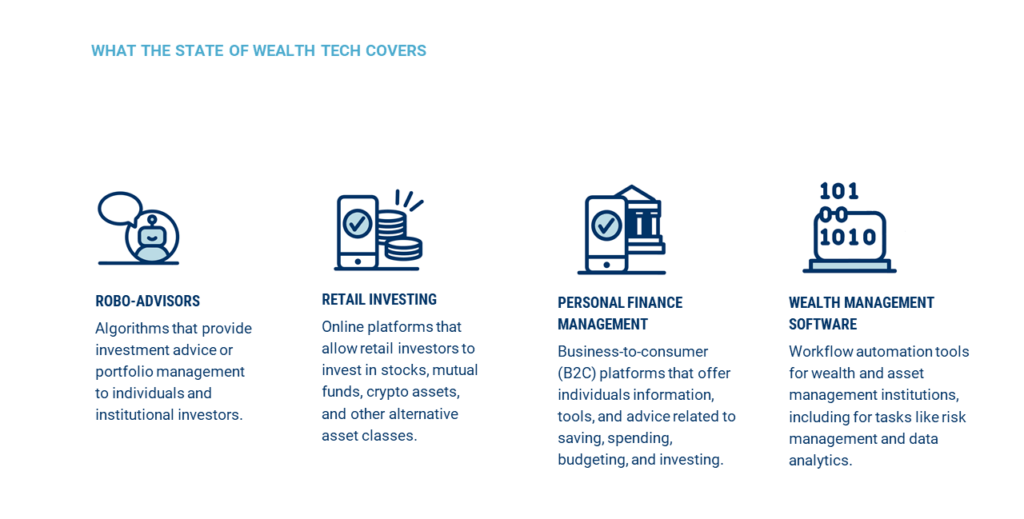 Report Highlights:
Wealth tech funding hit an all-time high. Q1'21 funding to wealth tech companies has already set an annual record with $5.6B raised, exceeding 2020's total year-end wealth tech funding ($5.2B). A total of 86 wealth tech deals took place in Q1'21, the highest ever level of deal activity in a single quarter.
Mega-rounds dominate Q1'21 wealth tech funding. A total of 9 mega-rounds ($100M+ deals) drove the majority of wealth tech funding in Q1'21, accounting for 83% of total funding but just 10% of the Q1'21 wealth tech deals.
The retail investing boom continues in the aftermath of the pandemic. Personal finance & investing apps leveraged growing demand to raise new funding rounds in Q1'21, accounting for 6 of the top 10 deals raised in the quarter. Among them, Robinhood raised a total of $3.4B, making up over 60% of all Q1'21 wealth tech funding.
Asia saw the largest quarter-over-quarter (QoQ) percentage increase in funding, followed by North America and Europe. Wealth techs based in Asia saw a 2,893% increase in funding between Q4'20 and Q1'21, having raised a total of $449M in Q1'21. North America-based wealth techs raised $4.7B in Q1'21, marking a 562% jump from Q4'20. Europe-based wealth techs raised $316M in Q1'21, marking a 170% QoQ increase.
If you aren't already a client, sign up for a free trial to learn more about our platform.