This report analyzes emerging trends across wealth management technology using the CB Insights NExTT framework.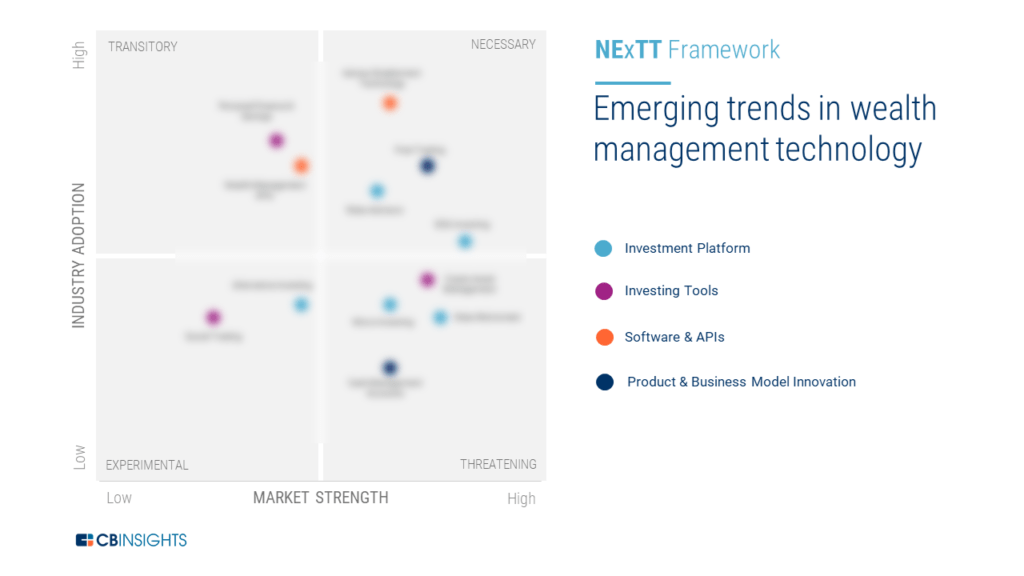 What's next for wealth tech?
CB Insights analyzed 12 emerging trends across wealth management, ranging from alternative investing to free trading.
Using the NExTT framework, we looked at the industry adoption and market strength of these wealth tech trends, categorizing them as necessary, experimental, transitory, or threatening (NExTT). The framework educates businesses about emerging trends and helps guide decisions.
FREE DOWNLOAD: STATE OF FINTECH q3'21
43 fintech unicorns were born in Q3'21, bringing the total to 206 — twice the Q3'20 count. Download the report to learn more.
Report highlights include:
Robo-advisors are improving the customer experience for investors, resulting in customers transitioning from traditional to online platforms.
Free trading is driving rapid customer adoption among millennials, leading to higher trading volumes.

Micro investing platforms are using fractional investing to promote their brands and boost customer loyalty.

Wealth management APIs are making it easier for wealth tech startups to integrate customer financial data onto their platforms.
Download the report to see how all 12 trends will shape the industry in 2020.