The global venture ecosystem continues to cool off in Q1'23 as funding decreases 13% quarter-over-quarter.
Following a bleak 2022, global venture funding and deals continued to fall in the first quarter of the year.
Using CB Insights data, we dug into the latest trends in the world of venture capital, including:
Global venture funding continues to slide in Q1'23, despite Stripe's $6.5B deal
Every major region sees a double-digit drop in funding in Q1'23, except for the US
The unicorn birth rate is at its lowest level in 6 years, with just 13 unicorns emerging in Q1'23
The median deal size for late-stage rounds falls sharply, dipping below the median mid-stage deal size
Quarterly IPOs fall by 47%, hitting their lowest level in almost a decade
Let's dive in.
---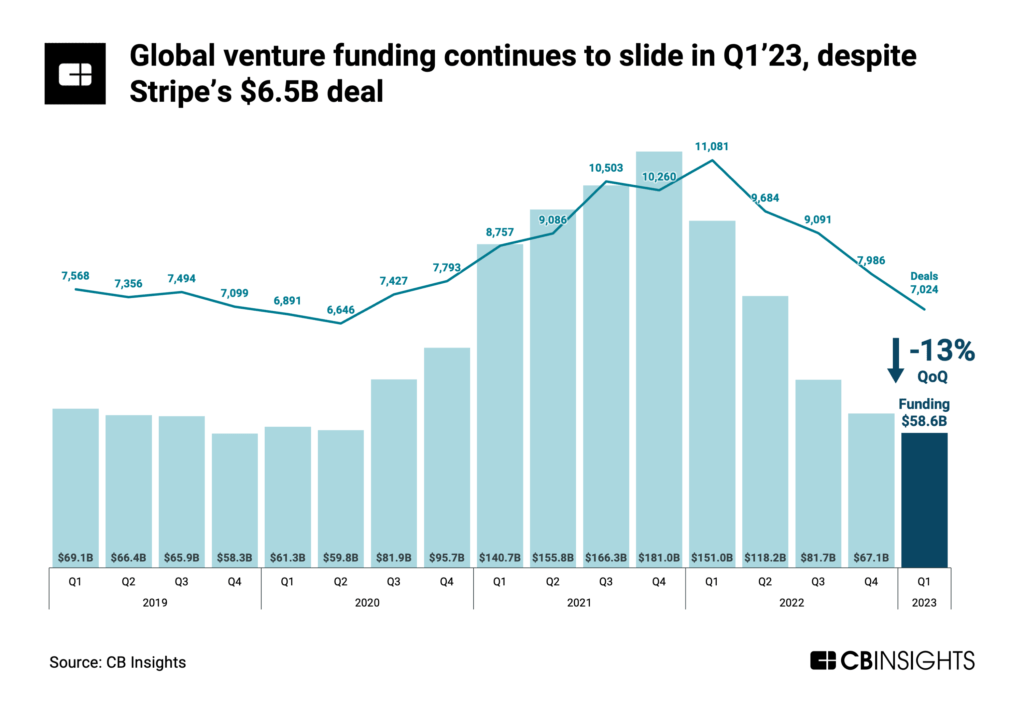 Global venture funding reached $58.6B in Q1'23, a 13% drop quarter-over-quarter (QoQ). This is a slower rate of decline compared to Q4'22 and Q3'22, which saw drops of 18% and 31%, respectively.
However, Stripe's enormous $6.5B round accounted for 11% of the quarter's total funding haul. Excluding Stripe's round, the global funding level would show a 22% drop, suggesting that the underlying pace of the venture slowdown is not abating.
Deal activity also tumbled — for the fourth consecutive quarter. There were 7,024 deals closed in Q1'23, a 12% decline from the previous quarter and the lowest tally since Q2'20.
---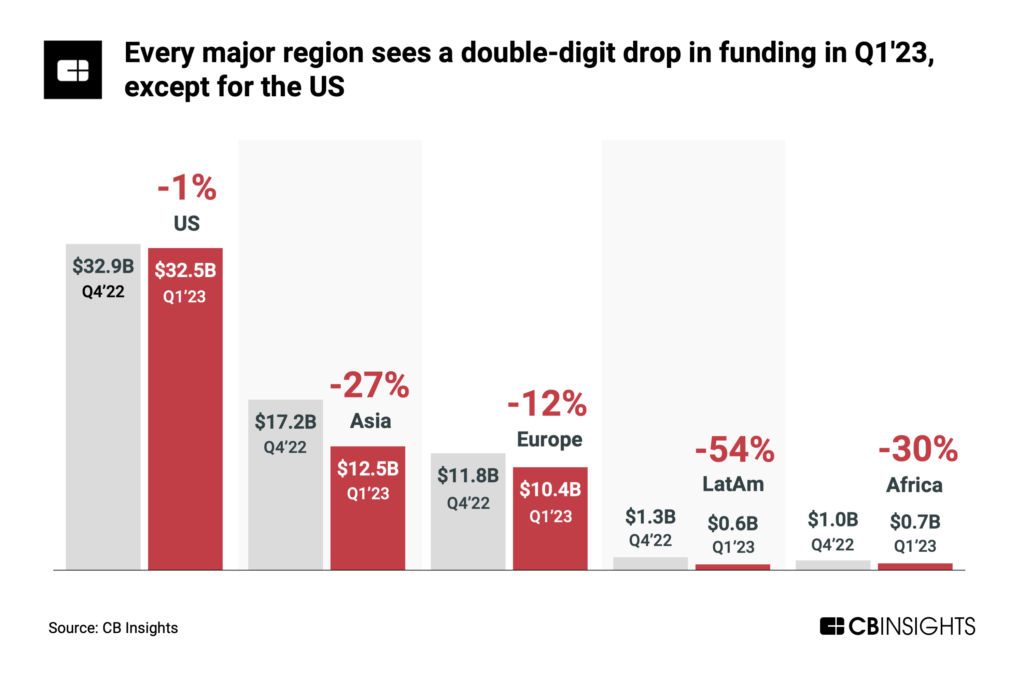 Almost every region saw double-digit QoQ drops in funding in the first quarter of the year. Latin America saw the largest QoQ drop in funding at 54%, with only $0.6B raised in Q1'23. Asia saw funding fall by 27% to $12.5B while funding to Europe-based companies fell by 12% to $10.4B.
In contrast, US funding was more stable in Q1'23, dropping by just 1% QoQ to $32.5B. However, without Stripe's exceptional $6.5B round, the US would have seen a funding decline of 21%, signaling that no region is immune to the ongoing venture slowdown.
All major regions also saw their deal count drop in Q1'23. US-based startups accounted for 36% of all deals so far this year — the biggest share of any region — followed by Asia with 34%.
---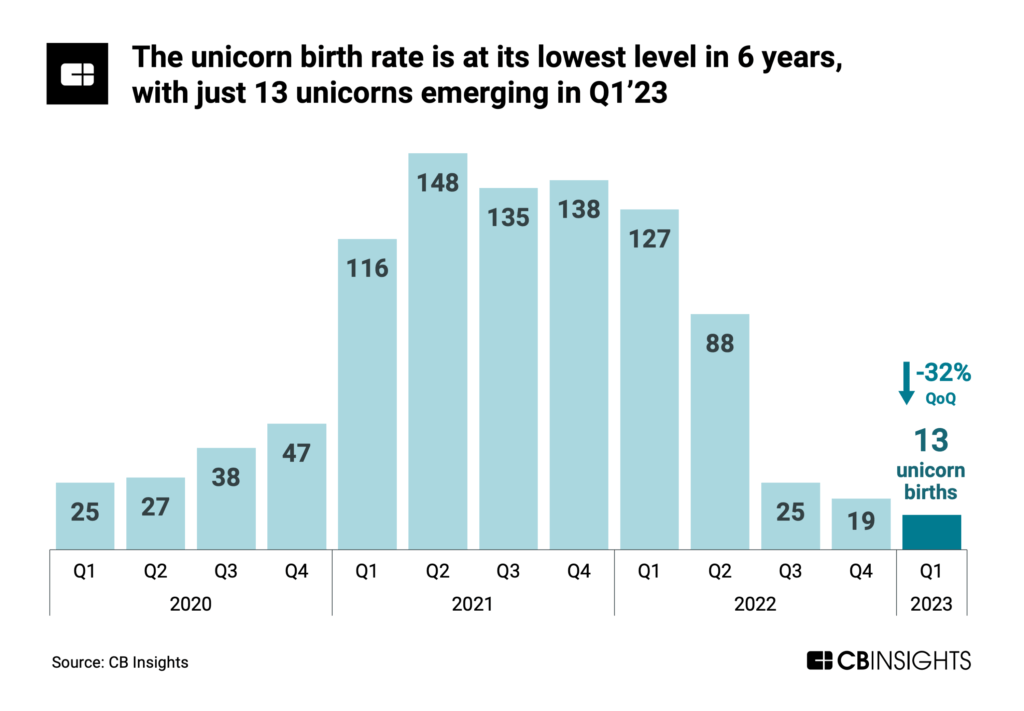 Q1'23 saw the birth of only 13 unicorns (companies valued at $1B+), a 32% drop QoQ and the lowest quarterly level in 6 years. While it's becoming rarer for startups to reach unicorn status, AI companies appear to have a better chance than most — 4 of the 13 new unicorns were AI developers:
While unicorn births saw sharp drops in most major regions in Q1'23, new unicorns in the US held steady QoQ at 8. Meanwhile, unicorn births in Europe dropped by 85% to only 1 in Q1'23. Asia saw 2 new unicorns, a 33% drop QoQ.
---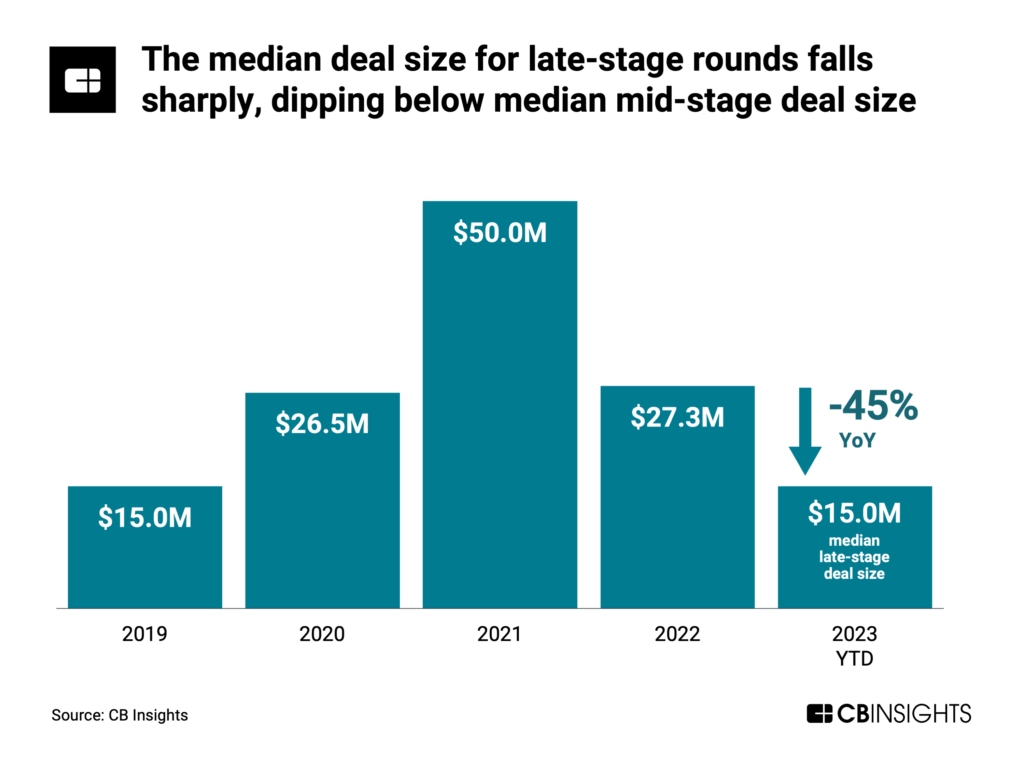 As investor concerns mount over bloated valuations and tepid public markets, late-stage companies are facing challenges raising new rounds.
The median deal size for late-stage rounds dropped steeply in Q1'23, plummeting by 45% from $27.3M in 2022 to $15M — the same median late-stage deal size as 2019, and actually below the median mid-stage deal size in Q1'23 ($17M, a 36% fall QoQ).
Early-stage rounds were much more stable — median deal size only fell by 8% to $2.2M for this category.
Late-stage rounds also accounted for a smaller share of deals overall. At just 8%, the deal share for late-stage rounds is at its lowest level in a decade. Early-stage rounds, in contrast, accounted for 2 out of every 3 deals in the quarter — reflecting the current investor preference for early-stage opportunities.
---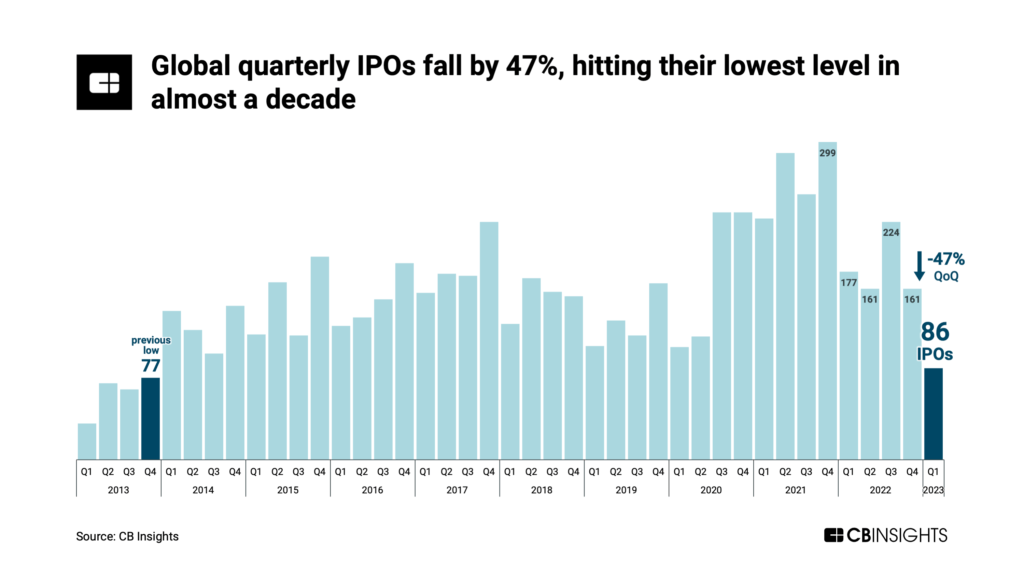 Amid ongoing inflation, rising interest rates, weak stock market performances, and the current banking crisis, more startups are delaying their public debuts. The numbers reflect their hesitation — Q1'23 only saw 86 IPOs, a 47% fall QoQ and the lowest total since Q4'13.
Asia saw 56 IPOs in Q1'23, down 58% QoQ. Despite the sharp drop, IPOs in the region still accounted for 65% of the global total, and the top 10 global IPOs by valuation were all China-based companies. Meanwhile, the US saw a 33% QoQ increase in IPOs to reach a tally of 16, and IPOs in Europe stayed steady at 11.
M&A deals showed signs of stabilizing, increasing slightly QoQ to 2,146. Europe saw the most M&A activity in Q1'23 with 40% of these deals, while the US accounted for 38%.
---
CB Insights clients can see all the latest investment data by signing in and downloading the full State of Venture Q1'23 Report using the sidebar.