The global venture ecosystem experiences a sharp pullback in 2022, with funding dropping by 35% from 2021.
Global venture funding reached $415.1B in 2022, marking a 35% drop from a record 2021. The funding slowdown was especially severe in the second half of the year, with Q4'22 funding clocking in at $65.9B — down 64% YoY to return to pre-Covid levels.
US-based companies accounted for just under half (48%) of all funding and 34% of all deals in 2022. Some of the country's largest rounds in Q4'22 went to Anduril, Form Energy, and NetSPI.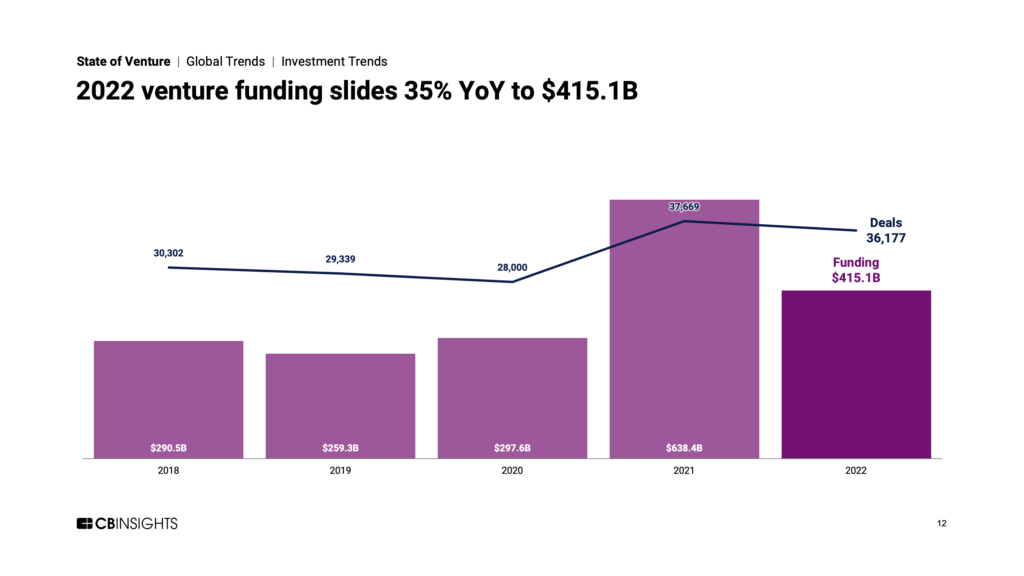 Other 2022 highlights across the venture ecosystem include:
US venture funding hit $198.4B in 2022 — down 37% from 2021, but up 31% when compared to 2020. Deals to US-based startups dropped 7% YoY to reach 12,141.

Global IPO count dropped by 31% in 2022 to 716. M&A deals also took a hit, dropping by 8% to 10,037. SPAC deals saw the largest drop among exits types in 2022, falling by 44% from their peak in 2021 (140) to 78. ​

Unicorn births steadily declined throughout 2022, sinking to a low of 19 new unicorns in Q4'22 — an 86% drop compared to Q4'21.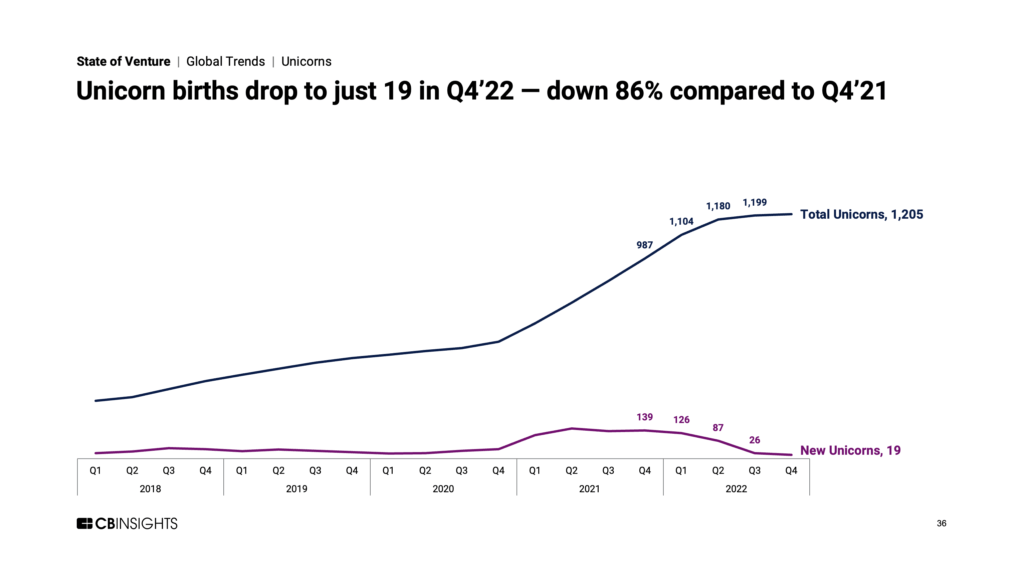 $100M+ mega-rounds collectively accounted for $190.1B in funding in 2022, marking a 49% drop from 2021. The number of global mega-rounds dropped by 42% to 923 in 2022.​

Digital health funding saw the sharpest YoY drop among sectors analyzed, falling by 57% to hit $25.9B across 2,122 deals in 2022. Digital health was the only sector where both funding and deals in 2022 dropped below 2020 levels.

Fintech funding also continued to contract. Fintech companies raised $10.7B across 972 deals in Q4'22, marking an 18% drop QoQ and a 16-quarter low.

Africa-based companies raised $991M in Q4'22 — a 164% jump QoQ. On an annual basis, Africa drew $3.1B in funding in 2022 — a new annual record for the continent.
Download the full State of Venture 2022 Report to dig into all these trends and more.
If you aren't already a client, sign up for a free trial to learn more about our platform.