PwC and CB Insights' Q3 2018 MoneyTree report highlights the latest trends in venture capital funding globally.
REPORT HIGHLIGHTS:
US FUNDING INCREASES, DEAL ACTIVITY DECLINES, IN Q3'18
Dollars were up 17% in Q3'18 as $27.5B was invested across 1,229 deals. Deal activity declined for the first time since Q4'17.


GLOBAL FUNDING INCREASED SLIGHTLY IN Q3'18, WITH DEALS DECLINING
Global funding ticked up 2% to $53B. Deals declined compared to Q2, reflecting fewer, bigger deals in the US.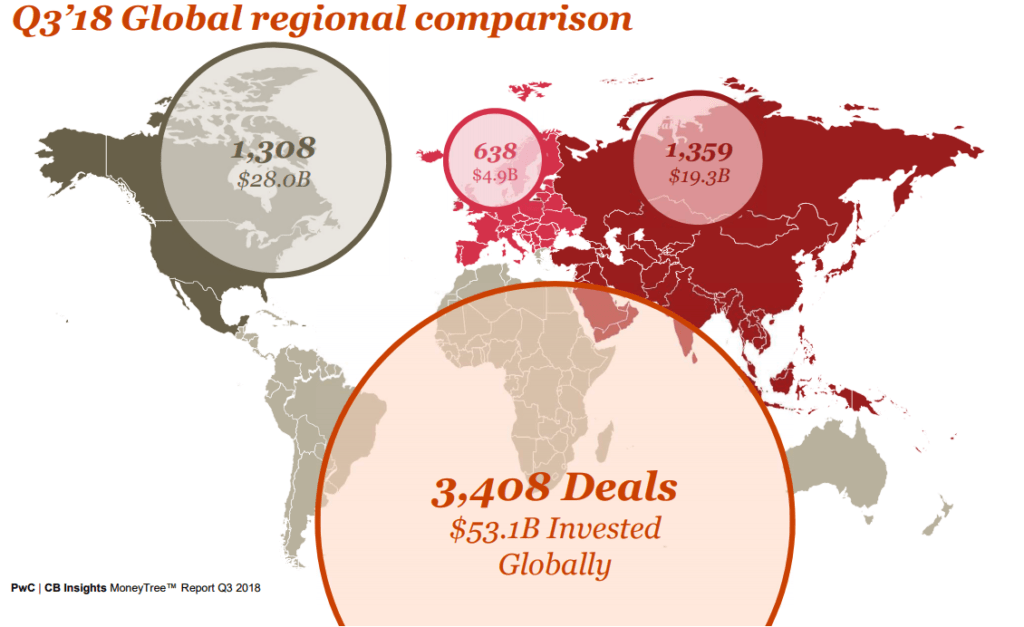 NORTH AMERICA AND ASIA DOMINATE IN THE NUMBER OF NEW UNICORNS
North America and Asia both saw large increases in the number of private companies newly valued at $1B+. The rise of new unicorns comes amidst a 27% decline in US tech IPOs in Q3'18.


If you aren't already a client, sign up for a free trial to learn more about our platform.