PricewaterhouseCoopers and CB Insights' Q3 2017 MoneyTree report highlights the latest trends in venture capital funding globally.
To see the most recent MoneyTree Report, click here: Q1 2018
REPORT HIGHLIGHTS:
OVERALL DEAL AND DOLLAR TOTALS IN LINE WITH Q2'17
US VC-backed companies saw $19B in total funding, invested across 1,207 deals. Deals were even with last quarter, but down 6% over the same quarter last year.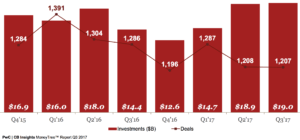 GLOBAL DOLLARS BREAK $40B AGAIN
Deal activity increased 3% in Q3'17, as $42B was invested across 2,645 deals to VC-backed companies globally. This represents a 4% decrease in total funding vs. Q2'17 but remains 47% greater than Q1'17.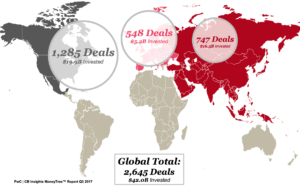 UNICORN BIRTHS DECLINE IN NORTH AMERICA
North America saw 5 companies joining the ranks of private companies valued at $1B or more, down from 10 the quarter prior. Asia saw 6 companies become unicorns, for the second quarter in a row.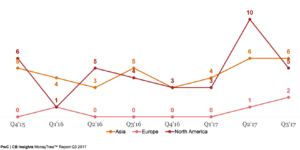 If you aren't already a client, sign up for a free trial to learn more about our platform.