Omnichannel payment solutions have seen significant market momentum and noteworthy industry leader activity in the payment acceptance space — making them a technology worth prioritizing.
Clients can download the full Payment Acceptance Methods for Vendors report at the top left sidebar. 
Payments leaders are increasingly investing in tech-enabled payment acceptance methods that have integration capabilities, more secure transactions, and enable a faster customer checkout experience.
Using CB Insights data, we examined tech markets across payment acceptance methods for vendors and ranked them across two metrics — market momentum and industry leader activity — to help companies decide whether to monitor, vet, or prioritize these technologies.
FREE DOWNLOAD: STATE OF FINTECH Q1 2022
q1 2022 brought a -18% decline in quarterly fintech funding. Download the report to learn more.
Omnichannel payments earned a recommendation to prioritize based on the market's high market momentum and industry leader activity.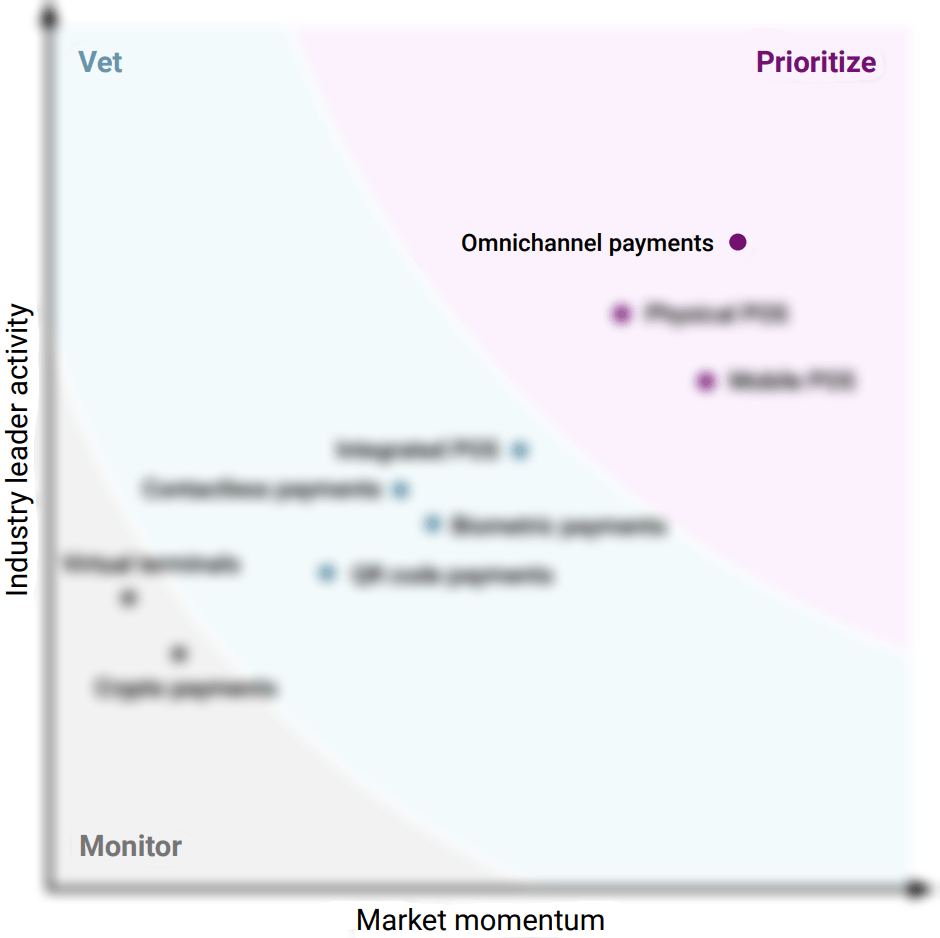 Companies in this space provide comprehensive payment processing solutions that allow businesses to accept payments through multiple channels including online, mobile, or in-store.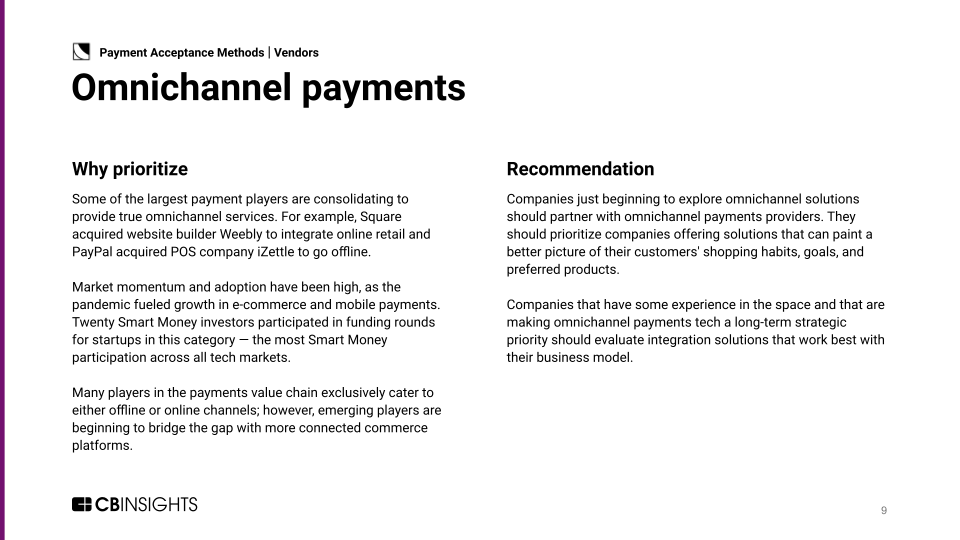 Market momentum and adoption have been high, as the pandemic fueled growth in e-commerce and mobile payments. Twenty CB Insights Smart Money investors participated in funding rounds for startups in this category — the most Smart Money participation across all tech markets.
Companies just beginning to explore omnichannel solutions should partner with omnichannel payments providers. They should prioritize companies offering solutions that can paint a better picture of their customers' shopping habits, goals, and preferred products.
Facts & figures: omnichannel payments
Top-funded companies: Top-funded companies in the space include Stripe ($2.7B in disclosed equity funding), Pine Labs ($1.1B), and NewStore ($183M).
Funding: Omnichannel payment solutions companies evaluated in this report have raised $3.7B since 2017 (as of 5/19/2022).
Geography: While the majority of deals in this space go to companies based in the US (45%), India (36%) and Sweden (10%) also attract a number of deals.
Clients can dive into omnichannel payments and more in our complete MVP Technology Framework: Payment Acceptance Methods for Vendors report.