Venture funding in the US holds steady — down just 1% quarter-over-quarter — boosted by Stripe's massive $6.5B raise.
Venture funding in the US reached $32.5B in Q1'23 — down 1% QoQ. However, without Stripe's exceptional $6.5B round, the US would have seen a funding decline of 21%.
Deal volume was relatively resilient in the quarter, falling just 3% QoQ — from 2,616 deals to 2,532 deals. This still marks the lowest level since Q2'20.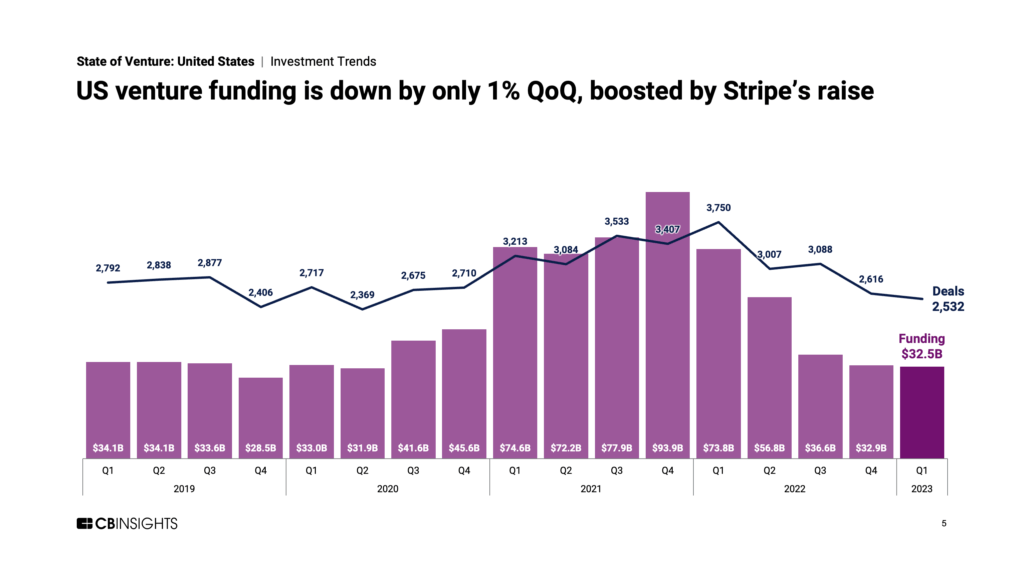 Highlights across the US venture ecosystem in Q1'23 include:
Three of the top 10 deals went to AI developers, with a focus on generative AI. Anthropic raised a $400M corporate minority round from Google, followed by a $300M Series B round. Adept raised a $350M Series B round.
Q1'23 saw 16 companies go public via IPO in the US — 4 more than the 12 seen in Q4'22 — pointing to a potential thaw in the IPO market. M&A exits and SPACs, on the other hand, declined by 4% and 38%, respectively.
SOSV, a16z, and Gaingels maintained their rankings as the top 3 investors in Q1'23, investing in 42, 36, and 26 companies, respectively.
Silicon Valley funding nearly doubled to reach $14.5B in Q1'23 after dropping for 4 consecutive quarters. Deals also climbed to 573, marking a 17% increase QoQ. Among US metros, Dallas saw the largest QoQ jump in funding at 250%, while Austin saw 33% growth.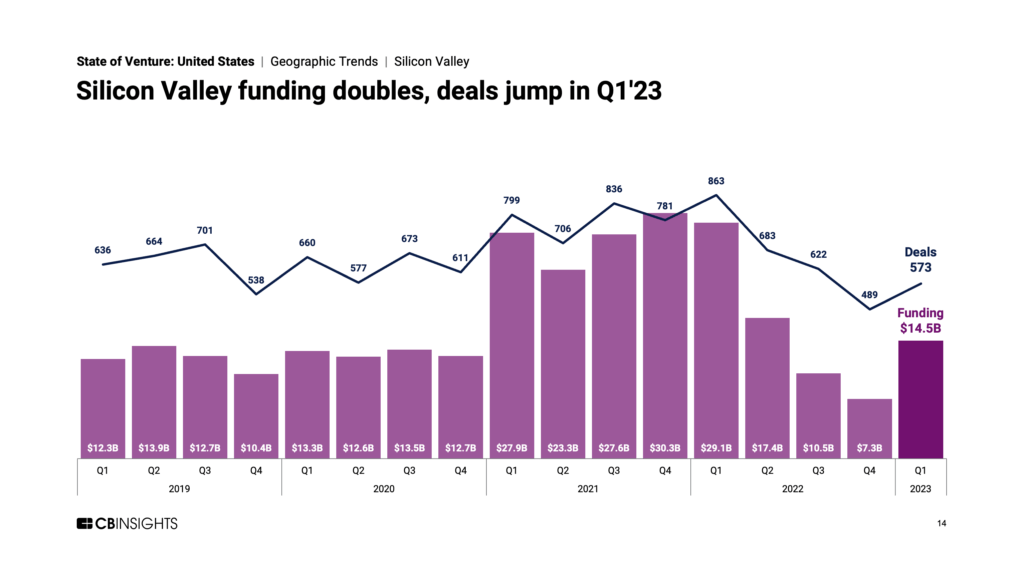 CB Insights clients can see all the latest investment data for the US by signing in and downloading the full State of Venture Q1'23 Report: US using the sidebar. Dig into investment trends from around the world in our global State of Venture Q1'23 Report.