Proliferating super apps. Immortality-as-a-service. The rise of consumer robots. Smell goes digital. Here are the top tech trends poised to reshape industries in 2023.
Inflation. Interest rates. Supply chains. Market volatility. Projected growth.
After 2022's countless shake-ups, many are hoping that the new year will usher in a renewed sense of dynamism — and maybe even optimism — in the tech world as "the new normal" shifts once again.
If nothing else, the coming year will certainly prove that nothing in tech stays the same for long.
Markets will continue to shift profoundly as tech players adapt to a landscape where economic uncertainty looms large. But, at the same time, many spaces won't appear to slow down at all as remarkable advances emerge at a rapid clip.
Using the CB Insights technology intelligence platform, we analyzed signals like investment activity, executive chatter in earnings transcripts, media mentions, patents, and more to identify the top 11 tech trends to watch in 2023.
Our 59-page report digs into trends like:
Fintech startups adapt on the fly to contend with formidable market conditions
Incumbents move to lock in consumers with super app-level platforms
Ambient health monitoring will make it easier than ever to keep tabs on patients
Virtual power plants take off as more homes produce their own electricity
Tech will help regenerative agriculture become the new organic
Women's health tech companies turn their attention to menopause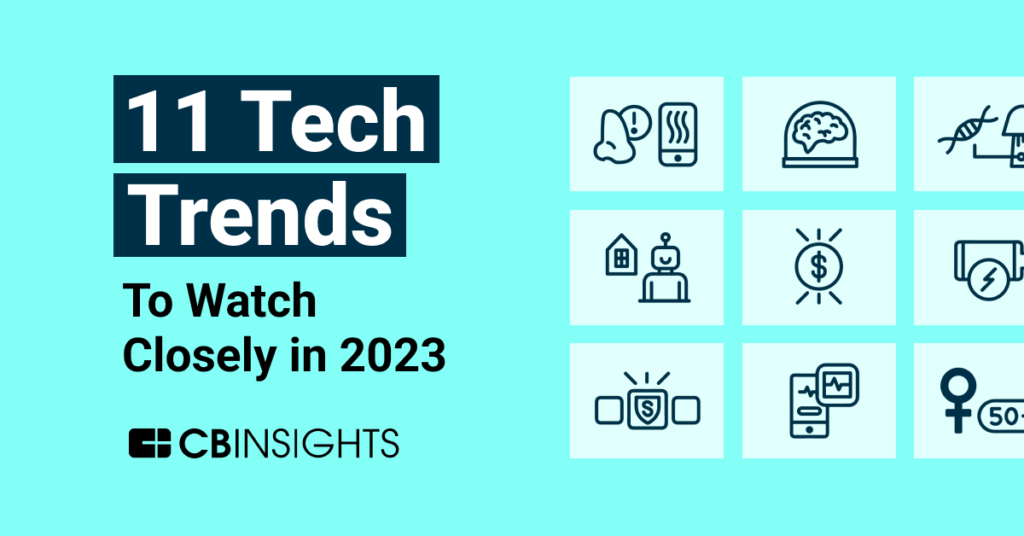 If you aren't already a client, sign up for a free trial to learn more about our platform.