Futuristic tech havens. The quantum time bomb. Psychedelic medicines. AI that can read your emotions. Here are the top tech trends poised to reshape industries in 2021.
From the mass adoption of telehealth to remote work, technology has moved front and center as every industry grapples with the effects and fallout of the Covid-19 pandemic.
download the 12 Tech Trends To Watch Closely In 2022 report
Download our full report to find out the top trends poised to reshape industries in 2022.
2021 will be a crucial year for the refinement and retooling of technologies, especially those that took the spotlight during the year of social distancing and lockdowns.
Using our emerging tech insights platform, we analyzed signals like patent and investment activity, executive chatter in earnings transcripts, media mentions, and more to identify the top 12 tech trends to watch in 2021.
Our 58-page report digs into trends like:
1. Quantum computers and cybersecurity threats
As powerful quantum computers like Google's first quantum computer emerge, businesses will need to secure data faster than these powerful computers can decrypt it. Major tech giants like IBM and Microsoft are developing new encryption methods to counter quantum computers.
2. AI technologies
Businesses can prioritize using machine learning and artificial intelligence that can interpret and respond to human emotions as companies look to connect with consumers. For example, companies like Amazon's Halo health and fitness tracker uses artificial intelligence technologies (voice analysis and machine learning) to analyze and determine emotions based on the user's energy level or how positive they sound.
3. Technology to usher a psychedelic medicine movement
Tech companies and pharma are accelerating clinical research of psychedelic medicines and their health effects. For example, companies like Cybin and Kernel are partnering to measure brain activity during psychedelic experiences.
4. Exclusivity in social media
Exclusivity helped Facebook in its early days. Today, invite-only networks like Clubhouse and Discord are quickly becoming the future of social media.
5. Digital worlds: The digital transformation of malls
Shared virtual spaces that are commonly used for gaming (or by blockchain Ethereum-based Decentraland users) can help transform storefronts into digital malls and change how we shop and interact with people and businesses.
6. Cryptocurrency rewards
Retailers are implementing rewards programs that use crypto rewards (or blockchain and cryptocurrency) as an alternative to the traditional point of cash-based rewards and loyalty programs. For example, rewards platforms like Lolli allows brands to offer consumers cash back in bitcoin.
To get more insight on each trend and discover all 12 technology trends of 2021, download our in-depth 58 page report of the top tech trends to watch closely in 2021.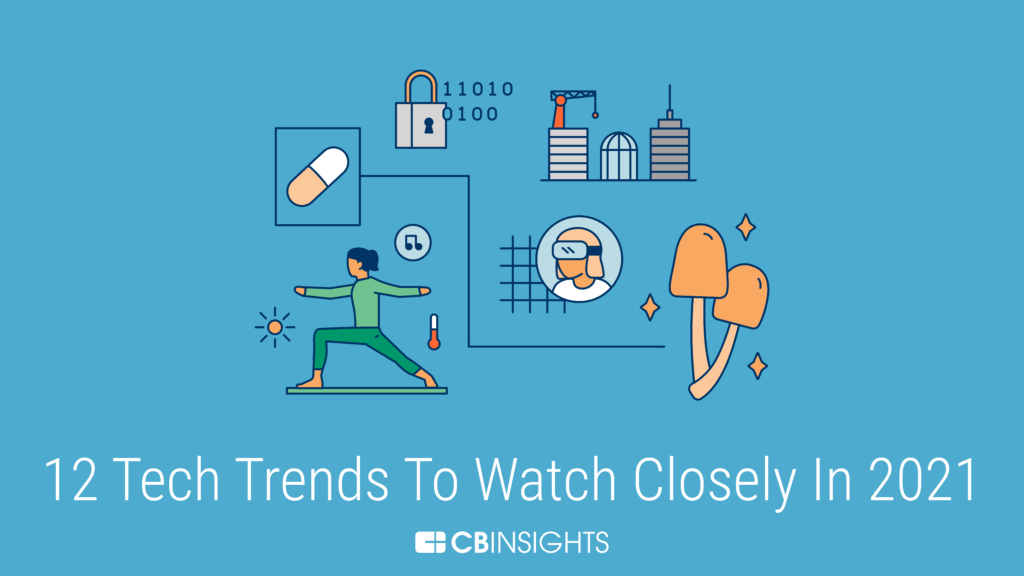 If you aren't already a client, sign up for a free trial to learn more about our platform.