The Insurtech 50 is CB Insights' annual list of the 50 most promising private insurtech companies in the world. This year's inaugural winners are using technology to improve all aspects of the insurance value chain – from customer acquisition to underwriting and claims – for a variety of different insurance products.
CB Insights has unveiled the winners of the first annual Insurtech 50 — a list of the 50 most promising private insurtech companies across the globe.
Some of this year's winners are aiming to provide a better digital insurance experience for customers looking to buy life, health, and P&C insurance products. Others are developing technology to help insurers improve their underwriting, claims, distribution, and other internal operations — empowering them to provide a better insurance experience. 
Using the CB Insights platform, our research team picked these 50 private market vendors from a pool of over 2K companies, including applicants and nominees. They were chosen based on factors including R&D activity, proprietary Mosaic scores, market potential, business relationships, investor profile, news sentiment analysis, competitive landscape, team strength, and tech novelty. The research team also reviewed hundreds of Analyst Briefings submitted by applicants.
Clients can access the entire Insurtech 50 list and interactive Expert Collection here. (If you don't have a CB Insights login, create one here.)
Companies are categorized by their primary focus area and client base. Categories in the market map are not mutually exclusive. Please click to enlarge.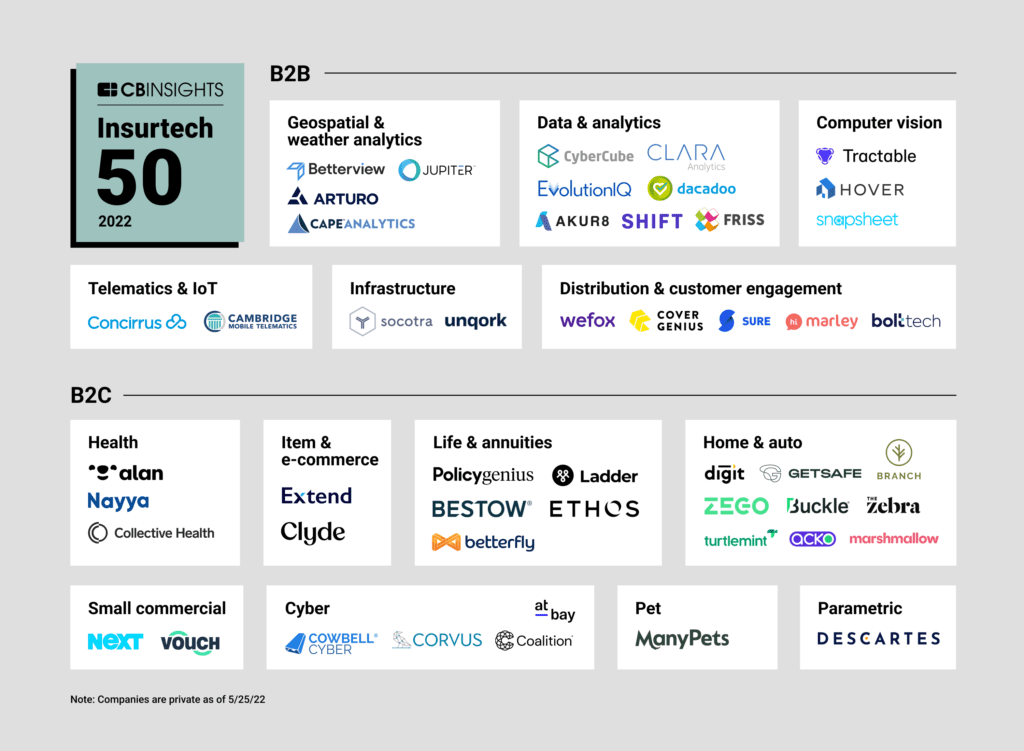 Want to be considered for future rankings? Fill out this initial application form (it'll take no more than a few minutes). If selected, you'll be asked to complete our Analyst Briefing Survey so that our analysts can better understand your products, customers, and market traction.
TOP INSURTECH COMPANIES 2022: INSURTECH 50 COHORT HIGHLIGHTS
We split this year's cohort into 2 broad categories:
B2B: Twenty-three winners operate in the B2B space, meaning they sell technology to (re)insurers and insurance brokers. Companies in this section are using new data, advanced analytics, and other emerging technologies to drive efficiencies and better customer experiences in insurance and risk management operations.

B2C: Just over half of the Insurtech 50 cohort are considered B2C companies, meaning they sell insurance products and services directly to customers (i.e., individuals or businesses buying an insurance policy). While business models may differ — as some companies in this group underwrite policies themselves while others act more as agents or lead gen intermediaries on behalf of other insurers — all companies in this section have a customer-facing value proposition.

 
Below are a few highlights from the Insurtech 50 Class of 2022.
Overall funding & valuation trends: The Insurtech 50 includes a mix of companies at different stages of maturity, product development, and funding.
Overall, the cohort has raised $11B+ from over 400 disclosed investors, across 215 equity deals, since 2017 (as of 6/10/22). In 2021 alone, companies from this cohort raised $5.5B across 55 deals. This year's list includes 20 unicorns with a $1B+ valuation. 
Global reach: This year's winners represent 10 different countries across the globe. Thirty-one of the selected companies are headquartered in the US. The United Kingdom came in second with 5 winners, followed closely by France with 4 winners and India with 3.
Other countries home to a winner/winners on this year's list include Germany, the Netherlands, Switzerland, Singapore, Chile, and Australia. (Note: This geographical breakdown does not account for companies with multiple global headquarters.)
Innovation at the earlier stages: Fourteen of our winners are Series A or Series B companies with promising product ideas.
To highlight a couple, EvolutionIQ brings together structured and unstructured internal claims data with external third-party data to enable insurers to handle claims more quickly and accurately. Paris-based Descartes Underwriting collects a variety of data — including satellite images, IoT sensor data, and sonar data — to build parametric insurance products for climate change-related perils.  
Most-represented categories: Among the categories highlighted on this map, home & auto holds the largest share of our winning cohort. The 9 companies featured in this category are focused on selling home and/or auto insurance directly to customers. While some offer their own insurance products (e.g., Branch, whose policies are reinsured by SCOR), others like The Zebra enable customers to shop and compare products from a variety of different insurers. 
On the B2B side, data & analytics holds the largest share of our winning cohort. The 7 companies featured in this category are focused on obtaining new data and building advanced analytical models to help insurers better understand their customers and the risks they face. Companies in this space like dacadoo are building out health scores enabling life insurers to better underwrite, and some like CLARA Analytics even recommend the right lawyer to minimize workers' compensation litigation costs.
If you aren't already a client, sign up for a free trial to learn more about our platform.