The Fintech 100 is CB Insights' annual list of the 100 most promising private fintech companies in the world. This year's winners are working on A2A payments, spend management automation, embedded finance, and more.
CB Insights has unveiled the winners of the sixth annual Fintech 100 (previously the Fintech 250) — a list of the 100 most promising private fintech companies across the globe.
Three-quarters of this year's winners are B2B fintechs, including business spend management platforms, cross-border and real-time payment providers, and core banking and infrastructure platforms.
Additionally, 24 companies in this year's cohort are B2C, including challenger banks, mobile wallets, and retail investing platforms. 
Using the CB Insights platform, our research team picked these 100 private market companies from a pool of over 19K companies, including applicants and nominees. They were chosen based on CB Insights datasets — including equity funding, investor profiles, business relationships, R&D activity, news sentiment analysis, competitive landscape, proprietary Mosaic scores, and Yardstiq transcripts — and criteria such as tech novelty and market potential. The research team also reviewed thousands of Analyst Briefings submitted by applicants.
CB Insights clients can access the entire Fintech 100 list and interactive Expert Collection here.
If you are not already a CB Insights client, sign up for a free trial to analyze each winner's funding and valuation history, headcount growth, key competitors, and more.
Want to be considered for future rankings? Fill out this initial application form (it'll take no more than a few minutes). If selected, you'll be asked to complete our Analyst Briefing Survey so that our analysts can better understand your products, customers, and market traction.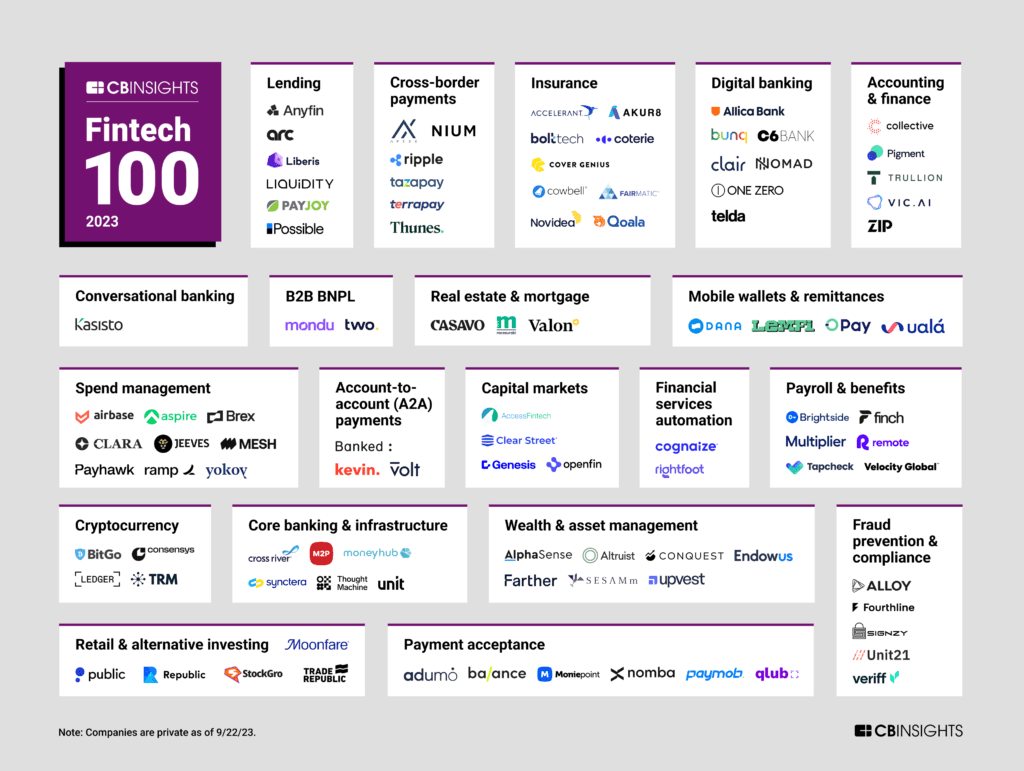 Companies are categorized by their primary focus area and client base. Categories in the market map are not mutually exclusive.
Please click to enlarge.
TOP FINTECH COMPANIES 2023: FINTECH 100 COHORT HIGHLIGHTS
Overall funding and valuation trends: The Fintech 100 includes a mix of companies at different stages of maturity, product development, and funding. The cohort has raised nearly $22B in equity funding across 381 deals since 2019 (as of 9/22/23). This year's list includes 31 unicorns (private companies with a $1B+ valuation).
Early-stage innovation: Twenty companies in this year's winning cohort are in early fundraising stages (seed/angel or Series A). Solutions from early innovators are being developed across categories, including B2B BNPL (Mondu and Two), account-to-account (A2A) payments (Banked and kevin.), and mobile wallets and remittances (DANA and LemFi).
Most represented categories: The cohort is broken down into 20 categories. "Spend management" and "insurance" are tied for the largest portion of this year's winners (9 companies each).
The spend management category is led by later-stage market leaders Brex and Ramp, which both launched generative AI product features this year. The category also includes two new winners in non-US markets: Singapore-based Aspire and Mexico-based Clara.
Insurance is one of the biggest categories for the second straight year. Eight out of the 9 insurtechs are B2B, including two insurance distribution platforms: repeat winner bolttech and new winner Cover Genius. 
Global reach: This year's winners represent 24 different countries across the globe. Forty-three percent of the selected companies are headquartered in the US — down from 53% last year. The UK comes in second with 12 winners, followed by Singapore with 7.
Additionally, some emerging markets stand out with multiple winners this year. For example, India has 3 winners, while Indonesia and Egypt each have 2.
Novel applications: Two of this year's winners are developing large language models purpose-built for financial services: conversational AI provider and returning winner Kasisto and financial document processing platform Cognaize.
Two winners in the wealth and asset management category, AlphaSense and SESAMm, have integrated generative AI into their market intelligence platforms for document summarization and extraction. 
Finally, within core banking and infrastructure, embedded finance platforms — like repeat winner Unit and an early-stage new winner Synctera — are growing quickly in the United States.
THE FINTECH 250 CLASS OF 2022: WHERE ARE THEY NOW?
The Fintech 250 2022 cohort has posted some notable accomplishments since October 4, 2022. Collectively, this cohort has seen:
$10B in equity funding across 64 deals — including Stripe's $6.5B round in March 2023.
14 mega-rounds (deals worth $100M+).
2 acquisitions: Uplift was acquired by another Fintech 250 winner, Upgrade, for $100M, and PolicyGenius was acquired by Zinnia.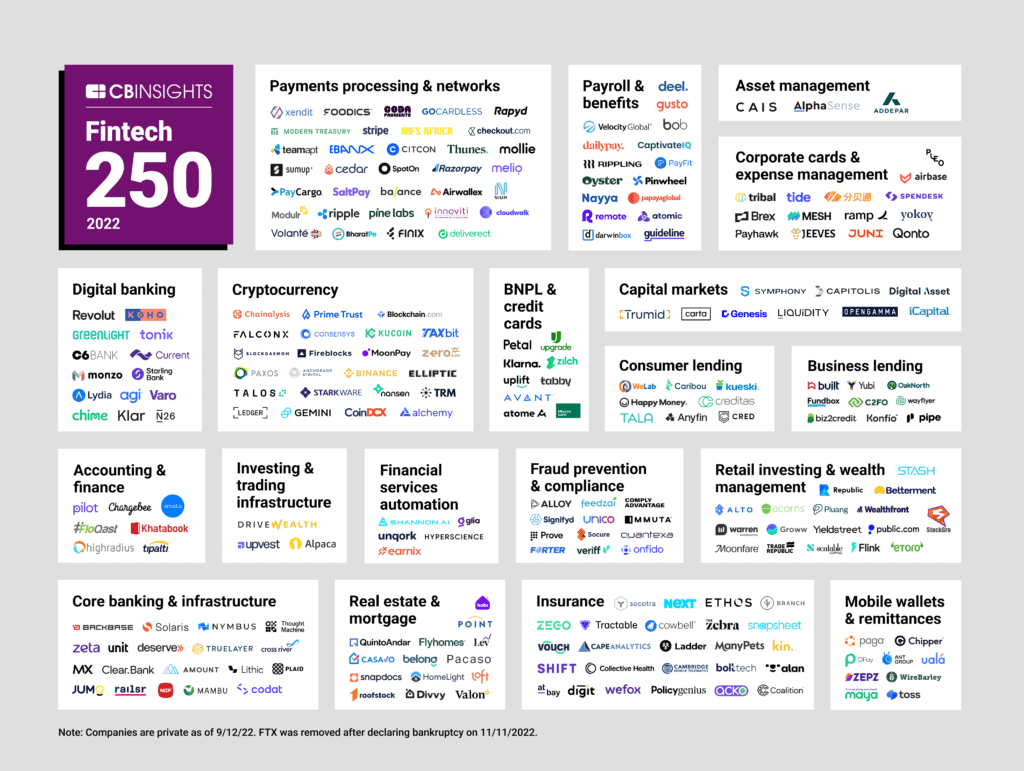 If you aren't already a client, sign up for a free trial to learn more about our platform.