The Fintech 250 is CB Insights' annual list of the 250 most promising private fintech companies in the world. This year's winners are shaping the future of B2B and B2C financial services, from payments and banking to investing and insurance.
CB Insights has unveiled the winners of the fifth annual Fintech 250 — a list of the 250 most promising private fintech companies worldwide. 
Some of this year's winners are building safer and more efficient ways to send and receive payments. Others are striving to make banking, loans, mobile wallets, and investing products available to historically underserved populations all over the world. 
Using the CB Insights platform, our research team selected these 250 winners from a pool of over 12,500 eligible private companies, including applicants and nominees. They were chosen based on factors including proprietary Mosaic scores, funding, market potential, business relationships, investor profile, news sentiment analysis, competitive landscape, team strength, and tech novelty. The research team also reviewed over 2,000 Analyst Briefings submitted by applicants. 
Clients can access the entire Fintech 250 list and interactive Expert Collection here. (If you don't have a CB Insights login, create one here.)
Companies are categorized by their primary focus area and client base. Categories in the market map are not mutually exclusive. Please click to enlarge.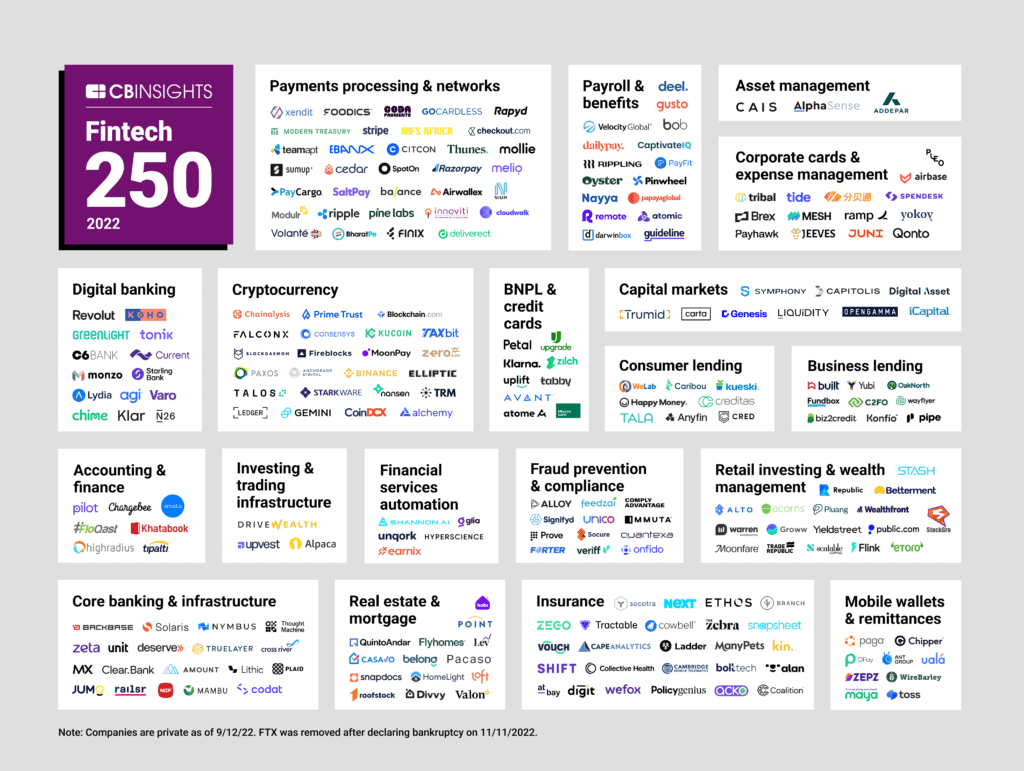 Want to be considered for future rankings? Fill out this initial application form (it'll take no more than a few minutes). If selected, you'll be asked to complete our Analyst Briefing Survey so that our analysts can better understand your products, customers, and market traction.
FINTECH 250 COHORT HIGHLIGHTS
Below are a few highlights from the Fintech 250 Class of 2022.
New vs. repeat winners: Nearly two-thirds (64%) of this year's cohort are repeat winners: 144 were on last year's list and 16 have made their way back onto the list after winning in a prior year. That leaves only 90 new winners (36% of the list), the fewest ever since we started the Fintech 250. 
Why is the new winner cohort so small? In the past, many winners would exit via IPO or M&A and lose eligibility for the list. Today, fintech leaders are staying private longer, especially amid this year's market turmoil. This has allowed them to retain their eligibility through multiple list rounds. Additionally, factors such as rising inflation, interest rate hikes, and struggling public tech stocks have made it more difficult for new entrants to make a splash in the already maturing fintech market. 
Some of the biggest names in the industry, like Stripe and Klarna, have certainly faced their fair share of obstacles, including layoffs and valuation cuts. But when analyzing the data — including revenue, number of customers and customer growth, partnerships, and equity funding — most of these better-established fintech leaders remain on top.
Global reach: Globalization is a key theme for this year's Fintech 250. The winners represent 33 different countries (by headquarters location) across the globe — 7 more than last year. Just over half (53%) of the selected companies are headquartered in the US, which is the fewest we've seen in the Fintech 250 since 2017. The UK came in second with 31 winners (12%), followed by India with 14 (6%), Brazil with 9 (4%), and Germany with 7 (3%).
Stemming from the broader theme of globalization comes localization — the practice of serving local markets and regions. This is a strong focus for winners in emerging markets like India, South America (11 winners, 4%), and Africa (6 winners, 2%).
For example, 3 of this year's first-time winners are building payment networks in Africa: MFS Africa, TeamApt, and Paga.
B2B vs. B2C: About two-thirds (64%) of this year's Fintech 250 are B2B, and 36% are B2C. The B2B-B2C split represents a broader shift in market sentiment away from consumer-facing fintechs. This has been driven in part by reports released this year citing the lack of neobank profitability as well as the visible struggle of public B2C fintech stocks like Robinhood, Coinbase, Affirm, and NuBank.
The largest B2B fintech winners by valuation are Stripe ($74B internal valuation), Checkout.com ($40B), Plaid ($13.5B), and Brex ($12.3B).
Most-represented categories: The fintech categories comprising the most winners are payments processing & networks with 33 (13%), insurance with 25 (10%), cryptocurrency with 24 (10%), core banking & infrastructure with 19 (8%), and retail investing & wealth management with 17 (7%).
This marks payments processing & networks' second straight year as the top category by number of winners. This category includes B2B providers of e-commerce and point-of-sale (POS) payments processing, APIs, payouts, cross-border payments, and more. It also tied with cryptocurrency for the most new winners at 11. Notable new Fintech 250 champions in the payments processing & networks space include card reader and POS system provider SumUp, gaming payments platform Coda Payments, and Brazil-based CloudWalk (the developer of POS solution InfinitePay).  
All but one of this year's insurance winners were also featured in our inaugural Insurtech 50, published in June 2022. The category includes companies selling insurance products and services directly to customers (i.e., individuals or businesses buying an insurance policy), like Digit Insurance in India and SMB-focused Next Insurance. It also includes companies like Cambridge Mobile Telematics and Shift, which sell technology to reinsurers and insurance brokers.
Despite the crypto market downturn this year, startups in the space still account for a significant share of this year's Fintech 250 list. Data on funding, top investor support, revenue, and business relationships still point to the long-term momentum of these companies. Notable players include crypto exchange Binance as well as Web3 infrastructure providers ConsenSys and Fireblocks.
Overall funding & valuation trends: The Fintech 250 cohort has raised over $115B in equity funding across over 1,100 deals since the start of 2017 (as of 9/20/2022). In 2021 alone, winners raised over $51B across 337 equity deals. That's an average of more than one funding round per company in a single year.
The top 3 winners by total equity funding raised since 2017 are Ant Group (who's had to delay an IPO due to Chinese government regulations), Klarna, and Chime.
This year's list includes 159 unicorns with a $1B+ valuation — almost two-thirds (64%) of the total list. While that stat definitely jumps off the page, it's a little less shocking when you consider that there were a total of 297 fintech unicorns in the world at the end of Q2'22.
Top investors: Tiger Global is the top investor in this year's Fintech 250 by a significant margin, having backed equity deals to 45 of the winners, including Stripe, Checkout.com, and Revolut, since 2017. Accel is second with 29 companies in its portfolio, followed by Ribbit Capital with 27.
Innovation at the earlier stages: Thirty-two (13%) of our winners are seed, Series A, or Series B startups.
To highlight a few, MoonPay provides fiat-to-crypto on- and off-ramps for crypto and NFT businesses, enabling them to accept traditional payment methods. International insurtech bolttech is building a global insurance exchange that connects insurers, distribution partners, and customers, to change the way insurance is bought and sold. Finally, StockGro is an India-based social investing app that allows users to invest virtual money to learn about stocks, play games, and win rewards.
THE FINTECH 250 CLASS OF 2021: WHERE ARE THEY NOW?
Since the start of October 2021, the 2021 Fintech 250 winners have posted a number of accomplishments, including: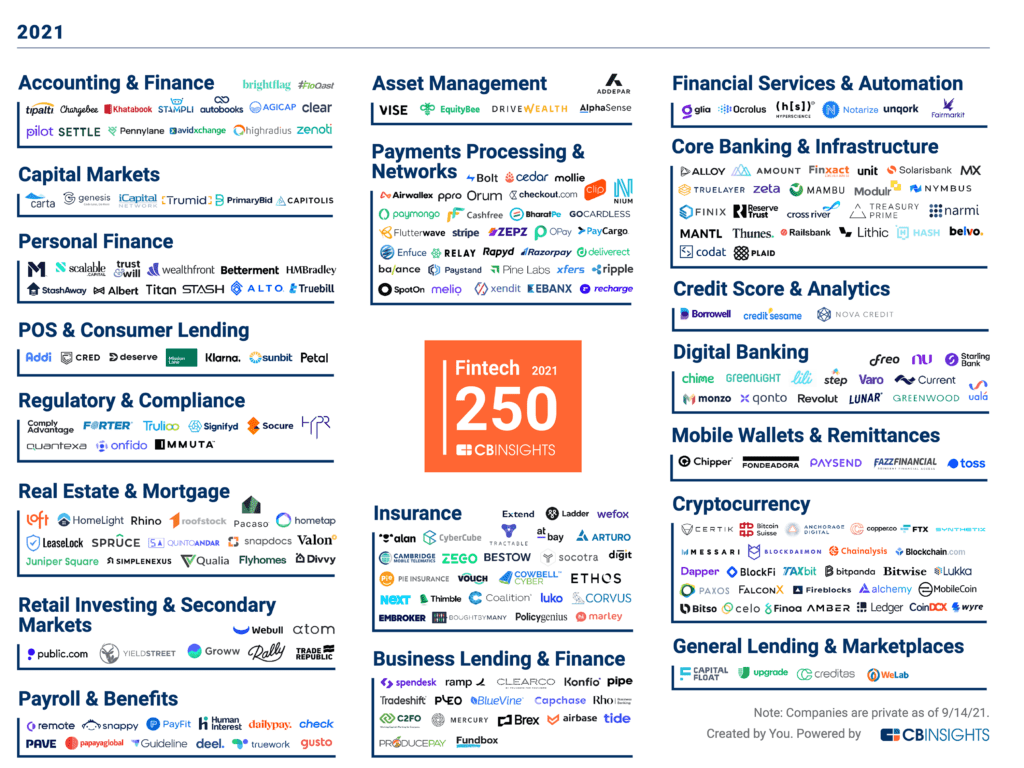 If you want to learn more about the Fintech 250 Class of 2021, check out the full list of previous winners.
If you aren't already a client, sign up for a free trial to learn more about our platform.