The Advanced Manufacturing 50 is CB Insights' annual list of the 50 most promising private advanced manufacturing companies in the world. This year's inaugural winners cover everything from factory analytics & artificial intelligence (AI) to industrial internet of things (IIoT) cybersecurity.
CB Insights has unveiled the winners of the first annual Advanced Manufacturing 50 — a list of the top private advanced manufacturing companies working to promote faster, safer, more efficient, and more sustainable R&D and production.
Some of this year's winners aim to provide robotic systems to help manufacturers increase productivity and reduce labor costs. Others are developing advanced analytics that will allow manufacturers to maximize the efficiency and quality of their processes, systems, equipment, and more.
Using the CB Insights platform, our research team picked these 50 private market vendors from a pool of over 6K companies, including applicants and nominees. They were chosen based on factors including R&D activity, proprietary Mosaic scores, market potential, business relationships, investor profile, news sentiment analysis, competitive landscape, team strength, and tech novelty. The research team also reviewed hundreds of Analyst Briefings submitted by applicants.
Clients can access the entire Advanced Manufacturing 50 list and interactive Expert Collection here. (If you don't have a CB Insights login, create one here.)
Companies are categorized by their primary focus area and client base. Categories in the market map are not mutually exclusive. Please click to enlarge.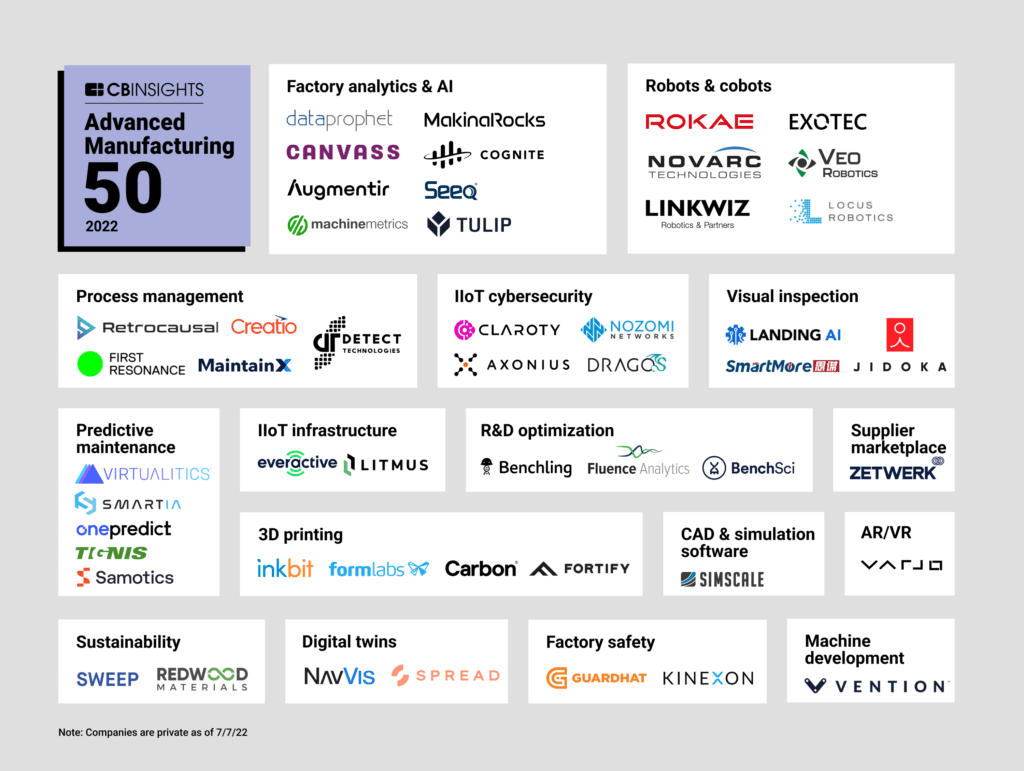 Want to be considered for future rankings? Fill out this initial application form (it'll take no more than a few minutes). If selected, you'll be asked to complete our Analyst Briefing Survey so that our analysts can better understand your products, customers, and market traction.
TOP ADVANCED MANUFACTURING COMPANIES 2022: ADVANCED MANUFACTURING 50 COHORT HIGHLIGHTS
Below are a few highlights from the Advanced Manufacturing 50 Class of 2022.
Overall funding & valuation trends: The Advanced Manufacturing 50 includes a wide range of companies at different stages of maturity, product development, and funding.
Overall, the cohort has raised $6.9B+ from 369 disclosed investors, across 177 equity deals since 2017 (as of 7/20/22). In 2021 alone, companies in this cohort raised over $3.7B across 46 deals. This year's list includes 12 unicorns with a $1B+ valuation.
Global reach: This year's winners represent 13 different countries across the globe. Twenty-seven of the selected companies (54%) are headquartered in the US. Germany and Canada tied for second, with 4 winners (8%) each.
Other countries home to at least one winner on this year's list include India, China, France, South Korea, Finland, Japan, the Netherlands, Norway, South Africa, and the United Kingdom. (Note: This geographical breakdown does not account for companies with multiple global headquarters.)
Top investors: The top investor in this year's cohort is Accel, as it has backed 5 winners since 2017. Insight Partners and next47 tied for second — each has backed 4 winners over the same time period. 
Innovation at earlier stages: Nineteen (38%) of our winners are Series A or Series B companies with promising product ideas.
To highlight a couple, Landing AI provides a platform designed to help industrial organizations create and deploy computer vision applications for visual inspection. South Africa-based DataProphet utilizes AI to collect data from across factory floor sources, like production equipment and internet of things (IoT) sensors, in order to find process efficiencies.
Most represented categories: Among the categories highlighted on this map, factory analytics & AI holds the largest share (16%) of our winning cohort. The 8 companies featured in this category are focused on developing analytics solutions that increase production efficiency, output, and quality for manufacturers. Companies like Seeq and MakinaRocks provide data-driven insights to guide process optimization, by leveraging AI and real-time production monitoring to analyze past and present data streams.
Robots & collaborative robots (cobots) came in second with 12% of our winning cohort. The 6 companies featured in this category offer robotic hardware and software solutions that support process automation and maximize worker productivity. Some companies in this space, like Rokae, are developing a cross-industry range of robotic systems, including software, control arms, and cobots. Others maintain a more specific focus — for example, Exotec offers industrial robots for manufacturing logistics and warehousing.
If you aren't already a client, sign up for a free trial to learn more about our platform.