Artificial intelligence companies are a prime acquisition target for companies looking to leverage AI tech without building it from scratch. In the race for AI, this is who's leading the charge.
Artificial intelligence has long been a major focus for tech leaders across industries. From healthcare to retail to agriculture, companies are trying to integrate machine learning (ML) into their products. At the same time, there is an acute shortage of AI talent.
This combination is fueling a heated race to scoop up top AI startups, many of which are still in the early stages of research and funding.
In this report, we dig into AI acquisition trends, from which companies are making the most acquisitions to what areas of focus are attracting the most attention.
APPLE PULLS AHEAD OF THE PACK
The usual suspects are leading the race for AI: tech giants like Facebook, Amazon, Microsoft, Google, and Apple (FAMGA) have all been aggressively acquiring AI startups for the last decade.
Among FAMGA, Apple leads the way. With 29 total AI acquisitions since 2010, the company has made nearly twice as many acquisitions as second-place Google (the frontrunner from 2012 to 2016), with 15 acquisitions.
Apple and Google are followed by Microsoft with 13 acquisitions, Facebook with 12, and Amazon with 7.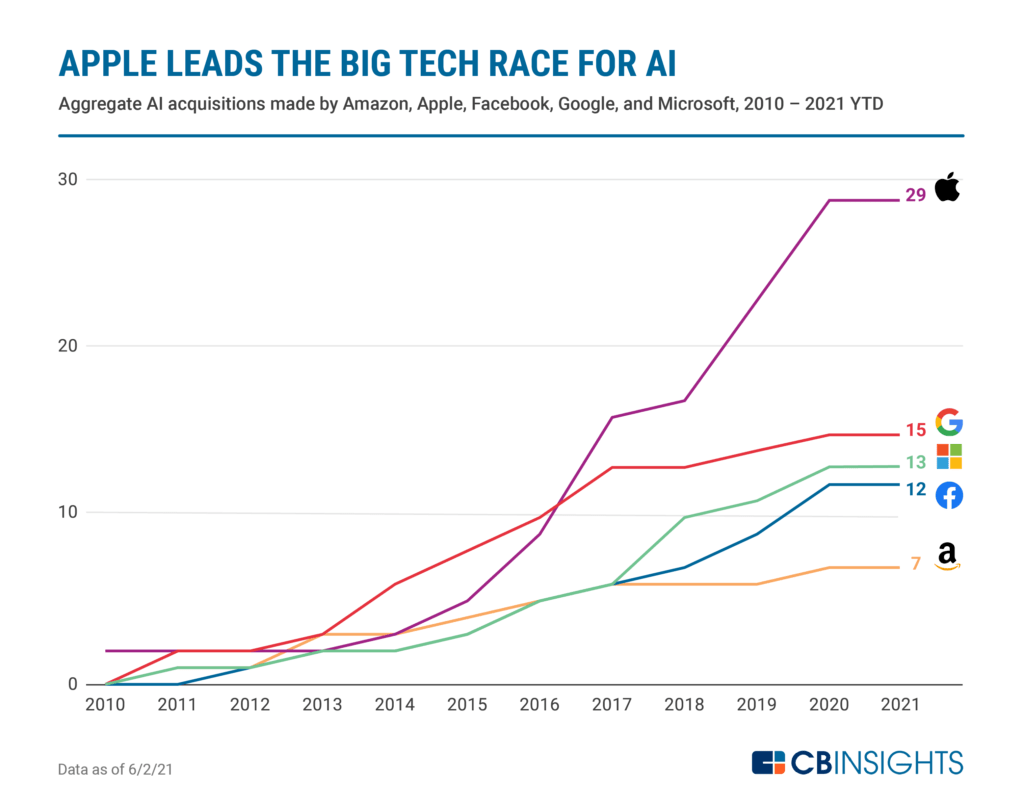 Apple's AI acquisition spree, which has helped it overtake Google in recent years, has been essential to the development of new iPhone features. For example, FaceID, the technology that allows users to unlock their iPhones by looking at them, stems from Apple's M&A moves in chips and computer vision, including the acquisition of AI company RealFace.
In fact, many of FAMGA's prominent products and services — such as Apple's Siri or Google's contributions to healthcare through DeepMind — came out of acquisitions of AI companies.
Other top acquirers include major tech players like Intel, Salesforce, Twitter, and IBM.
Download the full report to see other top acquirers, how AI acquisitions changed amid the Covid-19 pandemic, and which sectors have been the hottest for acquisition activity.
If you aren't already a client, sign up for a free trial to learn more about our platform.