Tiger Global took the crown as 2021's top investor, and it's showing no signs of slowing in 2022. We dig into the firm's investment activity to see where it's making bets on the future of technology.
Tiger Global has shaken up venture capital with the pace and aggressiveness of its dealmaking.
In 2021, the investment firm backed 335 deals — up 324% from 2020's 79, and more than any other investor globally. That equates to 1.3 deals per business day.
Tiger Global has only accelerated its dealmaking in 2022 so far, doing 2 deals per business day — in spite of a rocky few months of lower-than-average fund returns and a broader public-market tech stock selloff.
The Future According To Tiger Global MANAGEMENT
Tiger Global took the crown as 2021's top investor. Get the full report to see where it's investing across areas like NFTs, ultrafast delivery, and more.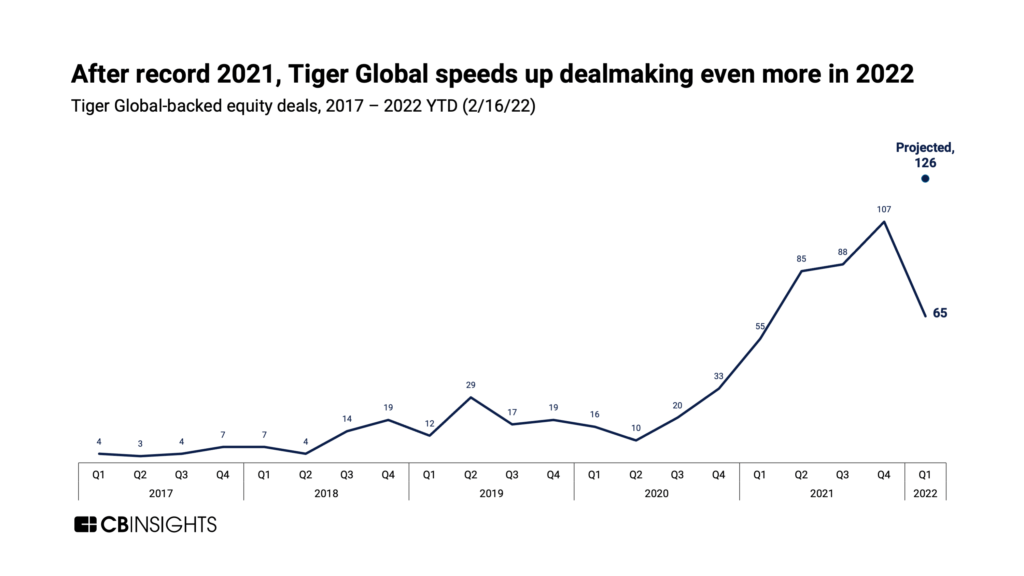 The firm — which only has around 30 investment professionals — is notoriously quiet about its strategy. But its investment activity speaks for itself.
We mined CB Insights data to track Tiger Global's private-market investments over the past 5 years — with a focus on activity since 2021 — to break down the firm's vision of a tech-driven future. 
Download the free report to see the investor's activity across areas like:
NFTs and other blockchain-based tech

Ultrafast food & grocery delivery

Telehealth and other virtual models of healthcare

And more
If you aren't already a client, sign up for a free trial to learn more about our platform.