This report looks at the companies helping retailers like Walmart and Amazon make their supply chains more sustainable with visibility platforms, autonomous ground delivery, and more.
Global supply chain leaders have historically prioritized efficiency and cost optimization, but with growing climate concerns and unprecedented supply chain disruption, sustainability has become central to supply chain strategies across industries.
the state of Supply Chain & Logistics Tech q1 2022
Total supply chain funding remains elevated in Q1'22. Get the report to learn more.
CB Insights identified 95+ supply chain sustainability companies addressing 13 technology priorities, from supplier mapping & vetting to reverse logistics, that retailers face. The purpose of the analysis is to provide technology buyers with an overview of the technology landscape and its market participants.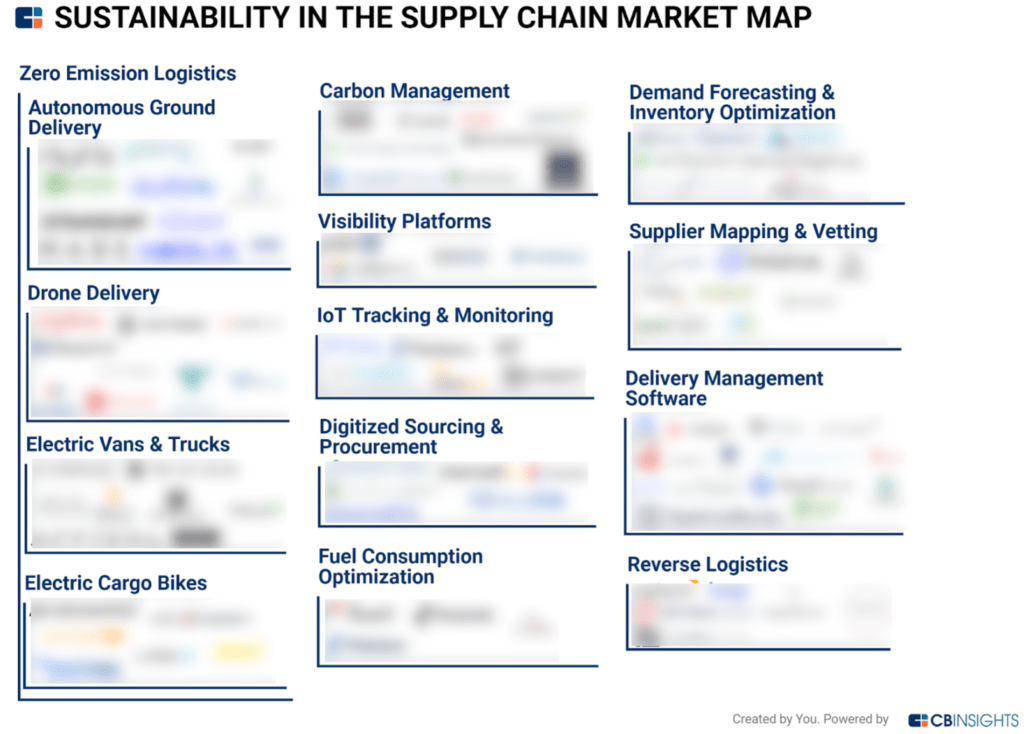 Clients can access the interactive Supply Chain & Logistics Tech Expert Collection and Market Map here. 
Does your company compete in these markets? Request an Analyst Briefing to make sure you're on our radar.
Key themes explored in this report include:
Zero-emissions logistics: As consumers prioritize sustainability, electric delivery vehicles and cargo bikes could help retailers and brands bolster their sustainability efforts.
Predictive visibility: Predictive visibility solutions that use real-time data allow companies to respond to (and recover from) disruption more quickly — as well as more effectively track emissions.
Supply chain transparency: Improvements in processing, tracking, and vetting technologies help companies determine where in their value chain sustainability metrics can be improved.
Download the Tech Market Map report using the sidebar to see our overview of this technology market across:
Autonomous Ground Delivery
Carbon Management
Delivery Management Software
Demand Forecasting & Inventory Optimization
Digitized Sourcing & Procurement
Drone Delivery
Electric Cargo Bikes
Electric Vans & Trucks
Fuel Consumption Optimization
IoT Tracking & Monitoring
Reverse Logistics
Supplier Mapping & Vetting
Visibility Platforms