This report looks at the grocery supply chain companies serving grocery retailers and food & beverage brands.
The grocery supply chain has been disrupted by the lasting effects of Covid-19, labor shortages, and rising consumer demand for fresher, sustainably-sourced food. Surges in online grocery adoption and inflationary pressures are making the need to execute efficiently even more pressing.
In an effort to create a more stable and less wasteful supply chain, CPG companies and grocery retailers are working to transform how food is transported, tracked, prepared, and sold.
CB Insights identified 120+ grocery supply chain companies addressing 11 technology priorities, from food safety & quality testing tech to on-demand & ultrafast delivery platforms, that retailers and brands face. The purpose of the analysis is to provide technology buyers with an overview of the technology landscape and its market participants.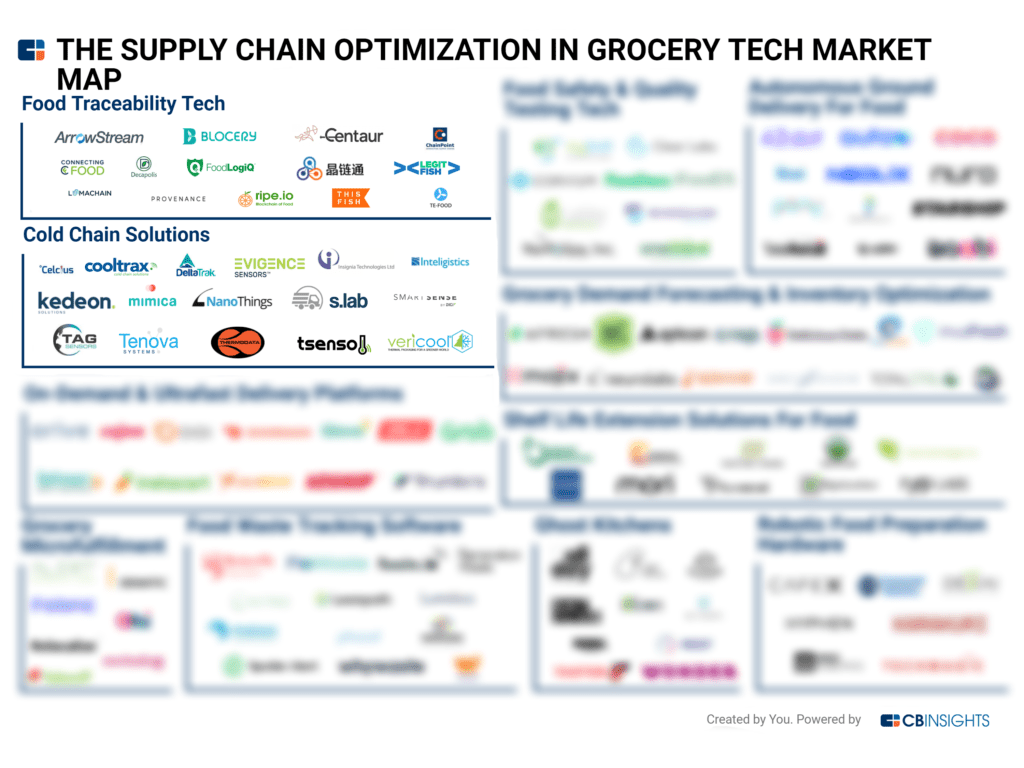 Key themes explored in this report include:
Food security:

Startups are addressing food security by developing solutions geared toward enhancing food traceability and safety, forecasting demand, optimizing inventory, extending shelf life, and tracking food waste. 

Labor solutions:

The labor shortage has taken a significant toll on the grocery supply chain. Some affected companies are attempting to alleviate the issue by outsourcing labor requirements to startups that provide robotic solutions or localized production and fulfillment services.  

Environmental impact:

Consumers have become increasingly aware of the impact that their diet has on the environment. Some startups have responded by shortening the grocery supply chain and using data to track inefficiencies. 
Download the Tech Market Map report using the sidebar to see our overview of this technology market across: 
Autonomous Ground Delivery For Food
Cold Chain Solutions
Food Safety & Quality Testing Tech
Food Traceability Tech
Food Waste Tracking Software
Ghost Kitchens
Grocery Demand Forecasting & Inventory Optimization
Grocery Microfulfillment
On-Demand & Ultrafast Delivery Platforms
Robotic Food Preparation Hardware
Shelf Life Extension Solutions For Food
Think that your company should be on this map? Submit an Analyst Briefing to get on our radar.