Providers face a dual mandate of improving the bottom line while providing a better patient experience. From claims management tools to autonomous coding solutions, these companies are helping healthcare providers like CommonSpirit Health and Ascension manage their revenue cycle.
Covid-19 has made managing and improving the healthcare revenue cycle more important than ever. Changes in reimbursement structure, new challenges in appointment volume and utilization management, and the shift toward ambulatory and home care are fundamentally reshaping the toolkit healthcare organizations need for their revenue cycle. 
CB Insights identified 155+ revenue cycle management companies addressing 12 technology priorities, from chargemaster management to patient scheduling and navigation, that healthcare providers face. The purpose of the analysis is to provide technology buyers with an overview of the technology landscape and its market participants.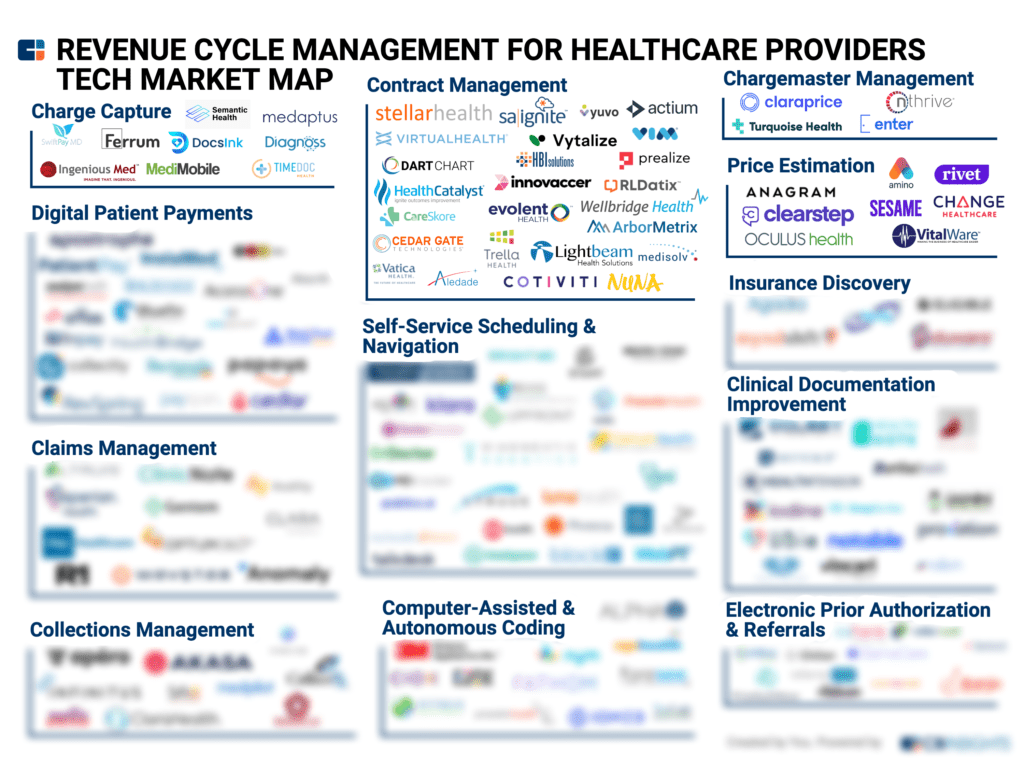 Clients can access the interactive Health IT Expert Collection and Market Map here. 
Does your company compete in these markets? Request an Analyst Briefing to make sure you're on our radar.
Key themes explored in this report include:
Patient-driven experience:

Patients are demanding a more modern experience for scheduling, enrollment, and care that's intuitive, flexible, and available on demand. 

Value-based care:

Shifts in reimbursements and contracting are making the management of value-based contracts and metrics as important as managing claims.

Efficiency:

Healthcare is being forced to do more with less on every level. This is making automation, process analysis, and software utilization more important than ever.
Clients can download the Tech Market Map report using the sidebar to see our overview of this technology market across:
Charge Capture
Chargemaster Management
Claims Management
Clinical Documentation Improvement
Collections Management
Computer-Assisted & Autonomous Coding
Contract Management
Digital Patient Payments
Electronic Prior Authorization & Referrals
Insurance Discovery
Price Estimation
Self-Service Scheduling & Navigation
Need an adoption playbook? Healthcare providers can evaluate which of these 12 tech markets to monitor, vet, or prioritize in this client-only MVP report.