This report looks at the companies helping retailers — like Walmart and Albertsons — build retail media networks.
Advertisers are increasing their retail media ad spending as e-commerce adoption grows and consumer data privacy comes into focus — creating a multi-billion dollar opportunity for retailers rich with first-party data. 
With a renewed focus on improving margins that have been negatively impacted by rising online sales, retailers of all sizes are building their digital advertising capabilities to attract advertisers and help their suppliers better target omnichannel shoppers.
CB Insights identified 130+ companies addressing 14 technology priorities, from demand-side platforms to consumer data privacy, that retailers building media networks face. The purpose of the analysis is to provide technology buyers with an overview of the technology landscape and its market participants.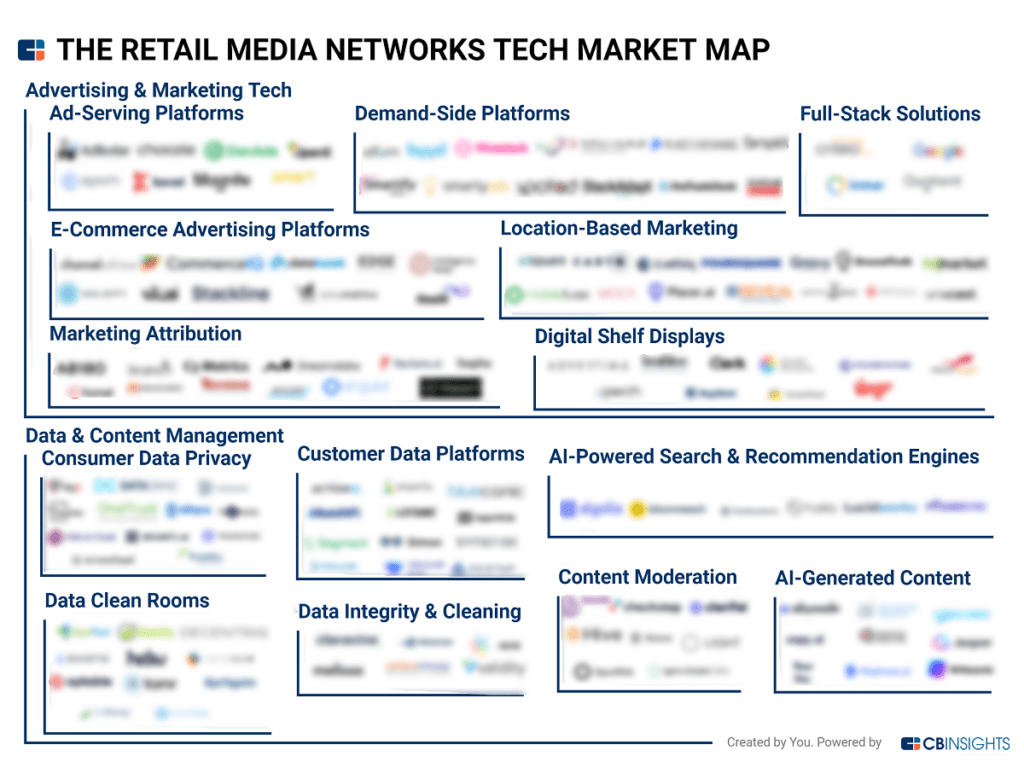 Clients can access the interactive Retail Media Networks Expert Collection and Market Map here. 
Key themes explored in this report include:
Closed-loop attribution:

Tech solutions can help retailers provide a direct link between targeted ads and actual online and in-store sales, improving return on ad spend (ROAS) for advertisers.

Omnichannel personalization:

Retailers' ability to leverage their first-party data and deliver hyper-relevant ads as close as possible to the point of purchase will help create a more personalized shopping experience both online and in-store.

Data privacy & safety:

From complying with regulations to securely sharing personal data with advertisers for more accurate targeting, retailers are investing in solutions to protect shoppers' privacy.  
Clients can download the Tech Market Map report using the sidebar to see our overview of this technology market across:
Ad-Serving Platforms
AI-Generated Content
AI-Powered Search & Recommendation Engines
Consumer Data Privacy
Content Moderation
Customer Data Platforms
Data Clean Rooms
Data Integrity & Cleaning
Demand-Side Platforms
Digital Shelf Displays
E-Commerce Advertising Platforms
Full-Stack Solutions
Location-Based Marketing
Marketing Attribution