This report looks at the supply chain companies serving pharmaceutical companies. 
CB Insights identified 90+ supply chain companies addressing 11 technology priorities, from asset tracking to medication adherence, that pharmaceutical companies face. The purpose of the analysis is to provide technology buyers with an overview of the technology landscape and its market participants.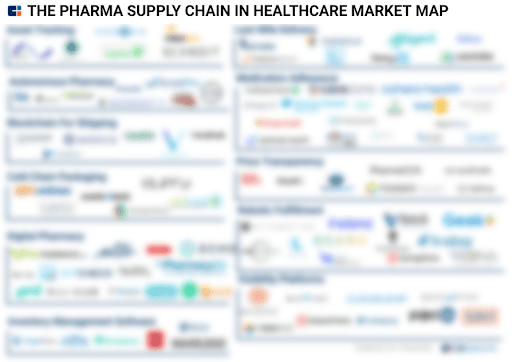 Key themes explored in this report include:
Digital pharmacy:

Digital solutions for prescriptions, refills, and medication delivery are creating new distribution channels. By circumventing pharmacy benefit managers (PBMs), these platforms exert downward pressure on prescription drug prices. 

Biologic drugs:

Biologics – drugs produced from or containing living organisms – are more sensitive to environmental factors such as humidity, light, and vibrations. The ability to maintain full control over environmental conditions from manufacturing to bedside is critical. 

Real-time demand data:

Manufacturers can use medication usage data from digital pharmacy solutions to gain insight into real-time demand and, as a result, boost operational efficiency by modulating production volumes in response.
Download the Tech Market Map report using the sidebar to see our overview of this technology market.