This report looks at the vendors helping pharmaceutical companies and healthcare providers use tech like genomic profiling, digital therapeutics, and molecular diagnostics to deliver the right drug to the right patient at the right time.
Healthcare stakeholders from pharmaceutical companies to providers are adopting precision medicine technologies in an effort to personalize care and improve patient outcomes. The Covid-19 pandemic further challenged these organizations to expedite their digital transformation and develop patient-centric digital solutions.
CB Insights identified 160 precision medicine companies addressing 9 technology priorities, from digital biomarkers to real-world data, that healthcare providers and pharma companies face. The purpose of the analysis is to provide technology buyers with an overview of the technology landscape and its market participants.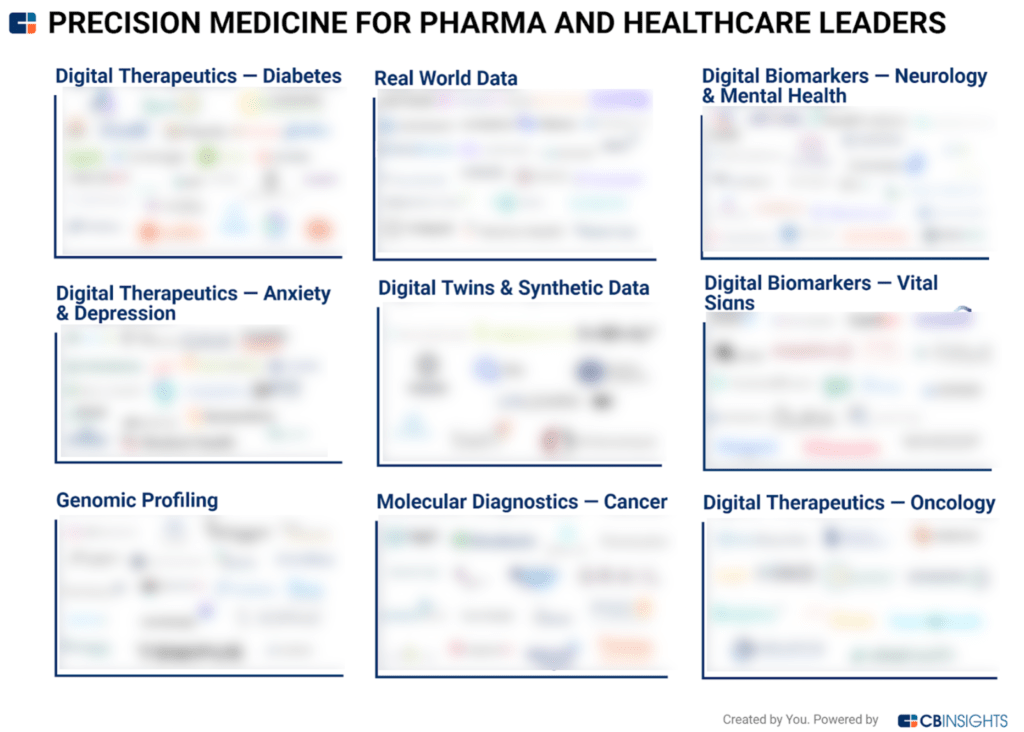 Clients can access the interactive Precision Medicine Expert Collection and Market Map here. 
Does your company compete in these markets? Request an Analyst Briefing to make sure you're on our radar.
Key themes explored in this report include:
Digital therapeutics: Software-driven, evidence-based therapies are increasingly gaining traction as viable solutions across indications, from mental health to diabetes to oncology.
Real-world data use cases: Alternative datasets — gathered from sources such as patient registries, EHRs, and insurance databases — are being used to supplement clinical trial outcomes, personalize treatment, and create digital twins.
Patient-specific therapy: Advances in genomic sequencing and molecular diagnostics are enabling pharmaceutical companies and providers to develop and deliver therapies with higher probabilities of success.
Clients can download the Tech Market Map Report using the sidebar to see our overview of this technology market across:
Digital Biomarkers — Neurology & Mental Health
Digital Biomarkers — Vital Signs
Digital Therapeutics — Anxiety & Depression
Digital Therapeutics — Diabetes
Digital Therapeutics — Oncology
Digital Twins & Synthetic Data
Genomic Profiling
Molecular Diagnostics — Cancer
Real-World Data