From discovery to fulfillment, this report looks at the companies enabling grocery retailers like Walmart and Kroger connect the consumer experience across digital and physical channels.
Online grocery shopping has grown considerably in the last few years, driving grocers to adopt enablement solutions — like click & collect and microfulfillment — that allow shoppers to seamlessly move between digital and physical channels. But as prices rise from supply chain issues and inflation, customers are more willing to switch between stores and brands, making loyalty difficult to earn.
To retain customers and improve e-commerce profitability, grocers need to adapt to the increasingly omnichannel shopper journey, from discovery to fulfillment.
CB Insights identified 150+ omnichannel enablement companies addressing 11 technology priorities, from auto-replenishment tech to omnichannel customer engagement, that grocery retailers and brands face. The purpose of the analysis is to provide technology buyers with an overview of the technology landscape and its market participants.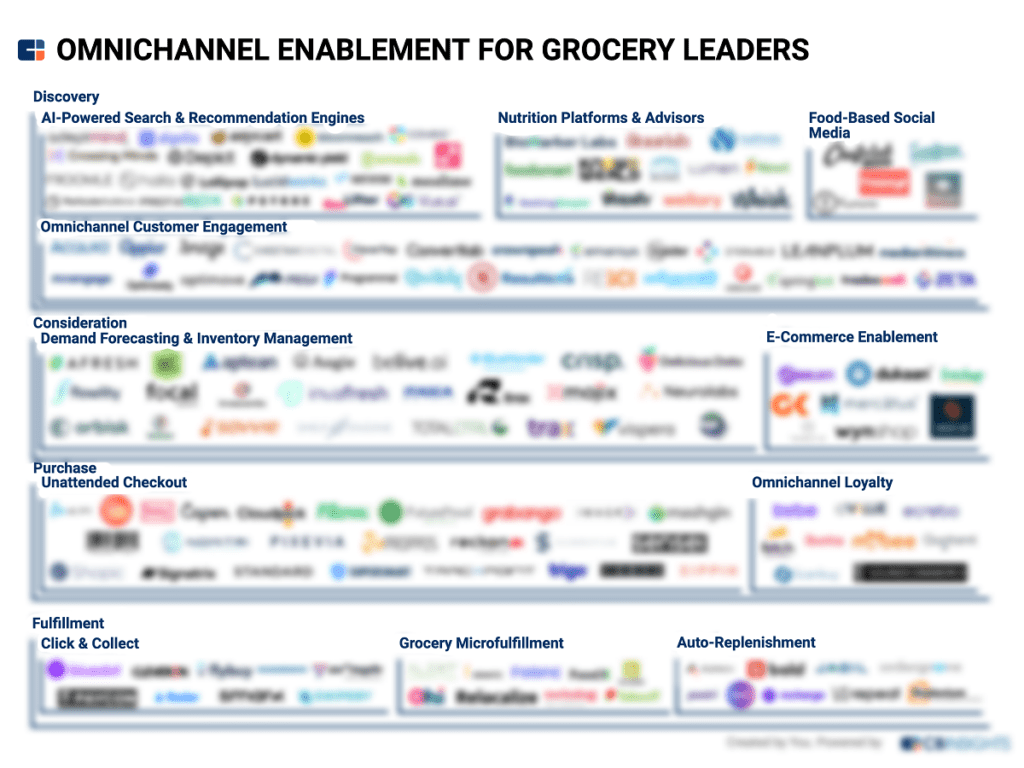 Clients can access the interactive Grocery Retail Tech Collection and Market Map here.
Key themes explored in this report include:
Discovery: From social media to nutrition platforms, there are more channels than ever for product discovery. Grocery retailers need to invest in formats like social commerce and omnichannel customer engagement to capture younger consumers.

Personalization: Personalization is key to connecting the shopping experience for customers across channels. By helping customers purchase groceries through personalized offers and experiences, retailers can gain loyalty and grow sales.

Reliability: Inventory reliability is an essential part of an omnichannel strategy. Retailers need to reduce friction and ensure stock whether groceries are being ordered online or shopped in store through demand forecasting and inventory management.

Download the Tech Market Map report using the sidebar to see our overview of this technology market across: 
AI-Powered Search & Recommendation Engines

Auto-Replenishment 

Click & Collect

Demand Forecasting & Inventory Management 

E-Commerce Enablement 

Food-Based Social Media

Grocery Microfulfillment

Nutrition Platforms & Advisors

Omnichannel Customer Engagement

Omnichannel Loyalty 

Unattended Checkout