This report looks at the companies helping brands and retailers promote their products and compel customers to buy.
Continuously evolving consumer preferences, the rise of new digital platforms, and macroeconomic complications like inventory shortages are just a few of the challenges that merchandising professionals face today.
A growing number of tech solutions are being designed to help merchandisers make faster decisions, drive productivity, and scale their work across channels in the face of these complications.
The STATE OF RETAIL q1 2022
Retail tech funding declined 11% QoQ to hit just under $24B in Q1'22. Download our free report to get all the trends.
CB Insights identified 180+ merchandising tech companies addressing 15 technology priorities, from AI-powered search & recommendation engines to indoor mapping analytics, that retailers and brands face. The purpose of the analysis is to provide technology buyers with an overview of the technology landscape and its market participants.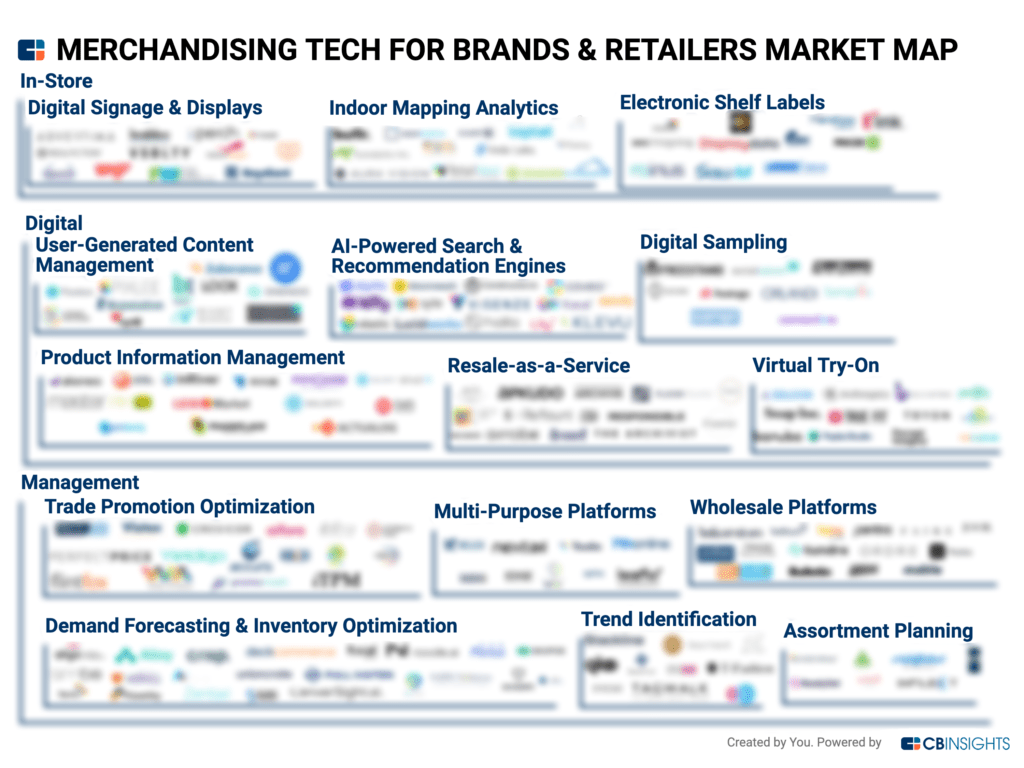 Clients can access the interactive Store management tech (In-store retail tech) Expert Collection and Market Map here. 
Does your company compete in these markets? Request an Analyst Briefing to make sure you're on our radar.
Key themes explored in this report include:
Agility: Technology is enabling retailers to move beyond cumbersome merchandising processes. Now, they can swiftly adjust prices, inventories, and channels in response to evolving consumer preferences and macro factors like supply chain challenges.

Consistency: A growing number of digital and physical retail touchpoints is making it increasingly important for merchandisers to provide consistent, localized experiences across channels.

Automation: Technologies like machine learning are removing guesswork across demand forecasting, indoor store analytics, and trend identification. The resulting cost and time savings are helping free up merchandisers for other tasks.

Clients can download the Tech Market Map report using the sidebar to see our overview of this technology market across:
AI-powered search & recommendation engines
Assortment planning
Demand forecasting & inventory optimization
Digital sampling
Digital signage & displays
Electronic shelf labels
Indoor mapping analytics
Multi-purpose platforms
Product information management
Resale-as-a-Service
Trade promotion optimization
Trend identification
User-generated content management
Virtual try-on
Wholesale platforms