This report looks at the loyalty & retention tech companies serving retailers and brands.
Acquiring a new customer can cost anywhere from 5 to 25 times more than retaining an existing one. This is heightened in online formats, where ongoing changes to consumer privacy and the deprecation of cookies are exacerbating acquisition costs. 
Meanwhile, in a study of e-commerce businesses, Adobe found that 40% of revenue came from just 8% of a brand's most loyal customers. Realizing it's easier and more profitable to keep customers, retailers are searching for new ways to engage and retain repeat shoppers.
The STATE OF RETAIL q1 2022
Retail tech funding declined 11% QoQ to hit just under $24B in Q1'22. Download our free report to get all the trends.
CB Insights identified 150+ loyalty & retention tech companies addressing 10 technology priorities to enhance the loyalty experience, ranging from loyalty management to crypto & blockchain rewards. The purpose of the analysis is to provide technology buyers with an overview of the technology landscape and its market participants.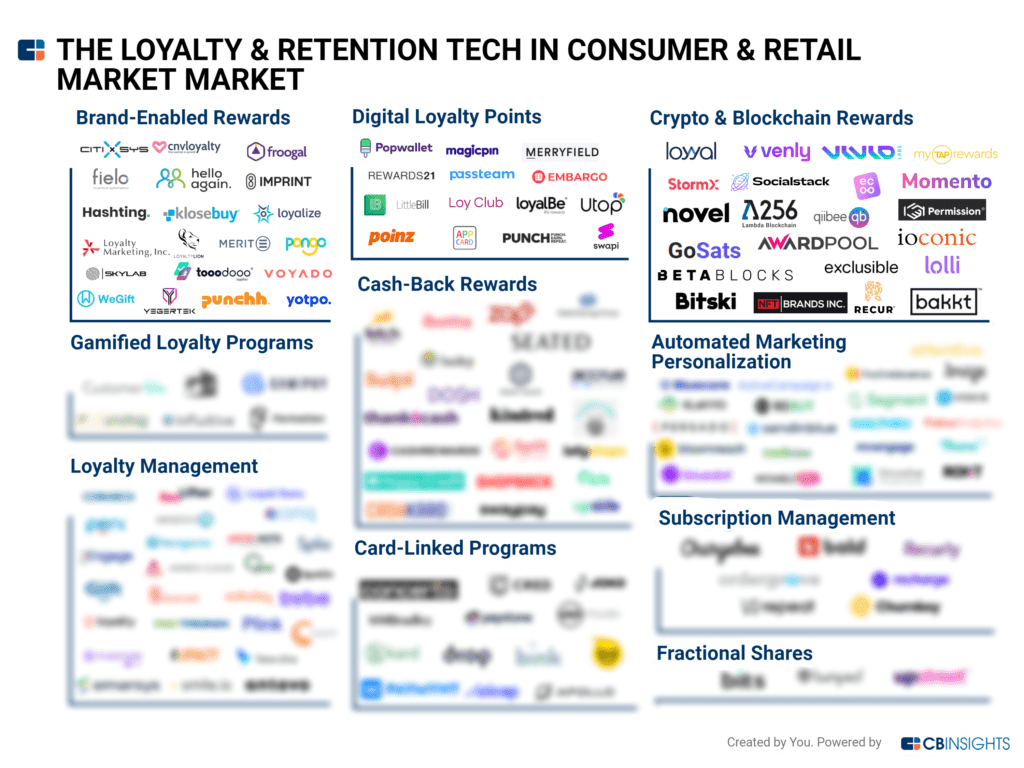 Key themes explored in this report include:
Zero-party data:

Shoppers are more willing to share personal data when they receive personalized offers. As cookie deprecation continues to affect marketing efforts, loyalty programs can be a way for retailers to unlock zero-party data.

Omnichannel personalization:

Retailers' ability to connect to and personalize rewards at every customer touchpoint (e.g., website, email, SMS, social, mobile) will become a key differentiator as multi-channel shopping grows.

Loyalty beyond transaction:

New technologies are bringing engaging, relevant, and valuable loyalty experiences outside of the transaction. From crypto to fractional shares, these solutions help retailers create stickiness and drive revenue.
Download the Tech Market Map report using the sidebar to see our overview of this technology market.
Think that your company should be on this map? Submit an Analyst Briefing to get on our radar.