This report looks at the companies helping organizations with hourly or deskless workers — like Kroger and McDonald's — recruit, train, and retain their employees.
Labor shortages and heightened concern for worker well-being are notable aftershocks of the Covid-19 pandemic.
These focus points are particularly acute in sectors that rely heavily on hourly workers, such as retail, hospitality, and manufacturing. Tech solutions geared toward this workforce offer employers the tools required to effectively recruit, manage, and enable these employees.
CB Insights identified 170+ hourly employee management tech companies addressing 13 technology priorities, from communications and task management to augmented reality/virtual reality (AR/VR) training, that companies with hourly or deskless workers face. The purpose of the analysis is to provide technology buyers with an overview of the technology landscape and its market participants.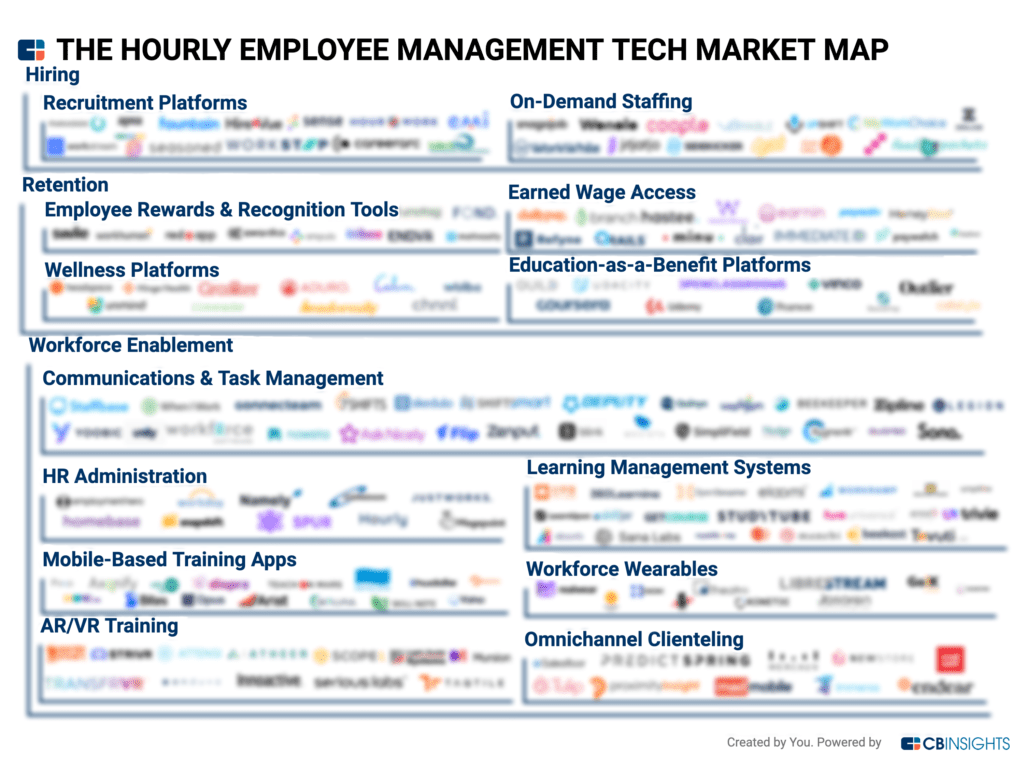 Clients can access the interactive CB Insights Store management tech (In-store retail tech) Expert Collection and Market Map here.
Does your company compete in these markets? Request an Analyst Briefing to make sure you're on our radar.
Key themes explored in this report include:
Worker well-being: 

Employers will prioritize wellness-oriented benefits, from mental health wellness apps to more flexible scheduling tech, to differentiate themselves in the eyes of jobseekers.

Digitally enhanced training:

While tech advancement is requiring hourly employees to learn new skills, it is also enhancing learning overall. Learning management systems as well as new tech like communication apps are being designed with upskilling in mind.

Greater accessibility: 

More mobile-first and portable solutions are arising for hourly workers, allowing them to stay in the loop and access relevant resources no matter their location.
Clients can download the Tech Market Map report using the sidebar to see our overview of this technology market across:
AR/VR Training
Communications & Task Management
Earned Wage Access
Education-as-a-Benefit Platforms
Employee Rewards & Recognition Tools
HR Administration
Learning Management Systems
Mobile-Based Training Apps
Omnichannel Clienteling
On-Demand Staffing
Recruitment Platforms
Wellness Platforms
Workforce Wearables