Fraud and cyber threats are on the rise. From compliance to identify verification, this Tech Market Map Report looks at the companies enabling retail banks to respond to these challenges while reducing costs.
As fraud and cyber threats become more prevalent and sophisticated, retail banks' mandate to protect their customers, comply with regulatory mandates, and assess risk across their entire organization has become more important than ever.
In response to heightened threats and the costs associated with them, banks are prioritizing technology solutions that make fraud prevention, identity verification, and risk management more effective.
CB Insights identified 150+ companies addressing 10 technology priorities — from data privacy to governance, risk, and compliance platforms — that retail banking leaders face. The purpose of the analysis is to provide technology buyers with an overview of the technology landscape and its market participants.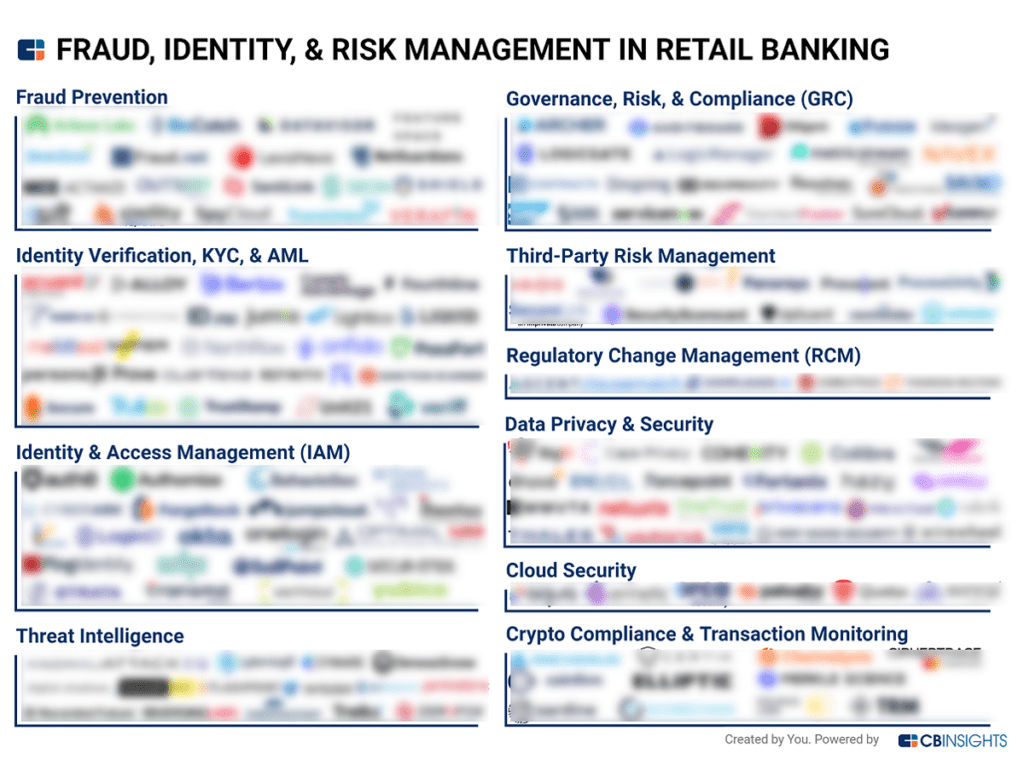 Clients can access the interactive Regtech Expert Collection and Market Map here. 
Does your company compete in these markets? Request an Analyst Briefing to make sure you're on our radar.
Key themes explored in this report include:
Automation:

Artificial intelligence and machine learning streamline workflows to automate manual processes across fraud prevention, identity verification, risk management, compliance, and security. 

Cloud:

The cloud is a key theme for two reasons: 1) many vendor solutions are cloud-based – offering simplicity and speed of implementation; 2) as banks migrate more of their own systems to the cloud, cloud access, risk prevention, and security become essential.

Continuous monitoring:

Point-in-time assessments of fraud, identity, and risk have transformed into monitoring that never stops. Behavioral analytics allows for a better understanding of user behavior in order to identify and block anomalous activity from bad actors in real time. 
Clients can download the Tech Market Map report using the sidebar to see our overview of this technology market across:
Cloud security

Crypto compliance & transaction monitoring

Data privacy & security

Fraud prevention

Governance, risk, & compliance (GRC)

Identity & access management (IAM)

Identity verification, KYC, & AML

Regulatory change management (RCM)

Third-party risk management

Threat intelligence