This report looks at the fleet and freight optimization companies serving retailers.
As demand for e-commerce continues to grow, systematically managing the transportation of goods has become more important than ever. Global supply chain pressures highlight retailers' need for tech-enabled solutions that increase efficiencies and connectivity while lowering costs. 
CB Insights identified 130+ fleet and freight optimization companies addressing 10 technology priorities, from digital freight forwarding to autonomous ground delivery, that retailers face. The purpose of the analysis is to provide technology buyers with an overview of the technology landscape and its market participants.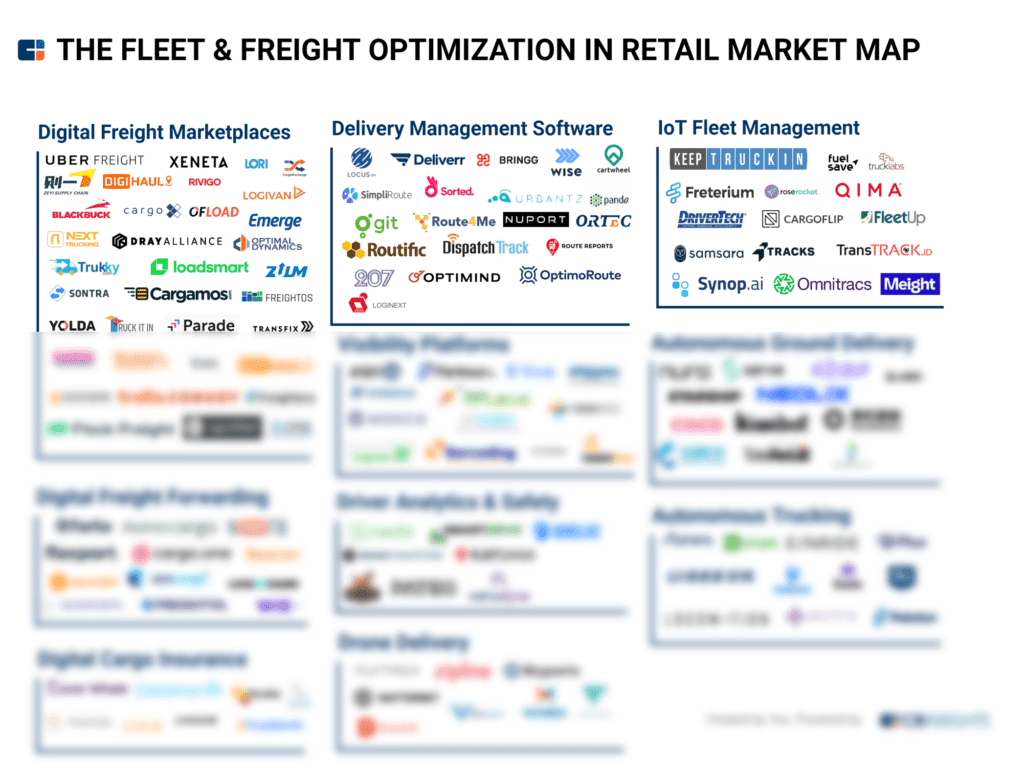 Key themes explored in this report include:
Connectivity:

Companies are building out software platforms that improve communication, enable the flow of information, and better match supply with demand across the supply chain (e.g., digital freight matching and delivery management software).

Automation:

Tech providers in this area are developing tools to automate workflows and streamline operations. Companies advancing robotics and self-driving tech are working to automate repetitive tasks like last-mile deliveries.

Flexibility:

Tech providers are integrating multiple facets of fleet management — such as freight matching, last-mile delivery, and IoT applications — to help retailers and fleet managers combat supply chain bottlenecks and inefficiencies.
Download the Tech Market Map report using the sidebar to see our overview of this technology market.
Think that your company should be on this map? Submit an Analyst Briefing to get on our radar.