This report looks at the e-commerce tech companies serving retailers and brands.
Online shopping is surging, with e-commerce projected to make up nearly 1 in 5 retail dollars spent in the US in 2024. As consumers shift online, their expectations for digital experiences also heighten with behemoths like Amazon setting the bar.  
Incumbents must navigate a fragmented and quickly evolving e-commerce tech market to stand out and deliver a more engaging, frictionless, and customer-centric experience.
CB Insights identified 190+ e-commerce tech companies addressing 15 technology priorities to secure and enhance the experience, ranging from consumer data privacy to VR e-commerce. The purpose of the analysis is to provide brand and retail technology buyers with an overview of the technology landscape and its market participants.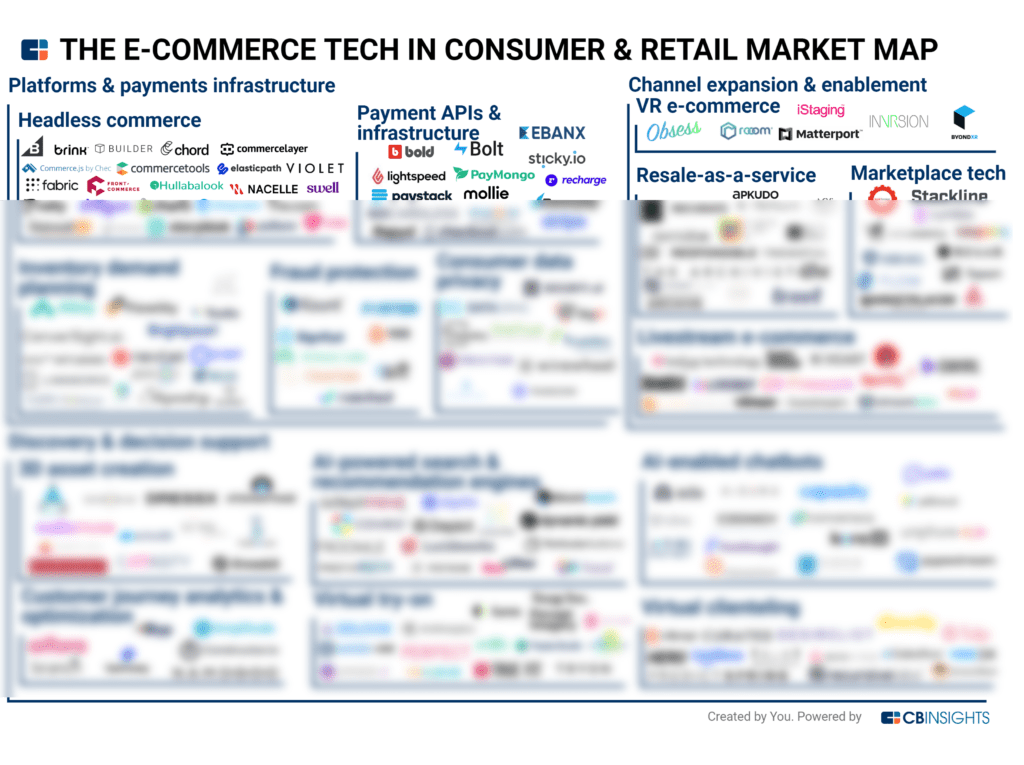 Key themes explored in this report include:
Infrastructure Agility:

The surge in e-commerce and new mediums such as chat and livestream will require tech solutions that offer more flexibility.

Personalized Journey:

Retailers' ability to personalize discovery and make online buying easier has become a key differentiator as online sales soar. New tech markets are bringing physical interactions online, from virtual clienteling and chatbots to virtual try-ons and AI-powered recommendations.

Relevant and Engaging Journey:

From livestream shopping to virtual stores, e-commerce tech enablement solutions are helping retailers and brands deliver more relevant, engaging and seamless online shopping experiences.
Download the Tech Market Map report using the sidebar to see our overview of this technology market.
Think that your company should be on this map? Submit an Analyst Briefing to get on our radar.