This report looks at the digitization & automation companies serving building managers.
Building managers are facing a variety of new challenges, including the dramatic shift to hybrid work models, new sustainability regulations, increasing urban crime, and heightened concern for occupant wellness.
As a result, they are turning to digitization & automation solutions to address evolving priorities and build value in the eyes of company executives looking to develop tech-first real estate strategies.
CB Insights identified 130+ digitization and automation companies addressing 11 technology priorities, from digital twins to virtual power plants, that building managers face. The purpose of the analysis is to provide technology buyers with an overview of the technology landscape and its market participants.
the future of the office building
The office building of 2030 is poised to operate much better than what we see today, both for occupants and building managers. Get the report to learn more.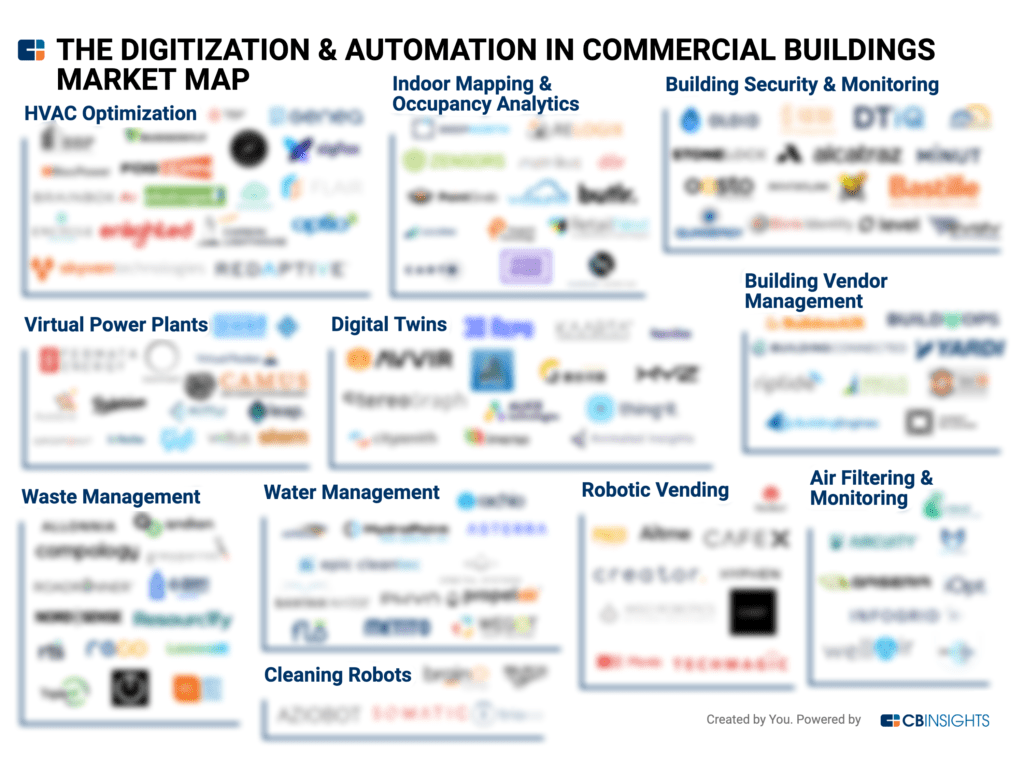 Key themes explored in this report include:
Energy management: Managing and reducing building energy usage helps decrease operational costs while supporting sustainability efforts. New utility programs like virtual power plants have the potential to strengthen and accelerate this initiative.
Connected devices: Internet of Things (IoT) sensors are allowing for the automation and remote operation of water and waste management, building security, occupancy data collection, and other key building processes.
Virtual operations: Hybrid work has made it difficult to connect remote employees with in-office employees. However, digitization has supported the adoption of new building management solutions, like digital twins, to help bridge the gap.
Download the Tech Market Map report using the sidebar to see our overview of this technology market.
Think that your company should be on this map? Submit an Analyst Briefing to get on our radar.