Healthcare providers must meet patients' demands for a "digital front door" to care: a more modern, consumer-like experience that simultaneously reduces the burden on staff and protects revenue. This Tech Market Map report looks at the companies helping providers optimize the patient experience.
Patients are demanding a more seamless healthcare experience, and healthcare organizations are finding new ways to meet their needs.
The digital front door to healthcare — which comprises how patients access care, communicate with providers, schedule encounters, and manage the tools (like digital therapeutics, remote monitoring, and wellness coaching) available to them — is playing a bigger role than ever before.
download The State of Digital Health Q2 2022 report
CB Insights identified 110+ digital front door companies addressing 8 technology priorities, from patient-directed scheduling and price estimation to remote monitoring and virtual care, that healthcare providers face. The purpose of the analysis is to provide technology buyers with an overview of the technology landscape and its market participants.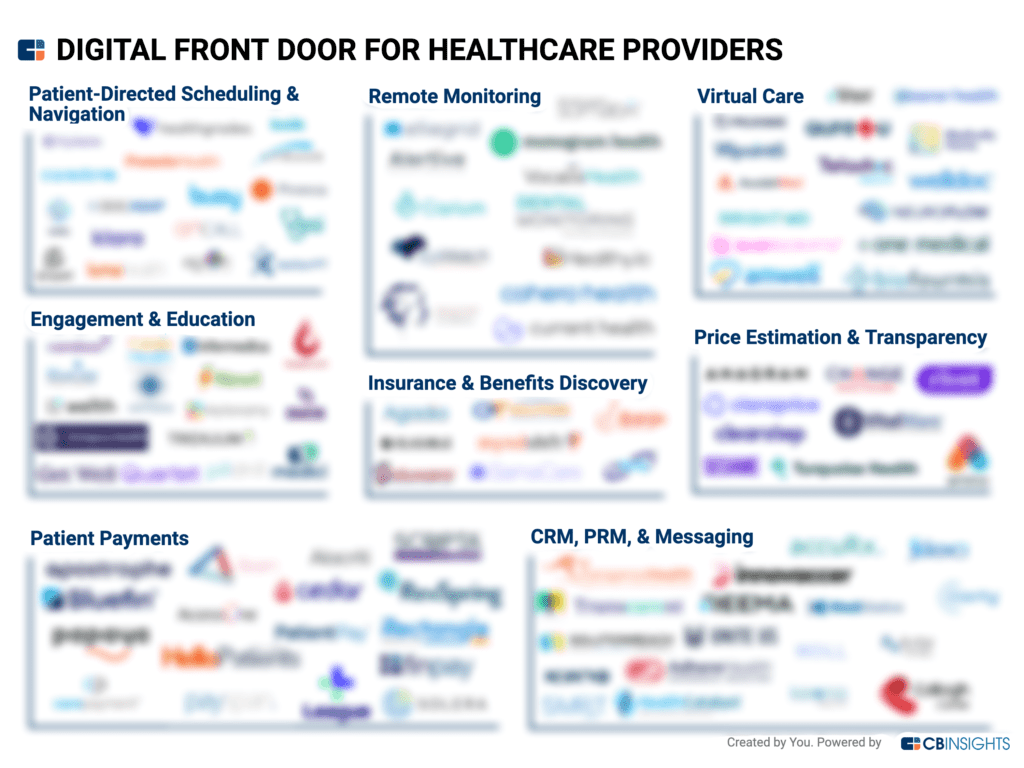 Clients can access the interactive Health IT Expert Collection and Market Map here. 
Does your company compete in these markets? Request an Analyst Briefing to make sure you're on our radar.
Key themes explored in this report include:
Patient-driven experience:

Patients are demanding a more modern experience for scheduling, enrollment, and care that's intuitive, flexible, and available on demand. 

Automation:

Providers and staff are frequently overwhelmed by demand, and solutions that require significant manual workflows increase that burden. AI/ML task automation and specific, actionable reporting are key to helping prevent added work.

Revenue protection:

Changes in reimbursement and contracting models are making improved visibility, better management, and access to patients outside the office walls essential to provider revenue.
Clients can download the Tech Market Map report using the sidebar to see our overview of this technology market across:
CRM, PRM, & Messaging
Engagement & Education
Insurance & Benefits Discovery
Patient-Directed Scheduling & Navigation
Patient Payments
Price Estimation & Transparency
Remote Monitoring
Virtual Care