With rising competition from fintech companies, established retail banks are turning to tech like open banking, chatbots, and customer analytics platforms to digitize their core infrastructure and revamp their services.
Retail banks are increasingly prioritizing digitizing their core services — as part of a broader effort to meet customers' evolving needs and respond to growing competition from fintech players. From upgrading their existing infrastructure to offering seamless mobile journeys, more top banks see core banking transformation and customer experience modernization as key to maintaining a competitive edge against fintechs.
CB Insights identified 101 core banking companies addressing 8 technology priorities, from cloud-based core banking offerings and digital banking transformation solutions to customer experience add-ons. The purpose of the analysis is to provide technology buyers with an overview of the technology landscape and its market participants.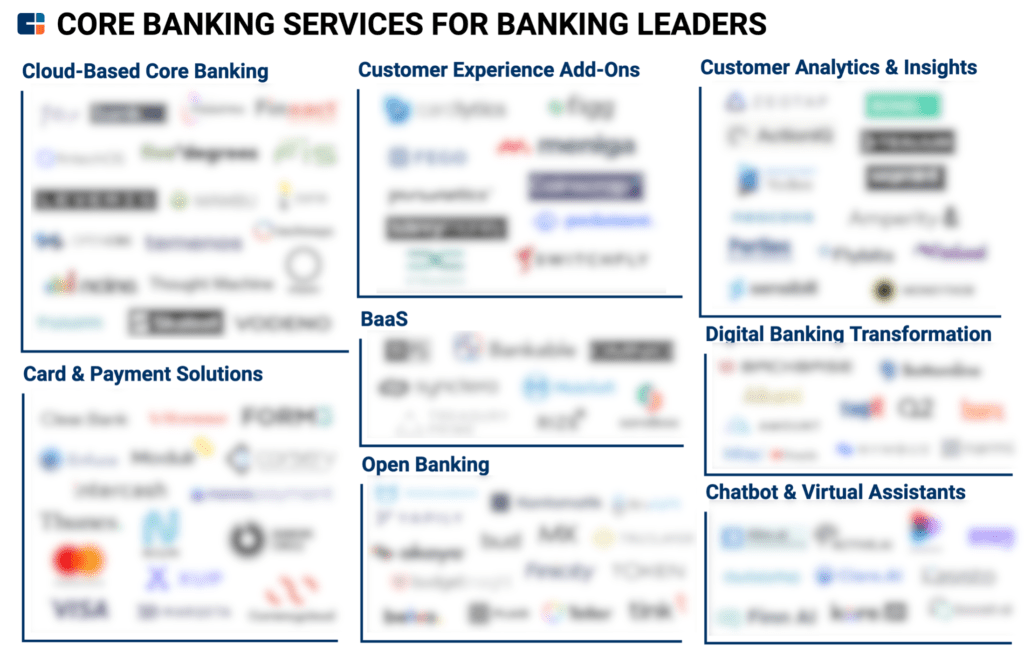 Clients can access the interactive Core Banking Services Expert Collection and interactive Market Map here. 
Does your company compete in these markets? Request an Analyst Briefing to make sure you're on our radar.
Key themes explored in this report include:
Cloud-native & API-driven solutions: Cloud- and API-driven offerings allow banks to quickly upgrade their core infrastructure and introduce new products and services, resulting in reduced time-to-market and relatively low-risk implementations.
Customer data: Artificial intelligence and machine learning help collect and analyze customers' usage patterns and data to build comprehensive user profiles, allowing banks to offer more targeted, proactive, and customized services to users.
Mobile excellence: From customer onboarding and servicing to branding, new mobile app solutions are helping banks keep customers engaged through low friction and intuitive mobile banking experiences.
Clients can download the Tech Market Map report using the sidebar to see our overview of this technology market across:
Banking-as-a-Service (BaaS)
Card & Payment Solutions
Chatbot & Virtual Assistants
Cloud-Based Core Banking
Customer Analytics & Insights
Customer Experience Add-Ons
Digital Banking Transformation
Open Banking