The onset of the pandemic exacerbated existing procedural complexities for health systems. This Tech Market Map Report looks at the companies helping healthcare leaders like Mayo Clinic and Kaiser Permanente address those challenges to prevent clinician burnout and enhance patient care.
In an effort to streamline clinician workflows and respond to Covid-19-induced challenges — such as provider burnout and staffing shortages — hospitals and health systems are doubling down on clinical workflow solutions. The urgency is palpable, as the US alone faces a projected shortage of up to 124,000 physicians by 2034, according to the Association of American Medical Colleges. 
CB Insights identified 110+ clinical workflow tech companies addressing 8 technology priorities, from virtual assistants to secure clinical communication solutions, that healthcare providers face. The purpose of the analysis is to provide technology buyers with an overview of the technology landscape and its market participants.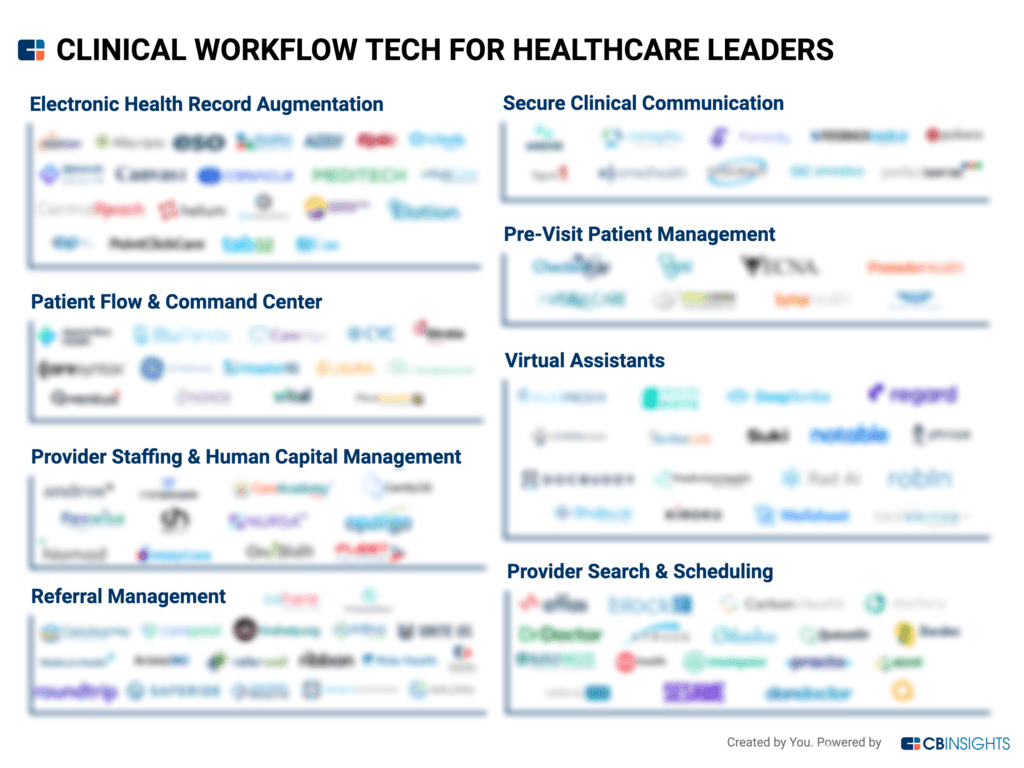 Clients can access the interactive Health IT Expert Collection and Market Map here. 
Does your company compete in these markets? Request an Analyst Briefing to make sure you're on our radar.
Key themes explored in this report include:
Operational efficiency:

Digital solutions like command centers and virtual waiting rooms are helping health systems increase operational efficiency, accelerate throughput, and reduce costs.

Reduced provider burnout:

Hospitals are facing a growing number of challenges related to provider burnout and turnover. Digital workflow tools help to address contributing factors and increase productivity.

Enhanced patient experience:

By lessening the administrative workload through capabilities like automation, providers can spend more quality time with patients, which can enhance the latter's experience and outcomes.
Clients can download the Tech Market Map report using the sidebar to see our overview of this technology market across:
Electronic Health Record Augmentation

Patient Flow & Command Center 

Pre-Visit Patient Management 

Provider Search & Scheduling

Provider Staffing & Human Capital Management 

Referral Management 

Secure Clinical Communication 

Virtual Assistants