From catastrophe modeling to medical bill review to fraud analytics, this report looks at the vendors helping P&C insurers enhance the claims experience through the organization and analysis of relevant information.
With the P&C claims process growing more complex and costly, P&C insurers are looking to automate key workflows while still minimizing losses paid out.
Claims evaluation & settlement solutions are helping these insurers gain insight into their cases, ultimately enabling them to automatically settle simple claims and shift their time toward more complicated tasks.
CB Insights identified 104 insurtech companies addressing 10 technology priorities, from catastrophe modeling to fraud analytics, that P&C insurers face. The purpose of the analysis is to provide technology buyers with an overview of the technology landscape and its market participants.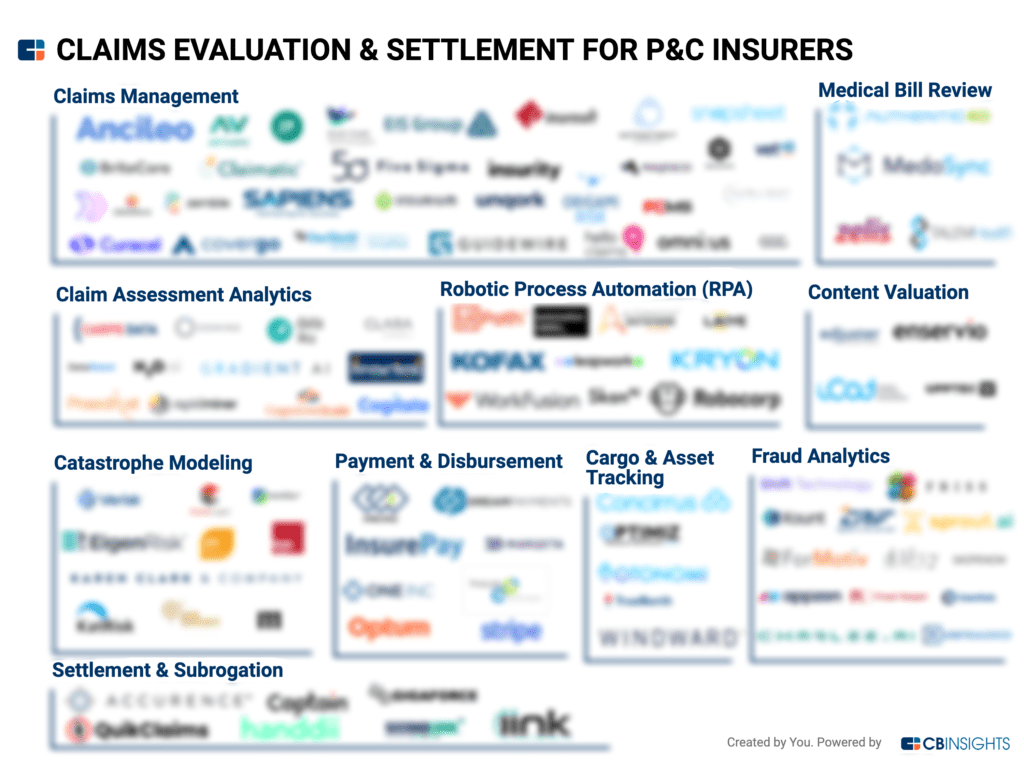 Clients can access the interactive Claims Evaluation & Settlement Expert Collection and Market Map here. 
Does your company compete in these markets? Request an Analyst Briefing to make sure you're on our radar.
Touchless claims: Insurers are trying to evaluate and settle simple claims without human intervention. New data sources & AI capabilities have enabled insurers to do this in real time, which helps reduce costs and improve the customer experience.
Collaboration:

Claims can involve many parties beyond the policyholder and their insurer, including agents, auto repair shops, contractors, and lawyers. Many solutions are looking to connect and enhance collaboration between these parties in order to boost the efficiency of the claims process.

Anti-fraud:

Fraud is a common problem insurers face when evaluating claims. Analyzing information from the customer and objective third-party datasets at the time of incident can help insurers identify and avoid fraudulent cases.
Clients can download the Tech Market Map report using the sidebar to see our overview of this technology market across:
Cargo & Asset Tracking
Catastrophe Modeling
Claim Assessment Analytics
Claims Management
Content Valuation
Fraud Analytics
Medical Bill Review
Payment & Disbursement
Robotic Process Automation (RPA)
Settlement & Subrogation