Tech M&A activity remains subdued, but valuations are rebounding amid a cautious market.
The tech M&A landscape in Q3'23 has continued to contract in terms of deal volume, reaching the lowest point since the early pandemic. With only 1,765 tech M&A deals, the market saw a 6% quarter-over-quarter (QoQ) decrease. Despite this, aggregate valuation increased by 10% QoQ to $1.1T, reflecting a rebound in the number of large M&A deals being inked.
CB Insights clients can sign in and download the full report to delve into all the underlying data.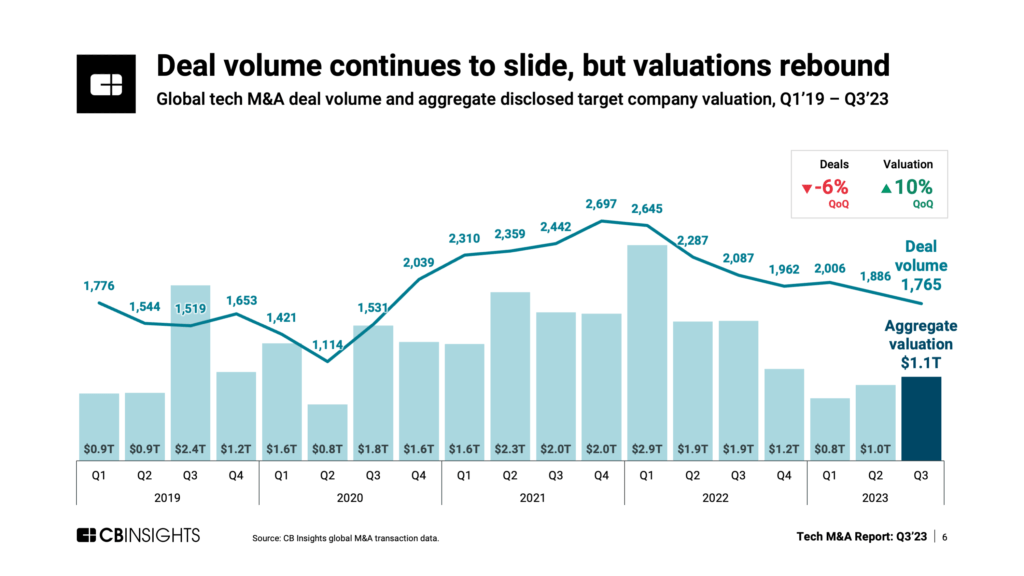 The US and European markets both experienced a slight dip in total deal counts QoQ. However, the number of $100M+ deals in these regions is on the rise, signaling that more buyers are willing to stomach large acquisitions for the right target.
Key Q3'23 tech M&A insights include:
The slowdown in tech M&A is largely driven by risk-off strategic acquirers, with financial sponsors also treading carefully amidst a scarcity of high-quality assets and macroeconomic uncertainties.
Valuation step-ups for institutionally-backed M&A targets have dropped to 0.7x compared to the valuation given at their last equity round — down from 1.5x in the previous quarter.
Europe has emerged as a formidable player in tech M&A volume, with a more than 80% QoQ increase in $100M+ deals — challenging the US in both deal volume and high-value transactions.
Big tech M&A activity has come to a standstill in Q3 with no significant deals announced, reflecting the impact of a stringent regulatory environment.
Contrary to the overall trend, billion-dollar M&A deals have risen by 50% from a recent low in Q1'23, with 21 such deals taking place in Q3. More broadly, the median valuation for M&A targets has continued to rebound, reaching $41M in Q3'23.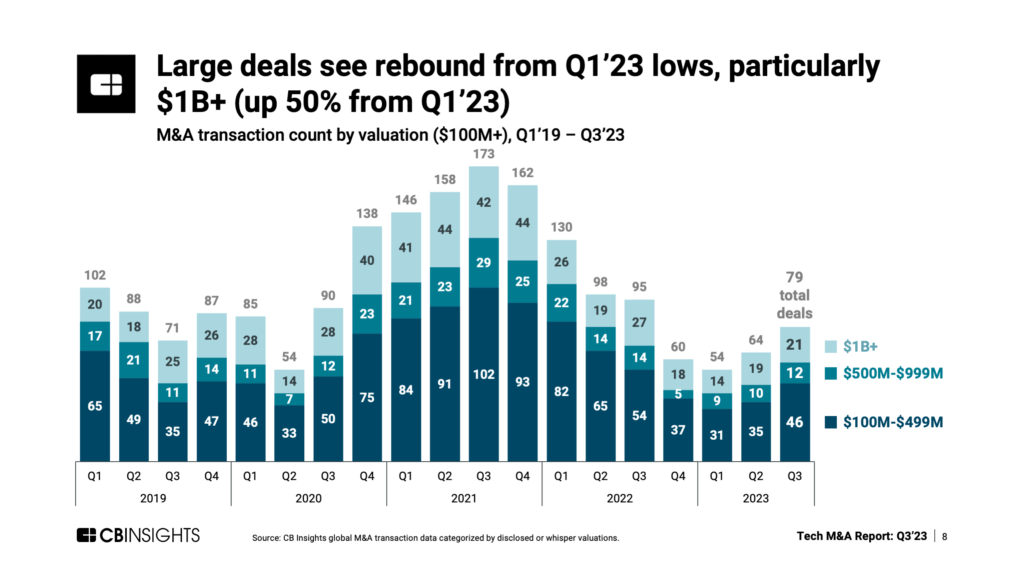 For a detailed analysis of the current tech M&A environment, including strategic moves by key players and regional dynamics, CB Insights clients can access the full Tech M&A Q3'23 Report by signing in and downloading it using the sidebar.
If you aren't already a client, sign up for a free trial to learn more about our platform.