Global tech M&A deal volume falls to its lowest level since 2020's Covid lockdowns as risk-off strategic acquirers pull back.
Global tech M&A deal activity slowed in Q2'23, falling 6% quarter-over-quarter (QoQ) to 1,877 deals — its lowest level in nearly 3 years. Aggregate valuation across these deals rebounded slightly to $1.1T, though this is still well below the highs seen in 2021 and 2022.
CB Insights clients can sign in and download the full report to see all the latest tech M&A trends and data.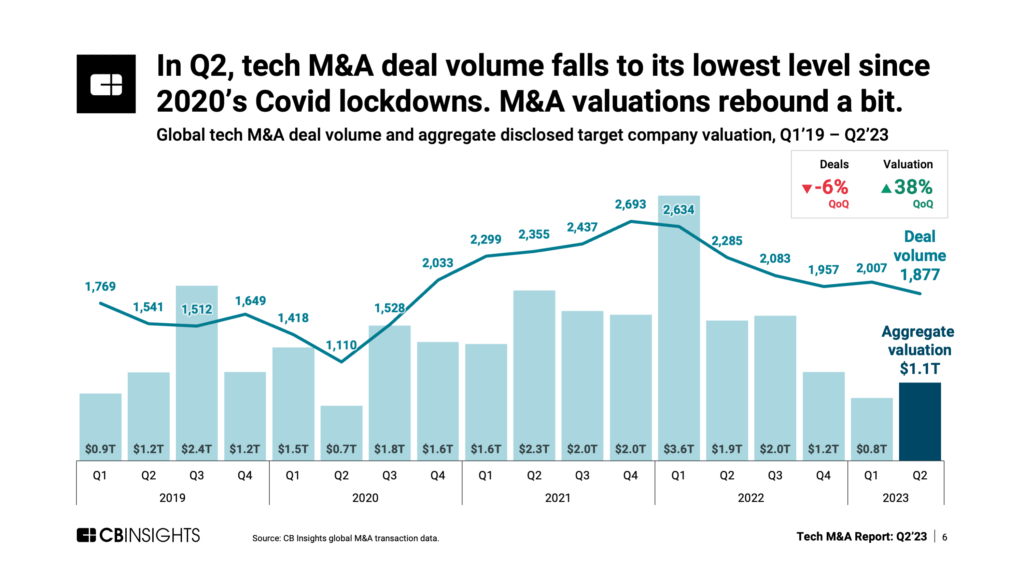 The US M&A market remained tepid, with US-based tech M&A transactions falling 9% QoQ and trailing Europe for the sixth quarter in a row. That said, US target companies are still attracting larger valuations: 41% of the M&A targets valued at $100M+ in Q2 are headquartered in the US.
Other Q2'23 tech M&A highlights include:
Though still below 2021 highs, the number of M&A targets valued at $1B+ rose to 21 in Q2, up from 14 the prior quarter. Billion-dollar deals comprise just 1% of all M&A activity. 

After 2 quarters in decline, the median valuation for M&A targets rebounded in Q2, nearly doubling to $45M.

Buyers paid more per employee in Q2'23 than in the previous quarter, with the median valuation per employee rising to $700K, up $120K QoQ. 

In Q2, companies acquired for $100M+ had a median headcount of 359 people — the highest in 10 quarters.
For institutionally backed targets (i.e., those previously backed by VCs, PE, etc.), M&A valuations in Q2 were 1.4x the last round's valuation — a notable rebound after 2 depressed quarters.

Big tech M&A activity hit an 18-quarter low, with just 1 deal in Q2, reflecting the more challenging regulatory (anti-trust) climate that big tech players are facing.

Cross-border M&A deal activity fell 9% QoQ but remained above historical levels, driven by higher volumes between countries in Europe, as well as between Europe and the US.
CB Insights clients can see all the latest tech M&A data by signing in and downloading the full Tech M&A Q2'23 Report using the sidebar.
If you aren't already a client, sign up for a free trial to learn more about our platform.