As the IPO market creaks open again, these are the 257 companies we think could hit the public markets next.
September brought a wave of relief to the tech world. 
Frozen shut for a year and a half, the IPO market finally seemed to be thawing, with 3 major tech players — Arm, Instacart, and Klaviyo — making their public debuts. 
However, their post-IPO performance has been mixed at best. All 3 companies reported underwhelming results during their earnings calls this month, and each has seen its share price stay flat or decline since its debut.
While the tepid performance could push back other tech players' IPO plans, there is still a large pool of potential IPO candidates waiting in the wings. They can't wait forever — especially as late-stage venture capital dries up. The pressure will likely force the IPO window further open in 2024, even if the market conditions aren't perfect.
CB Insights is releasing the 2024 Tech IPO Pipeline, a list of 257 venture-backed companies that are likely to be weighing up going public in the next 12 to 18 months. Our analysis is based on a range of signals and datasets, including total equity funding (and how soon each company may need fresh capital), valuation, employee headcount, Mosaic score, stage of investment, and the year each company was founded.
We also looked at key people hires to identify companies that recently brought on a chief financial officer (CFO) with previous IPO or public-company experience — a sign they may be getting their financials in order ahead of the scrutiny that comes with being a public company.
Depending on market dynamics, it's possible that many of these 257 companies will not end up going public — and those that do may not be strong performers. We are not trying to pick stock-market winners, and this list should not be viewed as investment advice.
Instead, we focus on the companies that may be ready to go public — or could have few better options than to do so — based on the signals and data mentioned above.
Below, we cover:
Market map of 2024 Tech IPO Pipeline companies 

Median equity funding and valuation by industry

Geographical distribution, including the top market outside the US

These 257 companies' current valuation bands

The top 10 investors with equity stakes in these companies
CB Insights customers can explore the latest data on all 257 companies in the Tech IPO Pipeline Expert Collection.
2024 Tech IPO Pipeline: Market map of 257 potential IPO candidates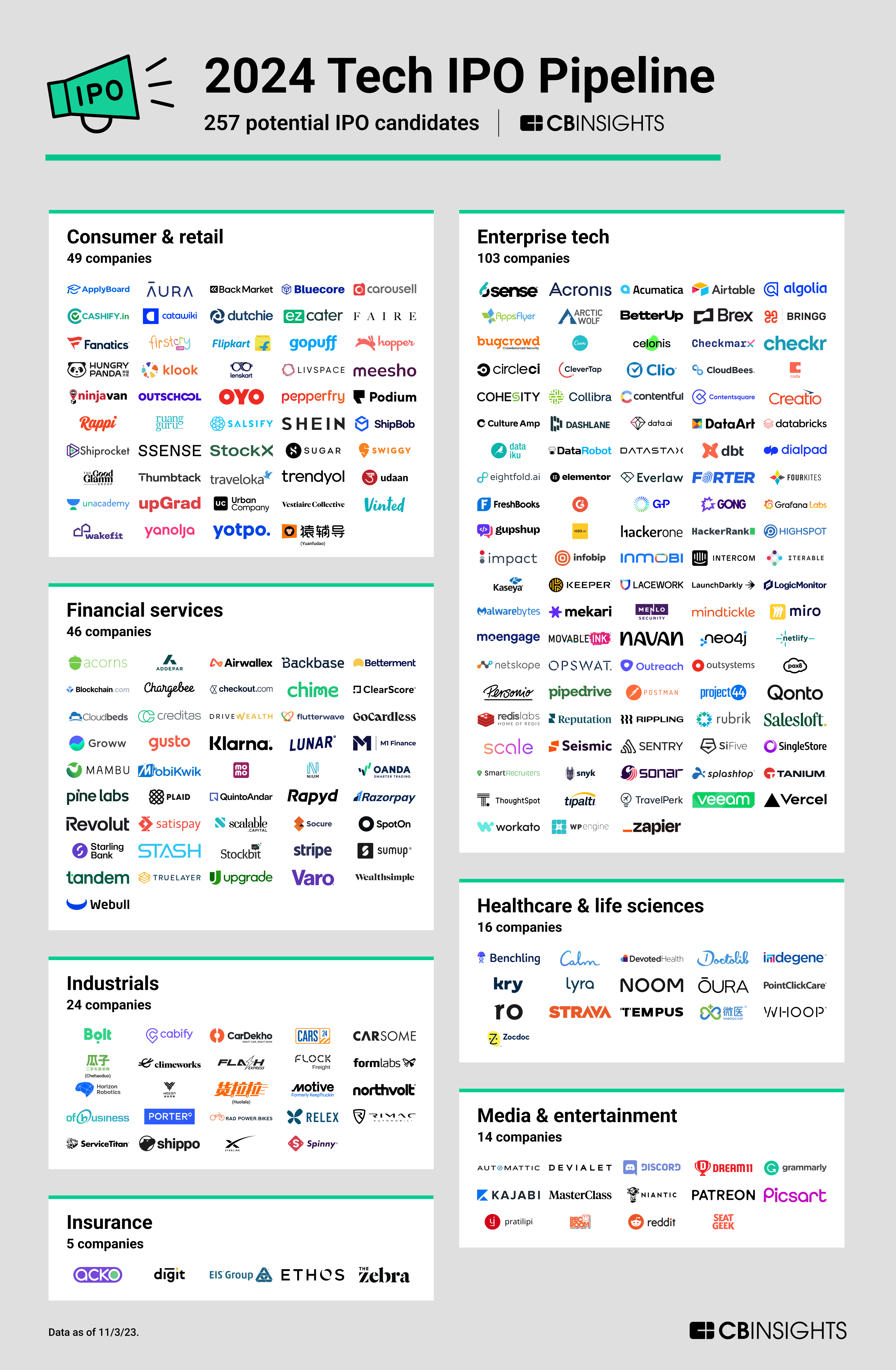 Industry breakdown
Companies on this list have raised significant equity funding — in some cases, billions of dollars — at steep valuations. 
When breaking it down by industry, we can see that some industries have been more heavily plied with capital, while others are relatively lean.
The industrials and consumer & retail categories have raised the most equity funding on a per-company basis, with median funding totals of $810M and $603M, respectively. These 2 industries tend to be the most reliant on large sums of capital to scale physical operations across factories, warehouses, storefronts, and fleets.
By contrast, the median enterprise tech company here has raised just $350M in equity funding. This group primarily deals in software and so has the benefit of less overhead.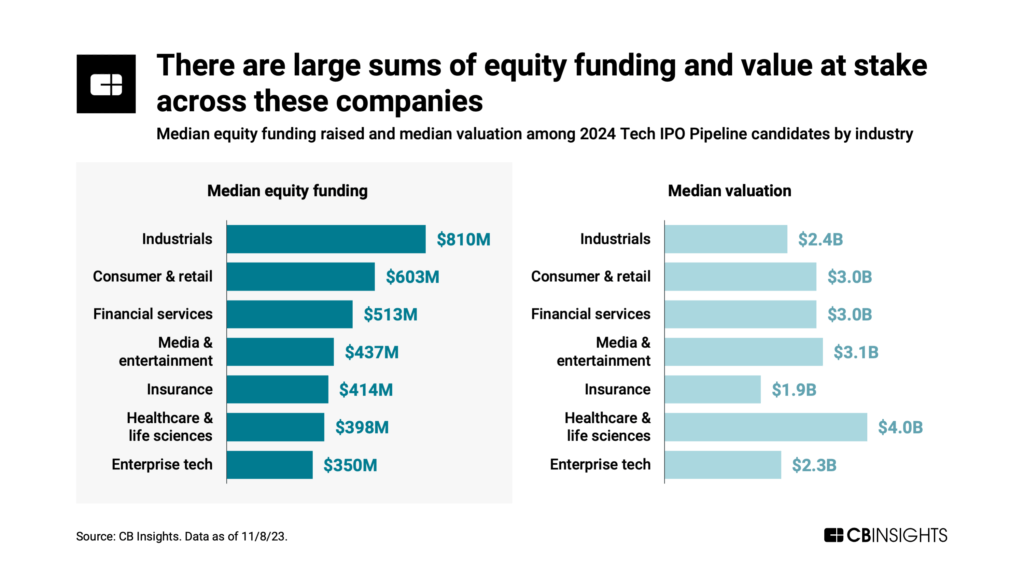 There is also substantial value at stake across the 2024 Tech IPO Pipeline companies. The median valuation ranges from $1.9B in insurance to $4B in healthcare & life sciences.
Geographic distribution
As the global leader in venture funding and billion-dollar unicorns, the US accounts for 153, or 3 in 5, of these potential IPO candidates.
Meanwhile, 31 potential candidates are based in India. The country's economy is on track to grow 6%+ in each of the coming years, per Barclays, and while venture funding to India remains depressed, its tech scene continues to gain momentum.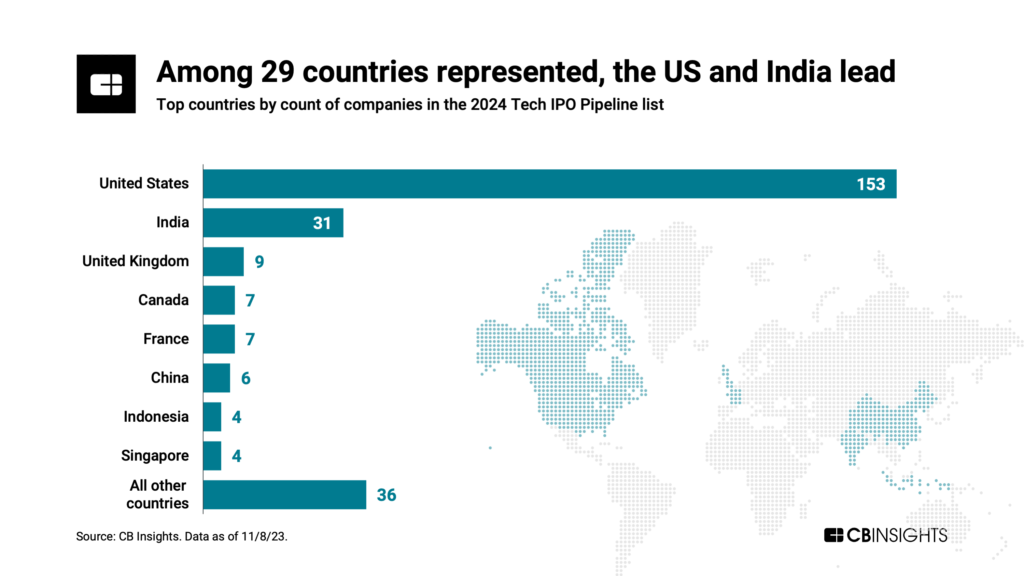 Meanwhile, China's tech companies face strong headwinds in the form of the country's stringent regulatory stance on tech and its fraught relationship with foreign economic powers like the US. Just 6 China-based startups made it onto the Tech IPO Pipeline list.
Notably, fast-fashion giant Shein, one of the highest-valued startups in the world at $66B, recently relocated to Singapore — likely as a way to avoid some of these risks as it gears up to go public. It's reportedly eyeing a US IPO at an $80B to $90B valuation.
Valuation distribution
Despite the high-flying aims of companies like Shein, there's no guarantee these companies will fetch valuations even close to their last ones. This is especially true for companies that last raised funding in 2021 or early 2022, when tech valuations were at their peak. 
However, a survey of their latest disclosed valuations could give investors an indication of what these companies are aiming for in a public debut.
The largest share (38%) of potential tech IPO candidates were last valued between $1B and $3B.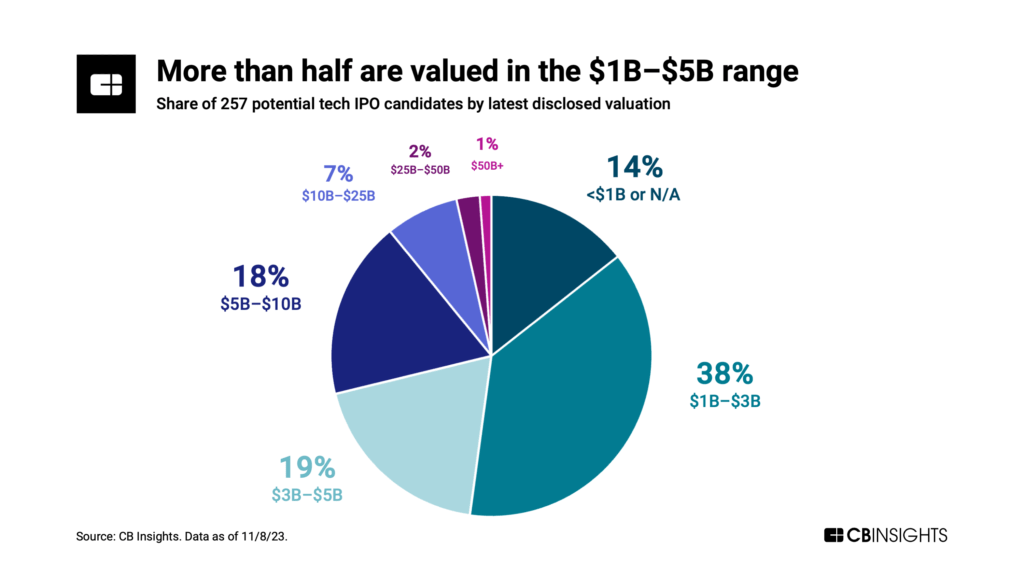 Meanwhile, 10% of companies hold valuations of $10B or higher — including one $100B+ valuation, which goes to SpaceX. CEO Elon Musk has made it clear an IPO isn't in the cards for SpaceX itself, but there has been talk that its Starlink business, which just reached breakeven cash flow, could spin off as a public company in the future.
Top investors
It's not just startup founders and employees waiting on the edge of their seats for an IPO. There's also a vast range of VCs that have stakes in these companies and would like to see a profitable exit.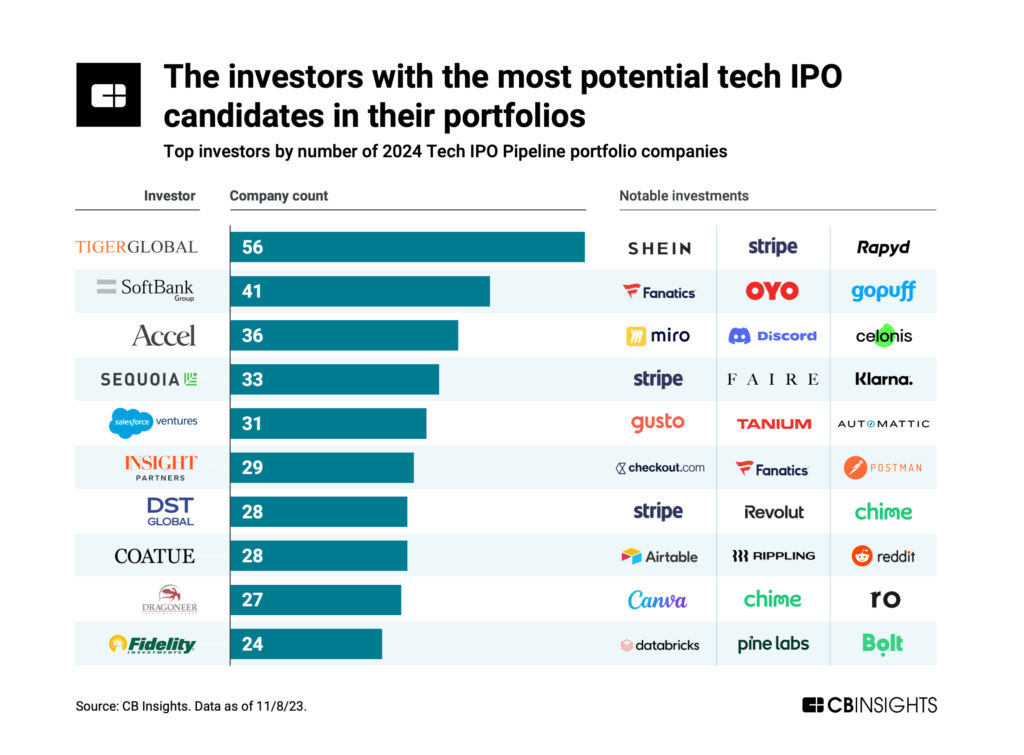 Among global investors, Tiger Global Management leads the pack with 56 of these companies in its portfolio. The asset manager has been beleaguered by the poor performance of its public-market funds and markdowns in its private bets. 
Seeing some of these portfolio companies go public could help it recoup some of its losses — as long as their valuations don't slip below the point where Tiger invested. Historically, Tiger Global has focused on the later stages of investment, where valuations are higher. It only invested in early- or mid-stage deals to 13 of its 56 portfolio companies on the list.
Meanwhile, Accel leads among traditional VCs with 36 companies on the list. Notably, Accel invested in early-stage rounds (seed and Series A) to more than half of these companies. This means Accel stands to see even greater upside if these companies go public.
If you aren't already a client, sign up for a free trial to learn more about our platform.