Our 6th annual Tech IPO Pipeline Report looks at 355 of the most promising and highly-valued private companies in the United States.

REPORT HIGHLIGHTS:
These are the startups that will shape tech news in 2018. While overall tech VC deals have fallen, the number of private tech mega-rounds ($100M+) has recovered as investors pile into potential winners. After a lackluster 2016, VC-backed tech IPOs have rebounded, and 2018 could be significantly bigger.
$104.6B RAISED BY TECH IPO PIPELINE COMPANIES 
The 355 companies on the 2018 Tech IPO Pipeline have raised over $104B across more than 1,900 deals since 2000. Since the start of 2015, companies in the pipeline have raised more than $75B as investors continue to pile in large investments, despite fewer deals on an annual basis.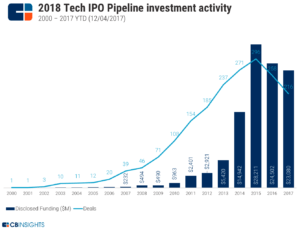 17 PIPELINE COMPANIES JOIN THE UNICORN CLUB IN 2017 YTD
32 of the Tech IPO Pipeline companies entered the billion-dollar club in 2015. Since then, fewer than 20 reached their first $1B+ valuation in either 2016 or 2017 YTD.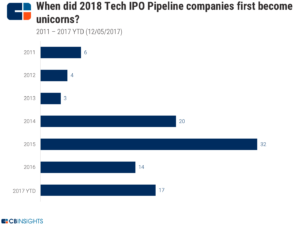 IPO PIPELINE COMPANIES IN CALIFORNIA DOMINATE BY TOTAL FUNDING FOLLOWED BY NEW YORK
California has received the lion's share of aggregate funding for Tech IPO Pipeline companies, with $56B. New York-based pipeline companies have raised over 4x the amount of total funding as pipeline companies in Massachusetts.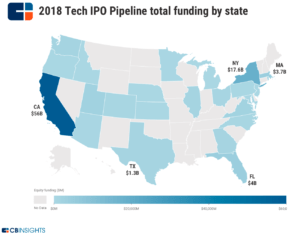 Not all of these 355 companies will IPO next year. Many have just crossed the $100M valuation threshold. Others continue to tap into creative sources of capital. Yet these companies have demonstrated significant momentum and are some of the most promising tech companies in the US. After this year's rebound in VC-backed tech IPOs, these companies may continue the IPO rally next year.
If you aren't already a client, sign up for a free trial to learn more about our platform.