A deep dive into tech M&A and IPO trends, covering top investors and VCs, largest exits, and much more.
REPORT HIGHLIGHTS:
TOTAL TECH EXITS DROPPED IN 2016, BUT IPOs UP
Globally, there were 3260 M&A exits and 98 IPOs in 2016. Total tech exits saw a 4% decline over 2015, which saw 3421 M&A exits and 90 IPOs. Overall, exit activity was up in the second half of 2016 with 1726 exits compared to 1632 exits in the first half of 2016.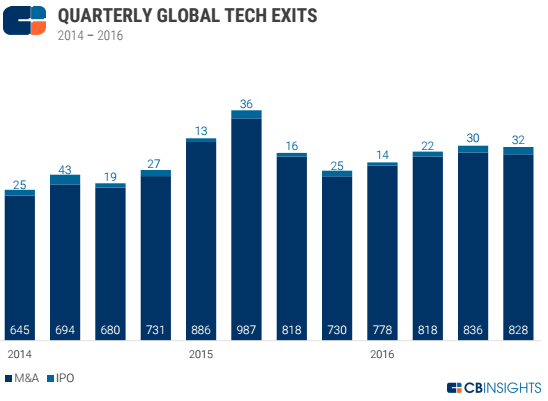 GOOGLE WAS THE MOST ACTIVE ACQUIRER IN 2016
Google made several tech acquisitions in 2016 including Eyefluence and API.AI, among several others. Salesforce and Accenture tied for the number 2 spot followed by J2 Global, which bought companies including Offers.com and Web24.
UNICORN BIRTHS DECLINE, UNICORN EXITS INCREASE IN 2016
There were 18 $1B+ tech exits in 2016 including The Dollar Shave Club, Cruise Automation, and Jet, among several others. That's up over 2015 which saw just 12 tech exits of $1B+. However, unicorn births have significantly declined in 2016 with just 25 companies gaining $1B+ valuations, a 68% decline year-over-year compared to 2015.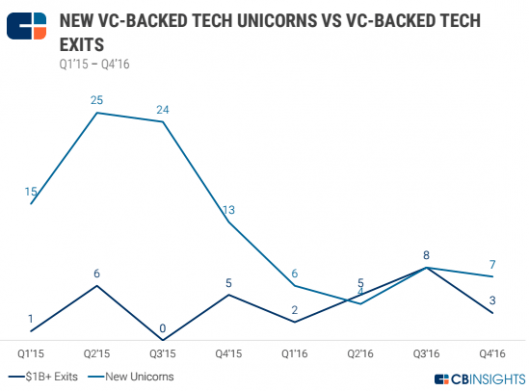 If you aren't already a client, sign up for a free trial to learn more about our platform.