A modest tech valuation reset is underway. We look at how tech startup valuations have fared amid the market downturn, which deal terms investors are negotiating to reduce their risk, and more.
Tech company valuations charted a meteoric rise over the past 2 years — until Q2'22, when median valuations fell across the majority of investment stages. That said, valuations remain lofty compared to previous years, suggesting that there's still room for them to fall further.
Below, check out a few highlights from our 24-page, data-driven Tech Valuations Q2'22 Report. For the complete breakdown of tech valuations and deal terms data, download the full report.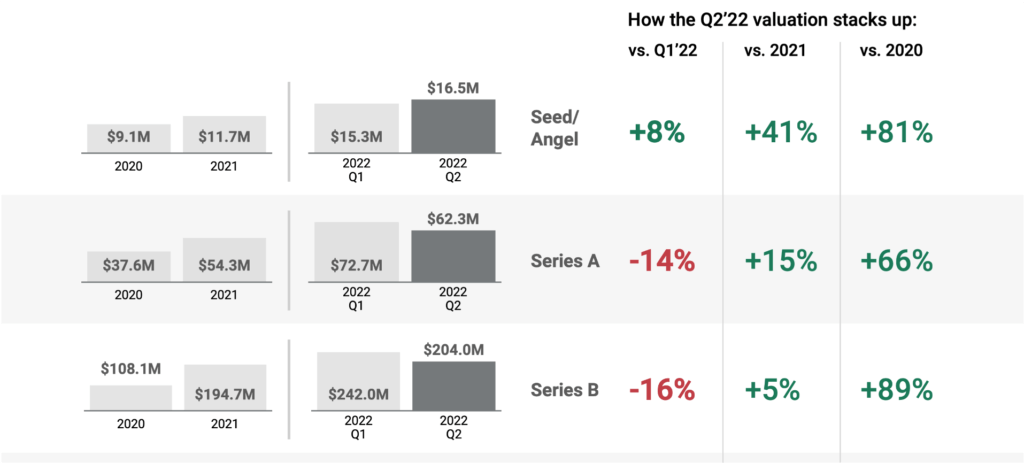 Key takeaways from the tech valuation landscape in Q2'22 include:
The median valuation for technology companies declined vs. Q1'22 across Series A, Series B, Series C, and Series E+ — while growing for seed/angel and Series D rounds. Only Series E+ valuations are down compared to 2021.

Late-stage deal volume shrunk 17% QoQ and is on pace to fall 29% YoY, as investors become more discerning and retreat from larger deals.

Investors are increasingly hedging their investments by negotiating greater downside protection. The percentage of later-stage deals in the US that require prioritized payouts for new investors increased to 41.4% — up 8.3 percentage points from 2021.

Download our Q2'22 Tech Valuations Report to learn about all these trends and more.
If you aren't already a client, sign up for a free trial to learn more about our platform.