Private tech company valuations bounce back at the earlier funding stages in Q1'23, but late-stage deals remain under pressure. We look at how valuations, deal sizes, and deal terms are changing across the venture landscape. 
Q1'23 saw a broad array of economic challenges for startups seeking funding — including rising interest rates, a frozen IPO market, and slowing venture activity — but even so, median valuations for Series A, B, and C tech startups recovered slightly. Those deal stages experienced quarter-over-quarter median valuation growth for the first time in a year. Meanwhile, late-stage companies had a tougher time with the median valuation for Series D+ rounds dipping to $0.9B — just below the threshold for unicorn status.
Below, check out a few highlights from our 20-page, data-driven Tech Valuations Q1'23 Report.
CB Insights clients can sign in to download the full report for a complete breakdown of historical data across all funding stages, including:
Valuations
Deal sizes
Deal volume
Typical deal terms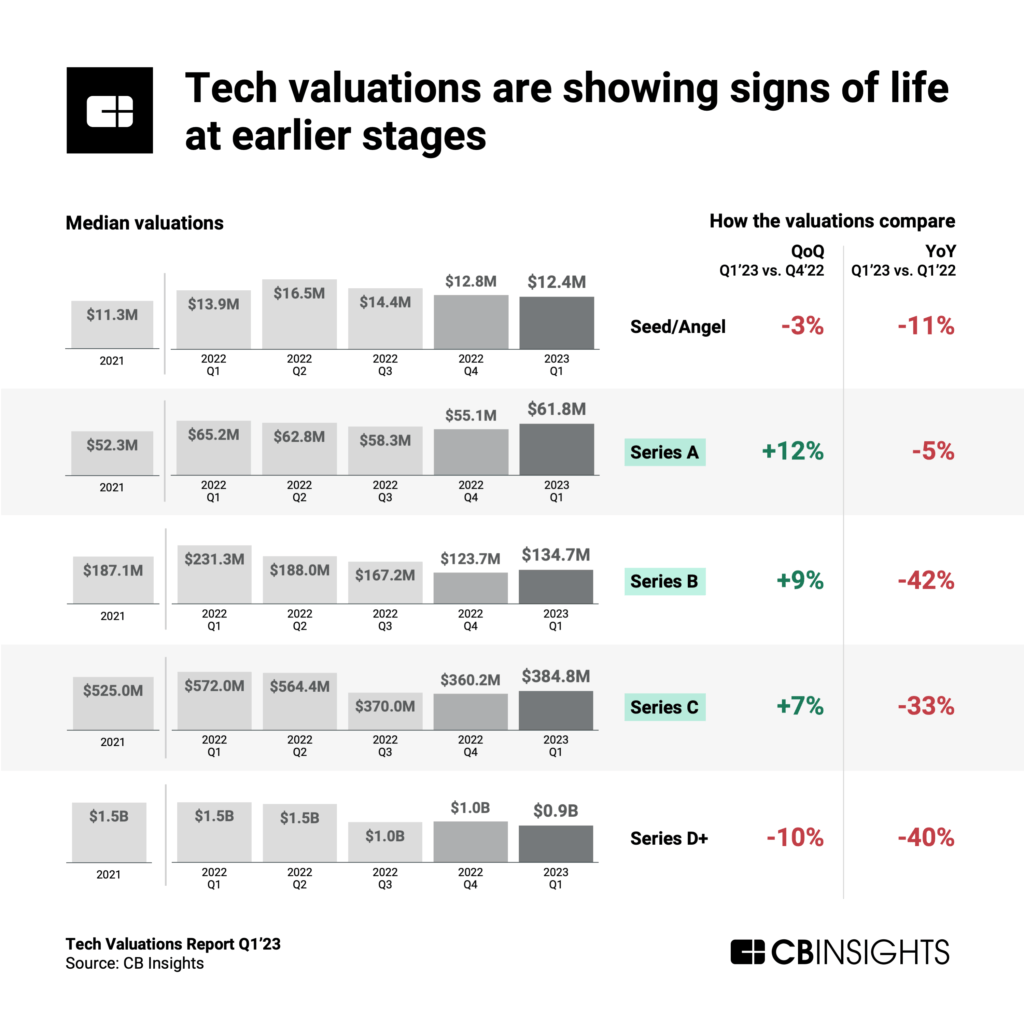 A few key takeaways from the tech valuation landscape in Q1'23 include:
Median tech company valuations grew quarter-over-quarter for Series A (12%), Series B (9%), and Series C (7%) rounds for the first time in at least a year.
Valuations for seed/angel rounds were only down 11% year-over-year and Series A contracted just 5%. Mid- and late-stage valuations were less resilient with YoY declines of between 33% to 42%.
The global median deal size for late-stage (Series D+) tech startups returned to pre-pandemic levels, settling at $50M for the second straight quarter.
Nearly two-thirds (64%) of US late-stage deals were negotiated with seniority or tiered liquidation preferences — the highest level in over 4 years as investors look to insulate themselves from downside risk.