Consumers are increasingly pushing for sustainable business practices in retail, driving businesses to reassess what they produce — and how. From ingredient upcycling to plastic alternatives to smart trash cans, we look at the technologies placing sustainability at the center of retail products and processes.
The fashion industry generates over 92M metric tons of waste every year. Global food waste totals around 1.6B metric tons. It's no secret that industries in the retail sector are some of the most wasteful and polluting in the world.
Consumers are increasingly demanding change:
Fifty-two percent of textile industry experts say consumers are driving the heightened focus on sustainability in fashion, which includes more transparent supply chains, alternative materials, and secondhand shopping.
Similarly, 65% of consumers say they want food products that are sustainable, from alternative proteins to compostable packaging.
Investors are pouring money into the retail space, with dollars more than doubling from 2020 to 2021. Much of this is focused on sustainability efforts, from supply chain tech to tackling food waste.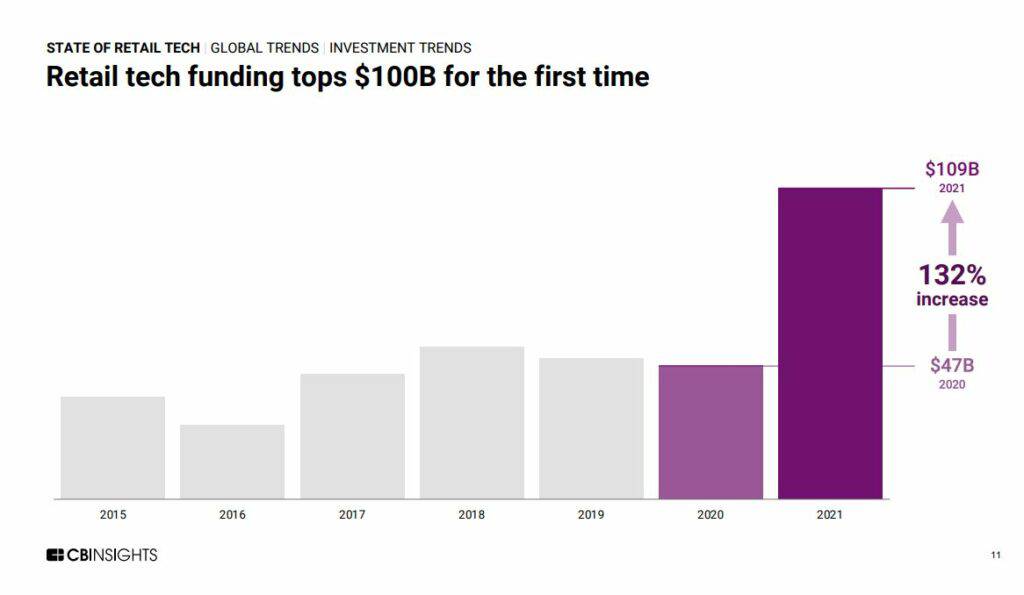 Regulatory agencies are also driving the shift to a circular economy focused on waste reduction. For example, the European Union is creating a strategy for sustainable textiles that aims to create products that are more durable, reusable, recyclable, and energy-efficient. It's set to be adopted in early 2022. In the US, President Joe Biden signed an executive order in 2021 directing federal institutions to draft regulations that protect the consumer's right to repair electronic devices and other tools. This could reduce electrical waste and lengthen product life cycles.
The shift to a circular economy will doubtlessly pose major challenges for retailers, but it's also a massive opportunity — and new tech solutions are emerging all the time to make the transition easier. From resale platforms to regenerative farming to autonomous delivery vehicles, we examine how technology is shaping the future of sustainable retail.
In this report, we cover innovation in the following areas:
Extending the product life cycle
As one of the pillars of the circular economy, giving old items new life instead of sending them to the landfill is gaining increased mainstream attention and is being spurred by technological advances. Resale and rental platforms are leading the way, joined by the growing use of reusable and refillable packaging.
Resale platforms
The secondhand apparel economy is projected to reach $64B by 2028, according to CB Insights' market sizing tool. Driving this expansion is the resale market, which is primarily concerned with higher-quality items and is expected to grow 11x faster than the broader retail clothing sector over the next 3 years.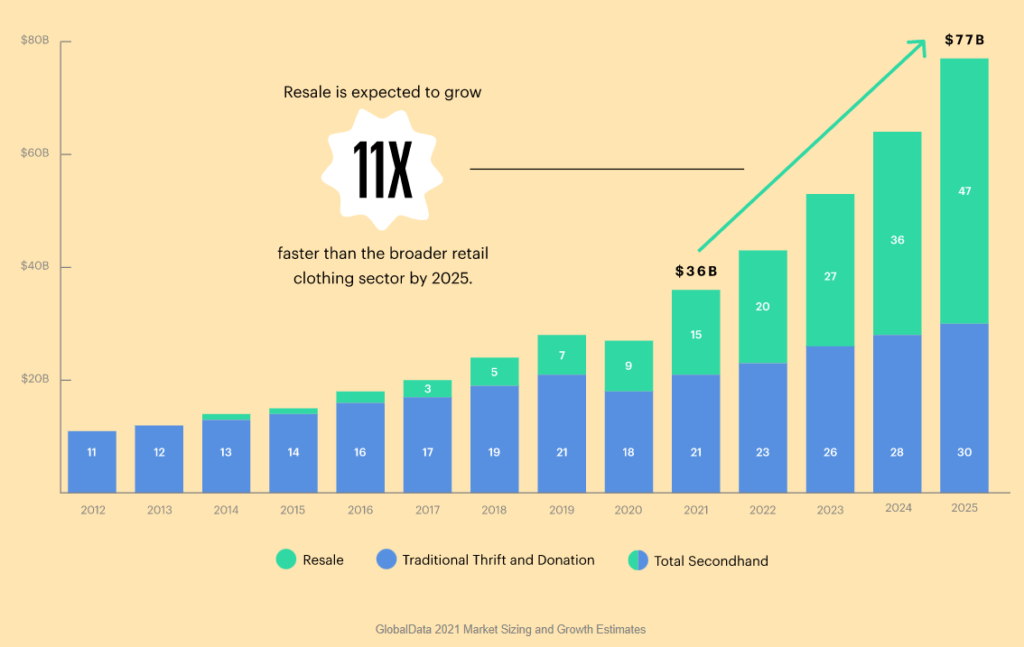 Source: thredUP
Secondhand stores are nothing new, but startups are helping these brick-and-mortar outfits find another life online — and raising significant funding.
The growing interest in resale platforms is attracting luxury brands to invest in their own resale channels using white-label circular solutions like Reflaunt. The resale-as-a-service (RaaS) platform raised a $2.7M seed round in early 2021 with participation from several luxury players.
Reflaunt lets consumers resell products directly on the brand's website, receiving store credit or cash in return. Net-a-Porter recently partnered with the startup to build a resale platform, meaning shoppers can buy an item and later resell it on the same site.
Trove is another circular economy platform, working with brands like Levi's and Eileen Fisher. So far, the company has raised $121M in funding.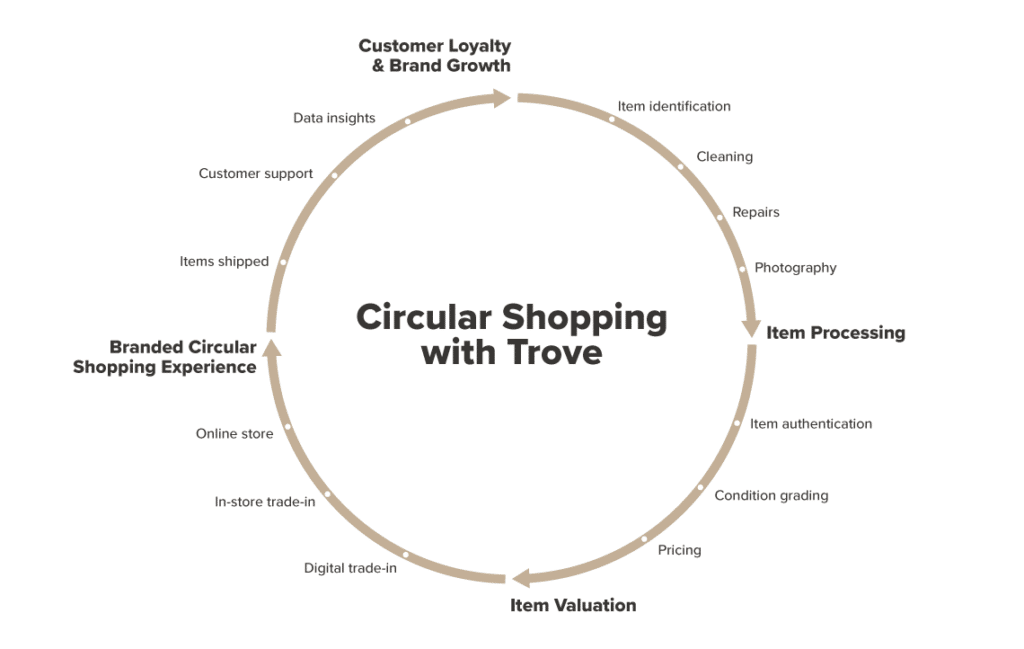 Trove's circular shopping experience. Source: Trove
But reselling is not just limited to the fashion industry. Furniture giant Ikea introduced its Buyback & Resell program in 2020 for 27 countries, offering store credit in exchange for used items. In 2021, the company expanded the program to 33 locations in the US.
Rental platforms
Renting clothes and furniture can be a more sustainable alternative to buying. It emphasizes access rather than ownership and capitalizes on the sharing economy, providing consumers a budget-friendly way to redecorate or wear expensive designer items while maximizing the life cycle of the items.
The Covid-19 pandemic has had a considerable impact on the rental industry. Furniture rental boomed as consumers were busy setting up home offices. For example, Fernish saw home office orders grow 300% from March to May 2020. The company says it prevented the release of 1,042 metric tons of CO2 that year by renting and restoring items and kept almost 250 tons of furniture from ending up in landfills.
Other "furniture-as-a-service" companies include Furlenco and Feather, which both offer monthly subscription models. In July 2021, Furlenco raised a $140M Series D to expand its international presence beyond India.
Clothing rental has had a bumpier road. Companies like Rent the Runway saw significant losses in subscriptions in early 2020 as people were forced to stay indoors and had less of a need for new clothes. But as restrictions were lifted, users flocked back to the platforms. Rent the Runway experienced a 92% increase in the number of subscribers from May 2020 to May 2021.
Another company in the space that has gained traction is Seattle-based Armoire, which curates a rental closet for customers for a monthly fee. The startup builds this closet using a combination of professional stylists and machine learning algorithms that take into account a user's fit, shape, size, and other style preferences. The company raised $6.2M in funding in early 2021.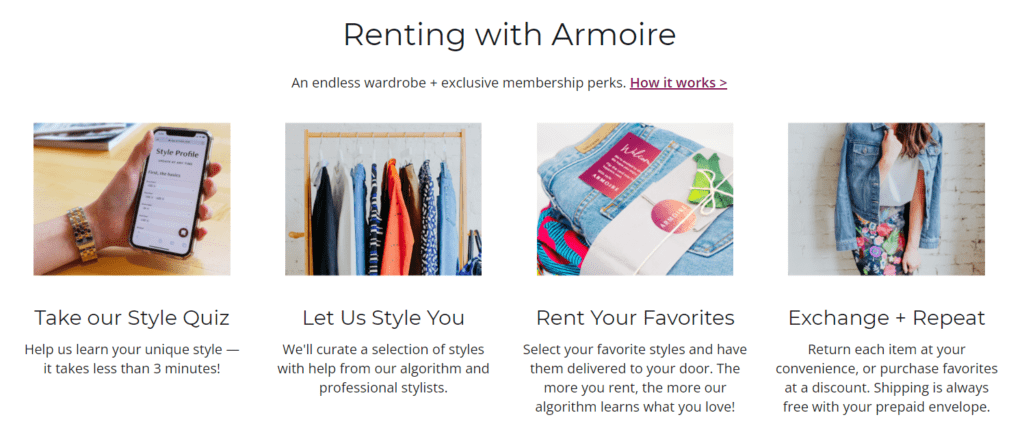 Source: Armoire
Some clothing rental startups focus on special occasions instead of everyday wear. For example, Designerex users can rent dresses from each other. The Australia-based startup, which launched in the US in 2019, has been called "Airbnb for dresses." This saves shoppers money and reduces clothing waste.
Tech companies are also driving sustainability in the baby clothing industry. Switzerland-based Oioioi rents out organic baby clothes, allowing parents to size up any time.
White-label solutions in the rental space allow brands to easily set up their own renting operations. For instance, Paris-based Lizee allows brands to enter the circular economy by renting (or reselling) their inventory. The company, which has worked with the likes of Adidas and Decathlon, helps power all the logistics associated with resale or rental operations.
The platform loopt offers a similar solution along with reverse logistics in North America, meaning that the company can take care of cleaning, assembly, and shipping for resold clothing and furniture.
Repair platforms
Another way brands are promoting longer clothing life cycles and limited waste is by offering repair services to encourage consumers to wear their clothes more and make them last longer.
Sustainability-focused outdoor clothing and gear company Patagonia has repair and care guides on its website and operates Worn Wear, a recycling and repair program.
Women's clothing brand Eileen Fisher is doing the same, buying back clothes and reselling them through its Renew program. Garments in good condition are washed and cleaned; those needing minor repairs are sewed and fixed; and those damaged beyond repair are repurposed and remade into something new — artworks, pillows, or wall hangings.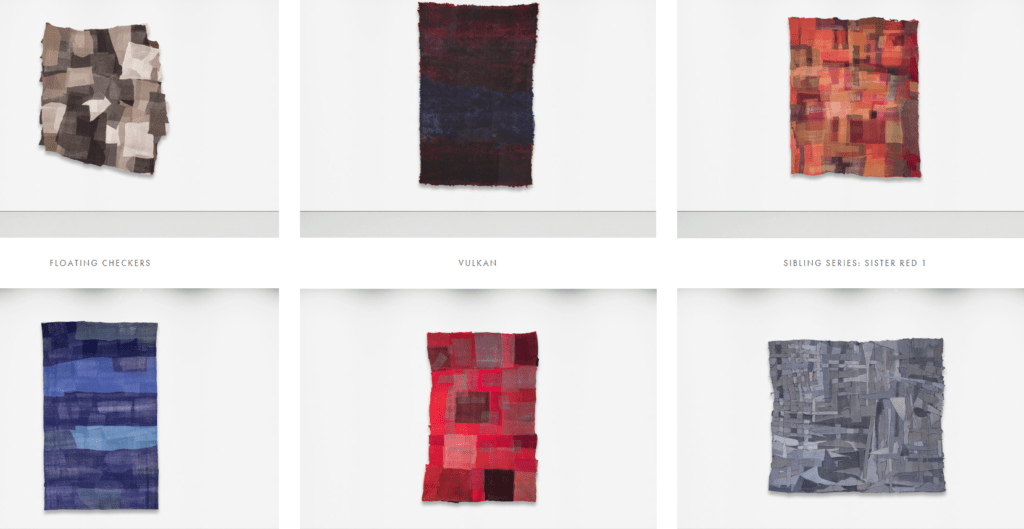 Source: Waste No More
Luxury retailer Farfetch also launched a repair program called Farfetch Fix in collaboration with The Restory, a company providing aftercare for luxury items. By visiting the Farfetch website, consumers can make a booking and have their bags, shoes, or other leather items picked up and repaired by a professional.
Some luxury brands have had a free repair program for years. In the case of Brunello Cucinelli, however, the longstanding repair program took off only recently, showing a rising awareness among consumers that clothing should be bought to last.
Refurbished electronics marketplaces
Consumers are always on the lookout for the next device upgrade, from smartphones to digital watches to laptops. But constant upgrades create a huge environmental issue — global electronics waste is expected to reach 74M metric tons by 2030, according to the Global E-waste Monitor 2020.
Instead of buying brand new electronics every year, consumers can invest in more sustainable options such as refurbished devices. Startups in the consumer electronics refurbishment space are gaining significant traction.
For example, France-based electronics reselling platform Back Market has raised over $1B in funding to date, with the latest Series E funding round amounting to $510M and valuing the company at $5.7B. Its website offers everything from smartphones to home appliances to 6M+ customers all over the world. To offer devices on its platform, sellers undergo rigorous screening, with only 1 in 3 being approved.
Similarly, France-based Certideal, which has a Responsible Recycling certification guaranteeing the quality of its devices, recently raised a $17M funding round as it prepares to expand to more territories in Europe.
Another successful company in this space is Aihuishou, a China-based platform offering previously used electronics and appliances. It sold 26.1M products on its platform between March 2020 and March 2021, and went public in June 2021.
Refillable & reusable packaging
Companies are under increasing pressure to eliminate single-use packaging and introduce more sustainable options. While recyclable materials are one of the solutions, not all consumers have access to recycling facilities. What's more, recyclable items often get contaminated or shipped overseas where they are sent to landfills.
Refillable and reusable packaging provide companies and consumers with a simple method to reduce single-use packaging, especially plastic.
In 2019, recycling company TerraCycle launched the reuse platform Loop, which allows customers to order products in reusable packaging. The platform has since expanded beyond the US to the United Kingdom, France, Australia, Japan, and Canada. On the website, shoppers can order products from an array of food and personal care brands, including Häagen-Dazs, Burt's Bees, and Gillette.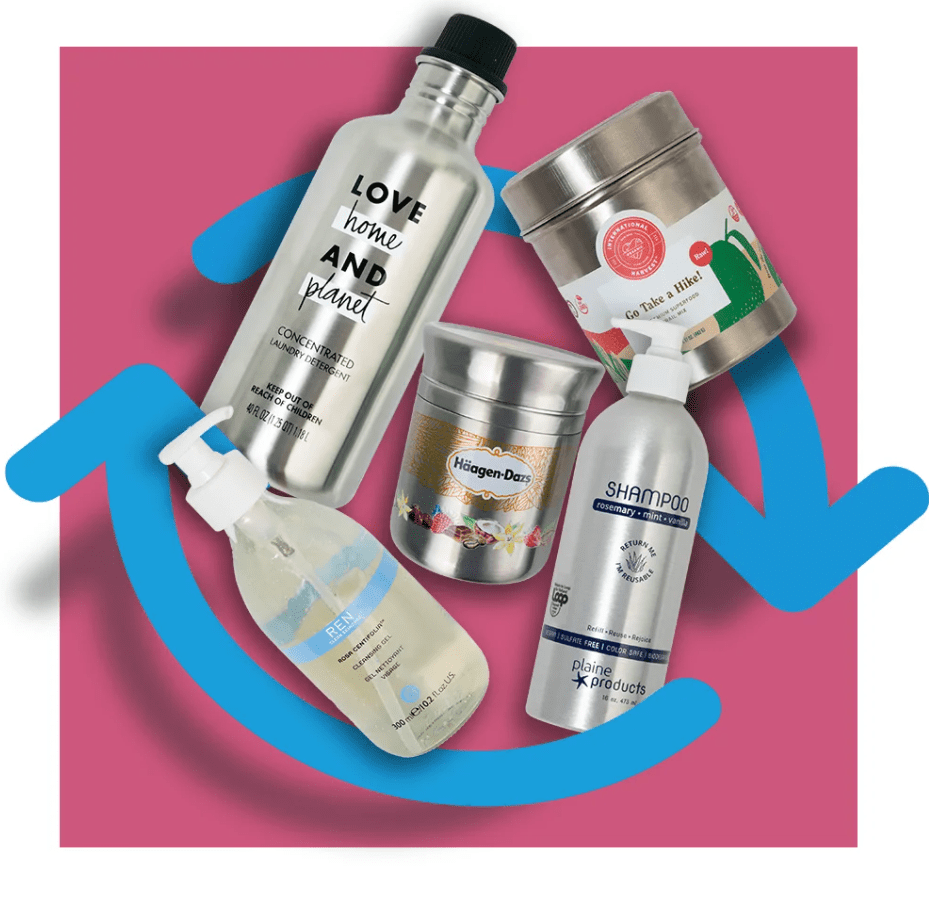 Loop's reusable and refillable packaging. Source: Loop
Some companies have decided to opt for sustainable packaging right off the bat. Beauty brand Kjaer Weis, for example, packs its lipsticks, mascaras, and other products in reusable metal containers.
Plastic is also a major problem in the food industry, especially when it comes to delivery and takeout. San Francisco-based Dispatch Goods aims to eliminate plastic waste with its reusable containers and partners with restaurants, caterers, and food delivery services. The company raised $3.7M in seed funding in December 2021 to expand its partnerships and invest in hiring.
An innovative solution for single-use plastic packaging comes from Chile-based Algramo. Its circular platform allows users to purchase bottles for cleaning products, refill them in a store with a smart Algramo dispenser, and pay for the product using an app. In 2020, the company launched in the US by installing dispensers in vending machines around New York City.
Deadstock marketplaces
Unsold merchandise and unused raw materials, known as deadstock, pose another opportunity for companies to reduce waste.
In recent years, high-profile brands like Burberry came under fire for burning deadstock worth tens of millions of dollars. While the company has since stopped this practice, the fiasco brought deadstock and how businesses dispose of it to public attention. A variety of solutions have emerged to help companies resell deadstock without resorting to unnecessary pollution.
Luxury giant LVMH, owner of brands such as Fendi and Louis Vuitton, has changed its deadstock disposal strategy by launching the Nona Source platform. It supports the resale of its brands' fabrics and materials. As of now, the platform is only available in Europe.
On a global scale, manufacturers can resell deadstock fabrics on the online marketplace Queen of Raw. To date, the platform has supported 325,000 buyers and sellers around the world, boasting partnerships with brands such as H&M and LVMH.
Eliminating wasteful resources, materials, and processes
The retail industry needs to reduce its reliance on materials that are resource-intensive and come with a high carbon footprint. From palm oil alternatives to biodegradable textiles to vertical farming, tech is helping retailers find more sustainable resources.
Alternative ingredients
Many everyday products contain ingredients that are often sourced in unsustainable ways, such as palm oil. Palm oil is present in nearly 50% of packaged goods and is a major driver of deforestation. Many manufacturers use palm oil produced on plantations where forests have been cut down to make room for planting.
To prevent the further destruction of environmental resources, C16 Biosciences has developed a laboratory-made version of palm oil. The invention has garnered the attention of Bill Gates' fund, Breakthrough Energy Ventures, which invested in the startup's $20M Series A round in 2020. C16 is planning to target personal care products before it tackles the food industry, but the question remains whether the cost of palm oil alternatives can become competitive for manufacturers.
Animal-derived protein, especially beef, also has a major environmental impact. Startups are developing lab-made proteins that could significantly reduce emissions. For example, Shiru is making alternative proteins from fungi and yeast. The company raised a $17M Series A funding round in October 2021 with plans to invest in a new facility and a pilot plant.
Similarly, Germany-based startup Saccha makes protein from brewer's yeast. The company claims it uses 250x less water and emits 85x fewer greenhouse gas emissions than beef protein.
Startups are also working on alternatives to collagen, another animal-based protein present in food and skincare. California-based Geltor has designed a process that makes collagen from engineered microbes. In 2020, the company raised a $91M Series B to expand its "ingredients-as-a-service" platform.
Alternative textiles
One way the fashion industry is looking to reduce waste and pollution is by using alternative fabrics.
Natural fibers, such as cotton, are resource-intensive. Making one cotton shirt requires 713 gallons of water — approximately what one person drinks in 2.5 years. Synthetic materials like acrylic, polyester, and nylon degrade very slowly and can contain harmful chemicals.
Some fashion brands are turning to agricultural waste products such as leaves and rinds to create more eco-friendly textile alternatives.
For example, UK-based Ananas Anam turns pineapple leaves into a leather textile called Piñatex. Fibers are extracted from pineapple leaves and, after processing, emerge as a non-woven mesh forming the base of the textile.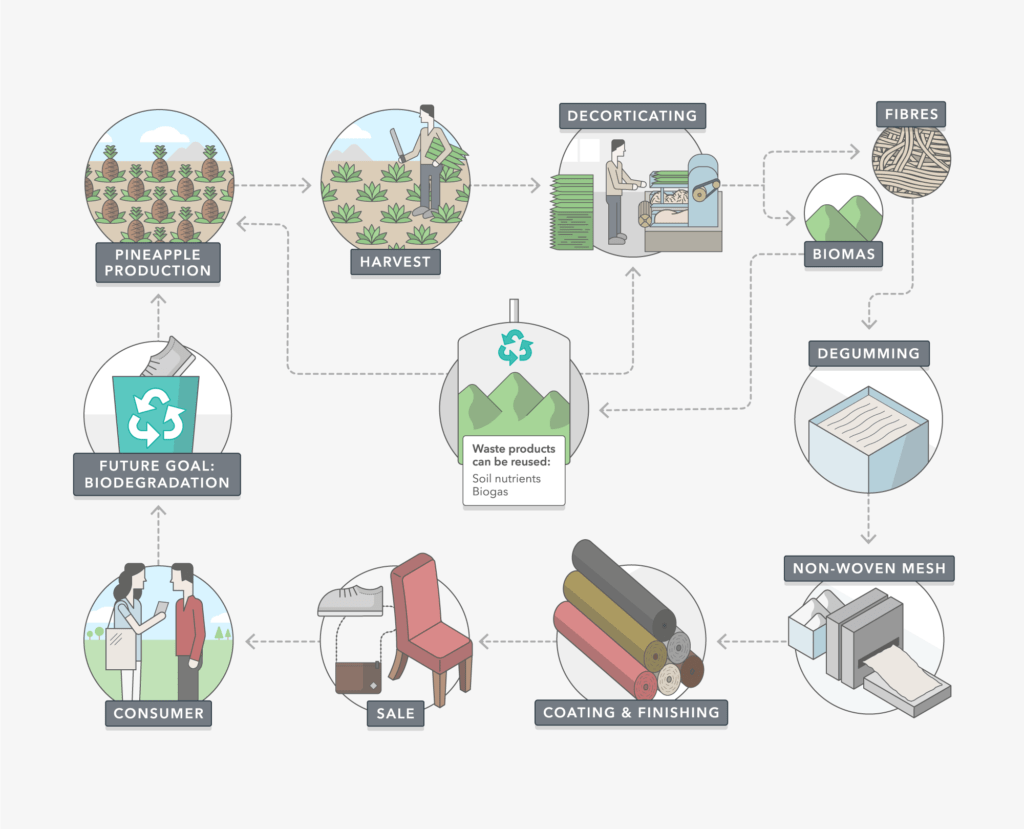 Source: Ananas Anam
Ananas Anam does not use any substances that are hazardous to the environment, and its non-woven mesh is biodegradable. The startup has caught the attention of some high-profile designers — menswear brand Hugo Boss crafted limited-edition sneakers using Piñatex.
Another startup exploring biodegradable fabrics is Italy-based Orange Fiber. The company extracts cellulose from the rinds of juiced oranges and converts it into a material resembling silk. When combined with other yarns, the fiber can be made into garments. Italy-based fashion label Salvatore Ferragamo launched a capsule collection of dresses, pants, and shirts made from orange fiber in 2017. In 2021, Lenzing Group, which manufactures specialty fibers, partnered with Orange Fiber to launch sustainable fibers called TENCEL.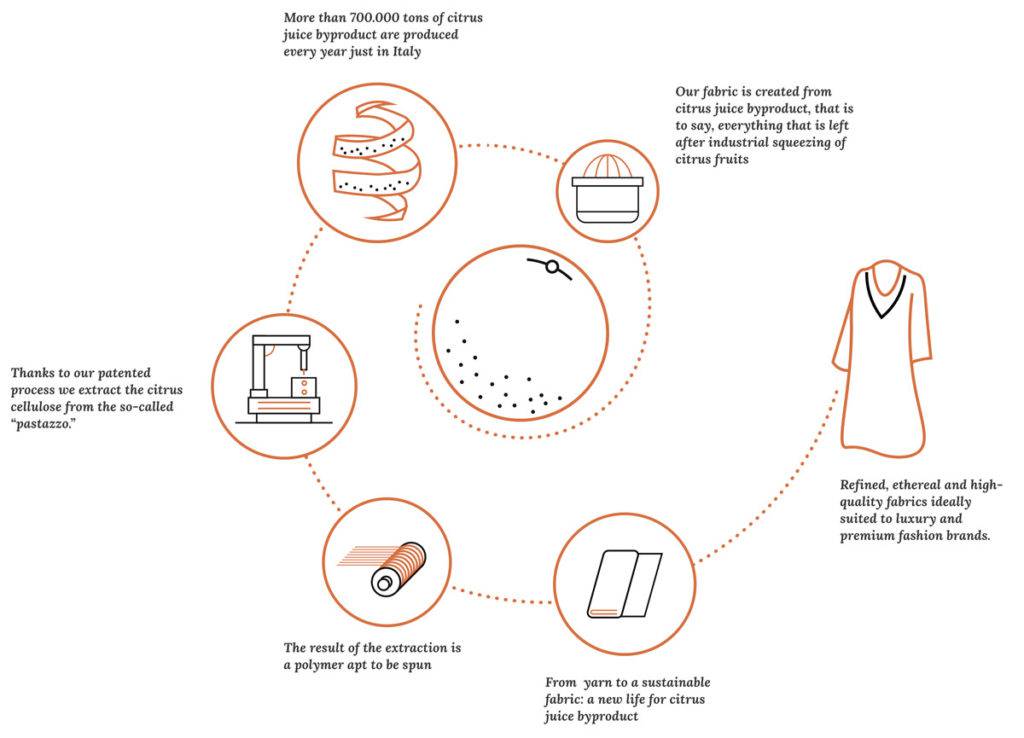 Source: Orange Fiber
Lab-grown leather is also poised to disrupt the fashion industry, where clothing and accessories made from real leather have long been a staple, especially among luxury brands. Bolt Threads, the startup behind lab-grown leather made from mushrooms, is planning on commercializing its production by the end of 2022. The fake leather, called Mylo, has already been used in items designed by Adidas.
But it's not just startups making biodegradable clothing. US-based retailer Frame recently partnered with Italy-based jean company Candiani to create a line of biodegradable jeans using organic cotton and natural rubber.
For now, natural textile sources seem to be geared toward low-volume, high-priced brands. More investment may be needed from large brands to tailor these textiles to their high-volume requirements. To this end, Fashion for Good and BCG estimate that investors will need to put forward $20B to $30B per year in sustainable fashion solutions to create considerable change in the industry by 2030.
Vertical farming
Vertical farming allows plants to grow without being dependent on outside elements. Plants are stacked vertically inside a closed facility, which means these farms need less space than traditional farming. Therefore, they can be set up close to urban centers and grocery retailers, reducing carbon emissions associated with transport and a long supply chain, as well as the physical land resources needed.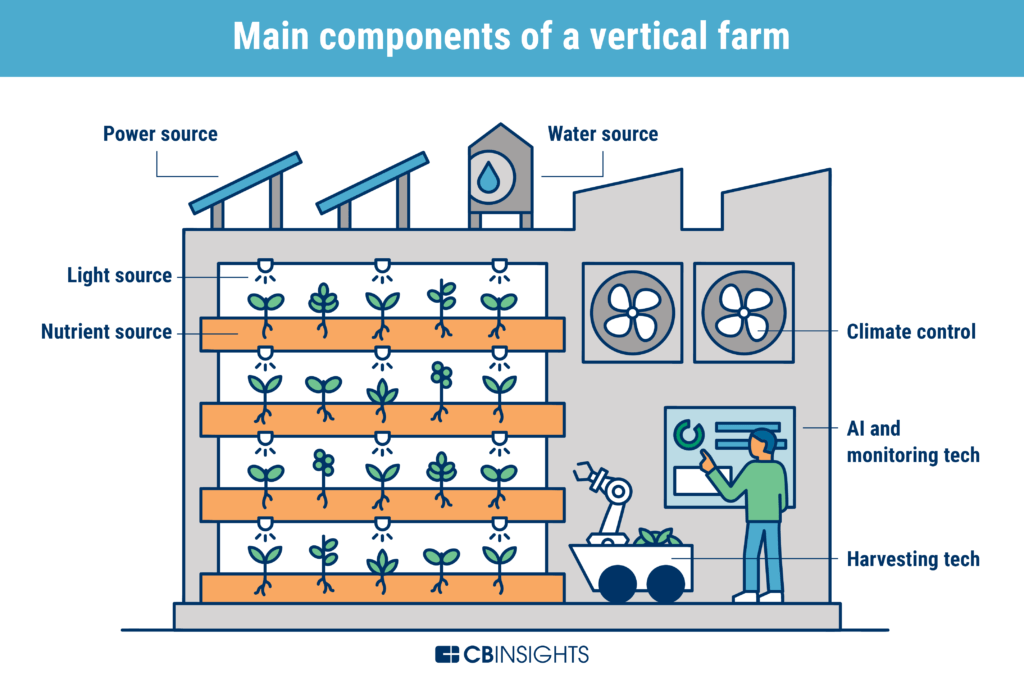 What's more, vertical farms reduce food waste due to the short supply chain, with the added benefit of producing year-round harvests. Vertical farming also uses up to 95% less water than traditional farming practices, according to Accenture.
Dream Harvest, a Texas-based vertical farm, reportedly produces a harvest that's 400x larger than that of a traditional farm. The produce has a longer shelf life, too — it stays fresh 2 weeks longer than produce from outdoor farms. In December 2021, Dream Harvest raised $50M with plans to increase production and build a new 100,000-square-foot farm.
Regenerative farming
By using cotton and other raw agricultural materials, the fashion industry and its supply chains are directly linked to soil degradation and biodiversity loss. Now fashion brands are beginning to look to regenerative agriculture to curb these negative effects on the environment.
Regenerative agriculture works to restore soil health through practices such as composting, avoiding synthetic fertilizers and pesticides, and planting crops that grow year-round to enrich the soil and prevent erosion. The resulting natural CO2 sequestering could help to reverse the effects of climate change.
France-based luxury brand Kering has partnered with the Savory Institute, a nonprofit organization supporting regenerative agriculture, to help identify and develop a network of regenerative farms.
Kering, which hopes to cut its environmental impact by 40% by 2025, will use Savory's Ecological Outcome Verification (EOV) methodology in its supply chains for leather, wool, and cashmere. EOV tracks ecosystem functionality to assess the health of the land and farming systems that support the production of these materials, which will help Kering build a more sustainable and transparent supply chain.
In 2020, the company announced it was on track to complete its goal, having reduced its overall environmental impact by 14% from 2015 to 2018. Kering and the Savory Institute hope that the resulting network of farms will provide an example of restorative practices for other companies to follow so that they can be incorporated in fashion and luxury supply chains more broadly.
To help create more regenerative farms, Kering also launched the Regenerative Fund for Nature alongside Conservation International in early 2021. The goal of the fund is to transform 1,000,000 hectares into regenerative farms in the next 5 years.
Other brands such as Patagonia and Dr. Bronner's are also investing in regenerative farming. Both companies are allies of the Regenerative Organic Alliance (ROA), which has created a Regenerative Organic Certification to set a standard for what can legally qualify as regenerative farming.
Patagonia is working on pilot projects to make existing organic cotton farms in India fully regenerative. From 2018 to 2021, the project grew from just 165 farmers to 2,260. The company also launched a T-shirt line made of organic cotton sourced from regenerative farms in India in 2020.
Regenerative farming still has significant obstacles to overcome. Because the process of converting an organic farm to a fully regenerative one takes multiple years, farmers might have a hard time investing without a brand paying the premium. Fashion companies must be willing to support farmers who do not have the financial resources to shift to regenerative methods.
Some fashion companies are involving their customers in the process of investing in regenerative farming. Christy Dawn, a Los Angeles-based clothing brand, is inviting its customers to invest $200 to support its regenerative cotton farm in India. One investment covers one plot of land, with 500 plots available in total. After the harvest, investors will be rewarded with store credit. Since the launch of the Land Stewardship program in September 2021, customers have invested in close to 200 plots of land.
A regenerative farm featured on Christy Dawn's website. Source: Christy Dawn
Outside of the fashion industry, Germany-based food and beverage company Knorr plans to launch 50 regenerative agriculture projects over the next 5 years. The projects will see Knorr evaluating new ways of growing food, with the company hoping to lower emissions and water use by 30%.
Meanwhile, Nestle has major plans for regenerative agriculture as part of its broader mission to reach net-zero emissions by 2050. The company recently announced plans to invest $1.3B in the next 5 years to support its network of suppliers and farmers adopting regenerative farming. The food industry giant is also committed to paying higher prices for goods produced on regenerative farms.
Virtual try-ons
With online shopping, customers can't know for certain how an item will fit. Returning items to the seller increases transport emissions. In response, startups are creating virtual try-on solutions so that shoppers can make sure an item fits before purchasing.
For example, Volumental's app uses 3D scanning, purchase data, and AI to determine shoe recommendations based on individual size. To date, the company has partnered with major brands and retailers including New Balance and The Athlete's Foot.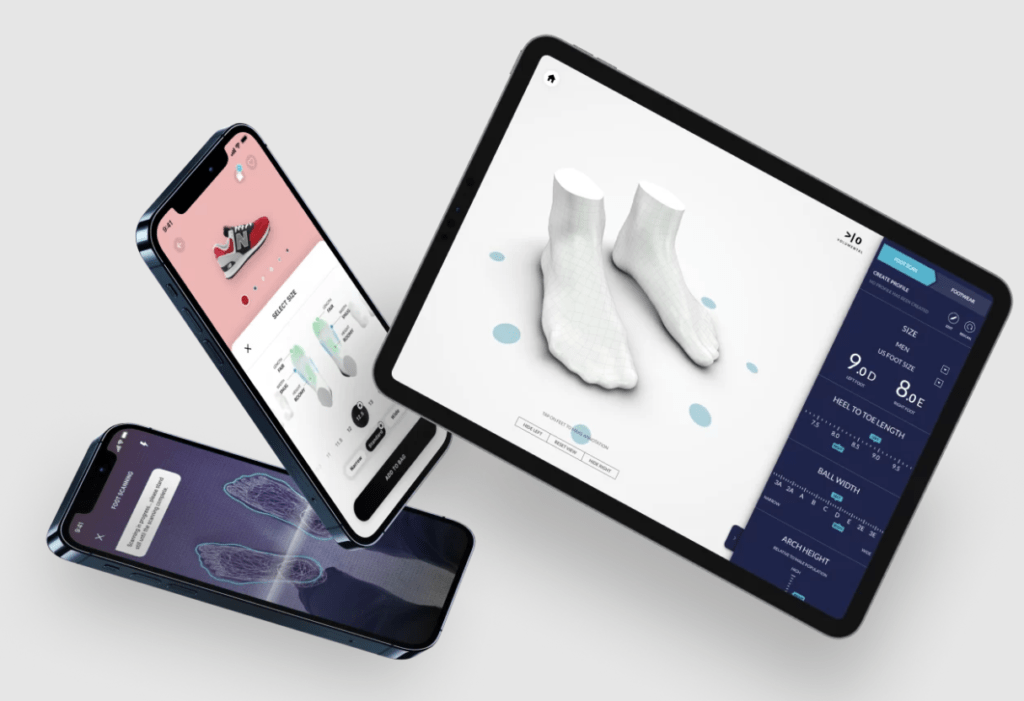 Volumental solutions. Source: Volumental
Meanwhile, Zeekit, which was acquired by Walmart in May 2021, uses AI such as computer vision and other emerging tech to create a virtual fitting room. By mapping a user's body, Zeekit makes a simulation of how a garment will fit while factoring in the item's size and fabric and the user's individual shape.
In addition to the focus on more sustainable purchasing, virtual try-on solutions also drive more sales. If customers feel confident about how an item will fit, they are more likely to buy and less likely to return. Virtual try-on company 3DLOOK claims its solution increases conversion rates by 4x and lowers return rates by 40%.
Connected devices for smart homes
The global smart home appliances market is projected to grow to $73.1B by 2026, according to CB Insights' market sizing tool.
Many smart devices can lower a home's carbon footprint by reducing electricity use and conserving water through smart water monitors.
Samsung expanded its SmartThings Energy service in November 2021 with features that optimize energy usage by tracking individual devices like water heaters and HVAC. The platform can also recommend users switch to a renewable energy source depending on their location. To use SmartThings Energy, users need to connect it to their Samsung appliances and meters.
Similarly, Google's Nest Learning Thermostat conserves energy by automatically adjusting the temperature based on user preferences, weather forecasts, and whether anyone is at home. With the app, users can also remotely control Nest and see important notifications.
Homeowners can also track their water consumption by investing in smart water monitors such as Flume. The device connects to a water meter and comes with an app that alerts users to leaks and helps them spot opportunities for water conservation.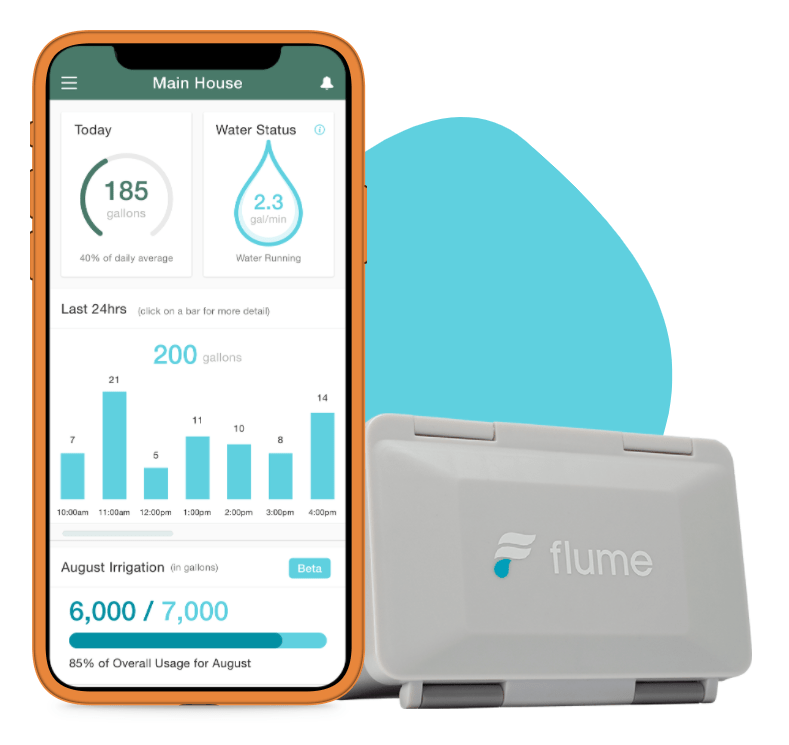 The Flume smart water monitor. Source: Flume
Cold chain packaging
When transporting perishable goods, companies must use materials that will protect them from heat and damage. Historically, they have used polystyrene (Styrofoam), which is not recyclable or biodegradable.
Startups are now emerging to provide more sustainable alternatives. For example, TemperPack offers insulation made of paper and corn starch, called ClimaCell. With Styrofoam banned in 8 states in the US, we can expect demand for sustainable packaging alternatives to grow in the future as more regions begin phasing it out of the supply chain.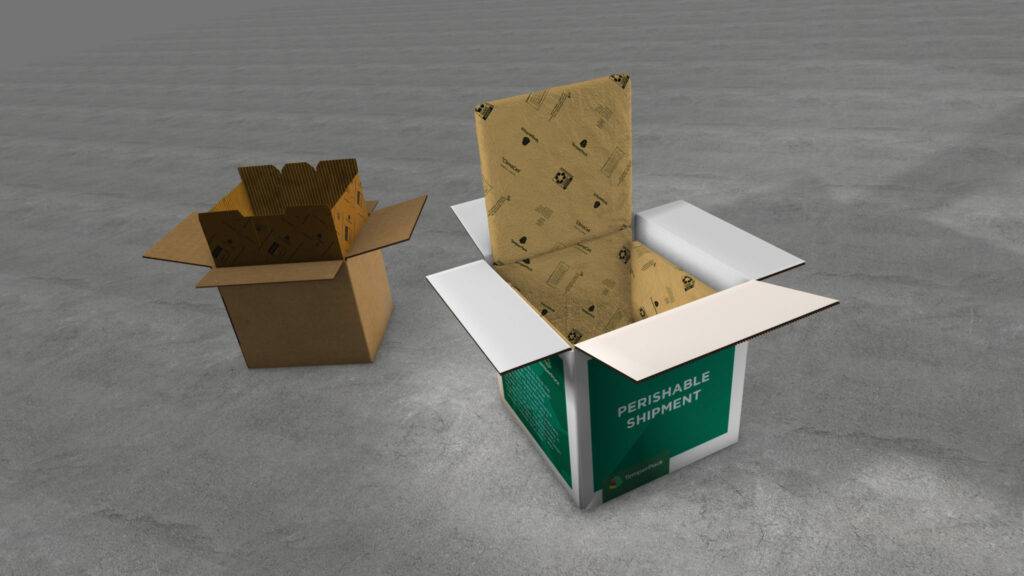 TemperPack's ClimaCell material. Source: TemperPack
Coolers are another major source of plastic in cold chain packaging. Startup Vericool offers a compostable and recyclable paper-based alternative.
Meanwhile, Ecovative Design uses mycelium (a mushroom fungus) and agricultural and forestry byproducts to create compostable packaging meant to replace Styrofoam and other materials. So far, the company has raised $112M in funding, most recently landing a $60M Series D.
Plastic-free business models
Corporations are increasingly focusing on how to reduce plastic waste. As more consumers push for sustainable business practices in retail, a number of retailers are renouncing the material altogether.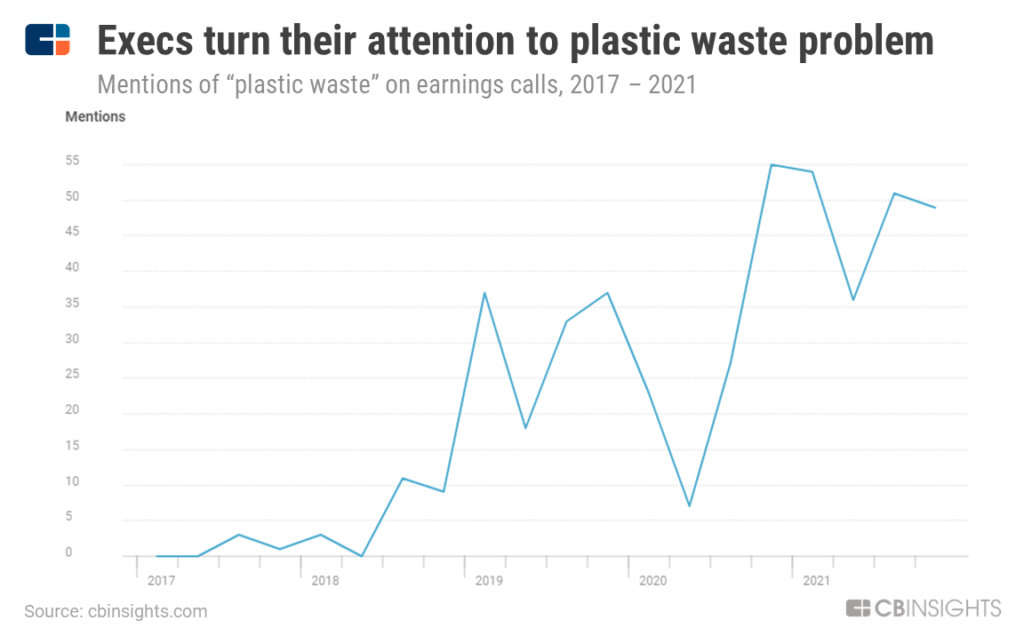 Startups are emerging to provide alternatives and waste management solutions to help accomplish this.
For example, New York-based Package Free Shop is a reselling platform offering zero-waste products including personal care items, cleaning supplies, and stationery. The company allows brands that manufacture sustainable products to apply to become vendors on its website.
With plans to go plastic-free by 2025, home brand Grove Collaborative provides a monthly subscription service that ships sustainable home and personal care items straight to the customer's doorstep. Shoppers can also order items on an on-demand basis. So far, its flexible model has attracted over 1.5M users.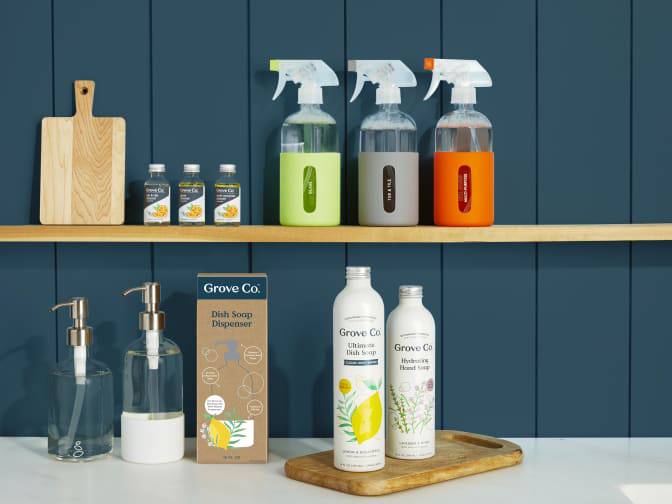 A selection of Grove Collaborative's sustainable products. Source: Grove Collaborative
In December 2020, the company raised a $125M Series E with plans to expand its product offering. Just a year later, it announced it was going public through a SPAC merger with Virgin Group.
Plastic-free products are becoming more accessible than ever before, attracting both customers and investors. The sustainable packaging market is expected to grow to more than $440B this decade in response to consumer demand and initiatives that combat climate change.
Electric autonomous delivery
The growth of e-commerce has increased the demand for delivery services, in turn increasing pollution in urban areas and contributing to global carbon emissions. If left unchecked, there will be a 32% increase in emissions from delivery vehicles by 2030, including a rise in traffic congestion, according to a report by the World Economic Forum.
One of the solutions to these challenges is electric autonomous vehicles. However, some autonomous driving companies are experiencing significant setbacks. For example, the state of California suspended Pony.ai's driverless testing permit after its vehicle collided with a street sign in October 2021. Although no one was injured, the incident illustrates the risks associated with autonomous vehicles and the importance of continuously improving their safety features.
But other companies are making headway in autonomous delivery. Robotics company Nuro manufactures electric self-driving vehicles that are already delivering Domino's pizza in Houston, Texas. The latest version of its autonomous vehicle, the R2, is equipped with sensors that can detect animals and small children, as well as a front end that can protect pedestrians in case of an accident.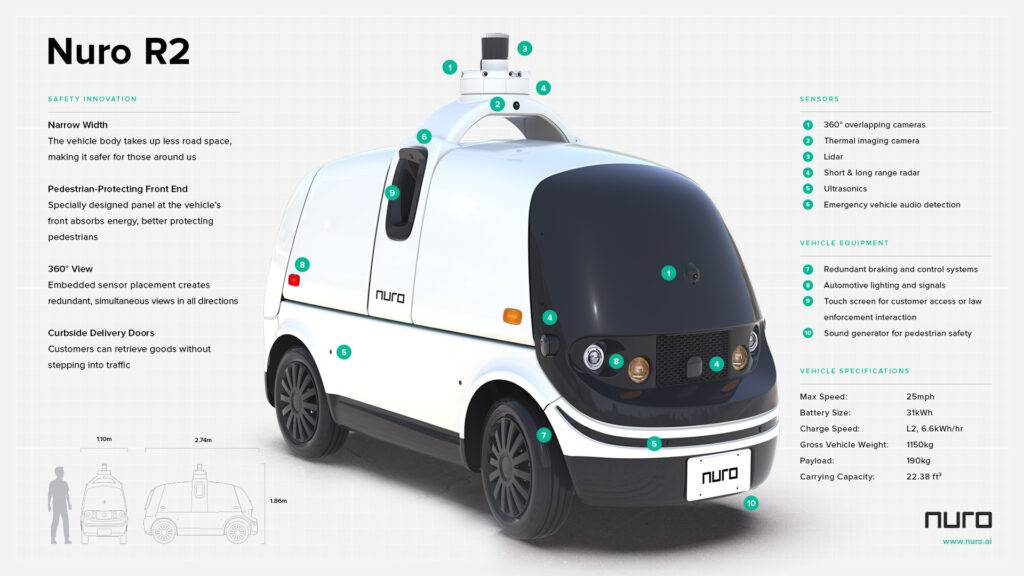 The Nuro R2 vehicle. Source: Nuro
In November 2021, the startup raised a $600M Series D to bring more of its vehicles to neighborhoods across the US.
Nuro has strong competition in China-based startup Neolix, which recently raised a Series B led by China Capital Investment Group and SoftBank Ventures Asia. While the startup didn't disclose the funding amount, Neolix plans to use the money to expand its market beyond the 9 countries where it has deployed its delivery vehicles so far.
Sweden-based self-driving vehicle developer Einride deployed its vehicles in the US for the first time in November 2021, thanks to a partnership with GE Appliances. Einride claims that companies using its delivery vehicles have lowered emissions by 90% at a cost that's no greater than diesel.
Extending shelf life
Solving the food waste problem also means finding ways to make groceries stay fresh for longer. But accurately predicting shopper behavior and making timely orders that factor in shelf life is a complex process — one that tech companies are tackling using demand forecasting, inventory management, and novel food preservation techniques.
For example, Shelf Engine has developed a predictive solution that optimizes the ordering process for grocery stores using machine learning.
Shelf Engine incentivizes grocery stores to implement the system by only charging them for goods sold while covering the cost of items that didn't sell. Its intelligent ordering system helped one grocery store boost its profit margin by 63.7% while freeing up the employees' schedules to focus on other priorities, such as customer service. In March 2021, the company raised a $41M Series B, with plans to invest in hiring and expand its system beyond its current client base of 2,000 grocery stores in the US.
In the cold chain space, OneThird has developed a technology that predicts the shelf life of produce using AI-powered scanners.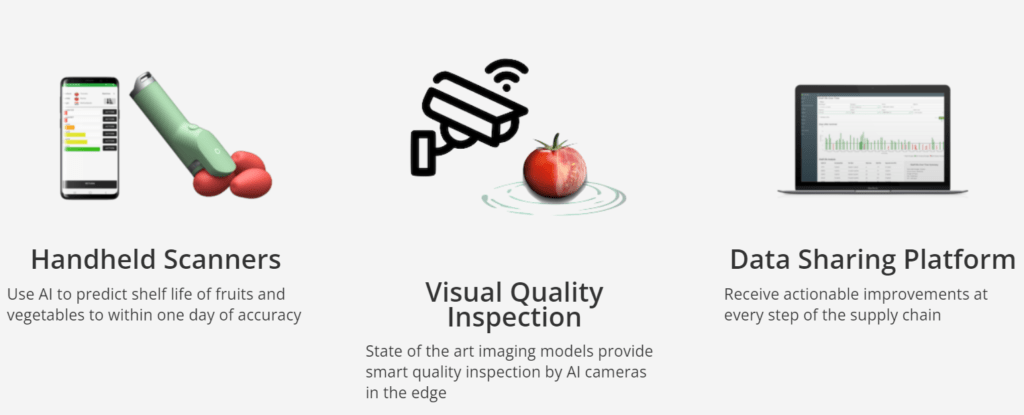 OneThird AI shelf life solution. Source: OneThird
The Netherlands-based company recently teamed up with the Genson Group to make better strawberry harvest predictions. OneThird's technology helps Genson to harvest strawberries at the right time, lengthening shelf life.
Apeel Sciences, a California-based startup that raised a $250M Series E in August 2021, has developed an invisible plant-based peel that doubles the shelf life of fruits and vegetables.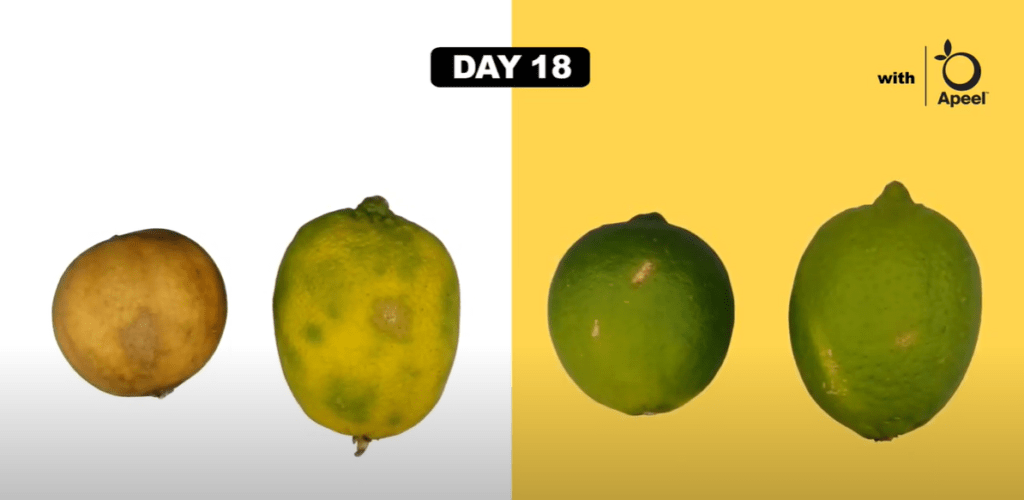 A comparison of limes treated with Apeel (on the right) and limes without Apeel (on the left) on day 18. Source: Apeel YouTube
The peel keeps moisture in and prevents oxygen from spoiling produce. This can also improve how produce tastes and change how it's transported in the supply chain. Air-freighted goods like asparagus, for instance, can be transported by sea.
Other companies, like Afresh, rely on the power of AI to power order recommendations and reduce waste. Afresh's platform, which acts as an ordering guide for grocery stores, reportedly extends post-sale shelf life by 2 days while reducing produce loss by 25%.
Shoppers who are looking to buy produce at a discount can download the Flashfood app, which will show them nearby grocery stores offering fruits and vegetables that are close to expiring. This way, the app helps grocery stores reduce waste and make money on produce that would've otherwise been thrown out. As of December 2021, Flashfood has partnerships with 1,200 grocery stores.
Imperfect produce subscriptions
Imperfect produce is another major source of food waste: many fruits and vegetables are thrown away before even making it to the shelves because of their appearance. Companies like Hungry Harvest and Imperfect Foods aim to minimize food waste by selling these items through subscription services.
Imperfect Foods clusters deliveries to its 300,000 customers to reduce emissions without charging any fees. In 2020, it saved 33,463 tons of CO2e from food and transportation emissions. The company most recently raised a $110M Series D, bringing its overall funding to $229M.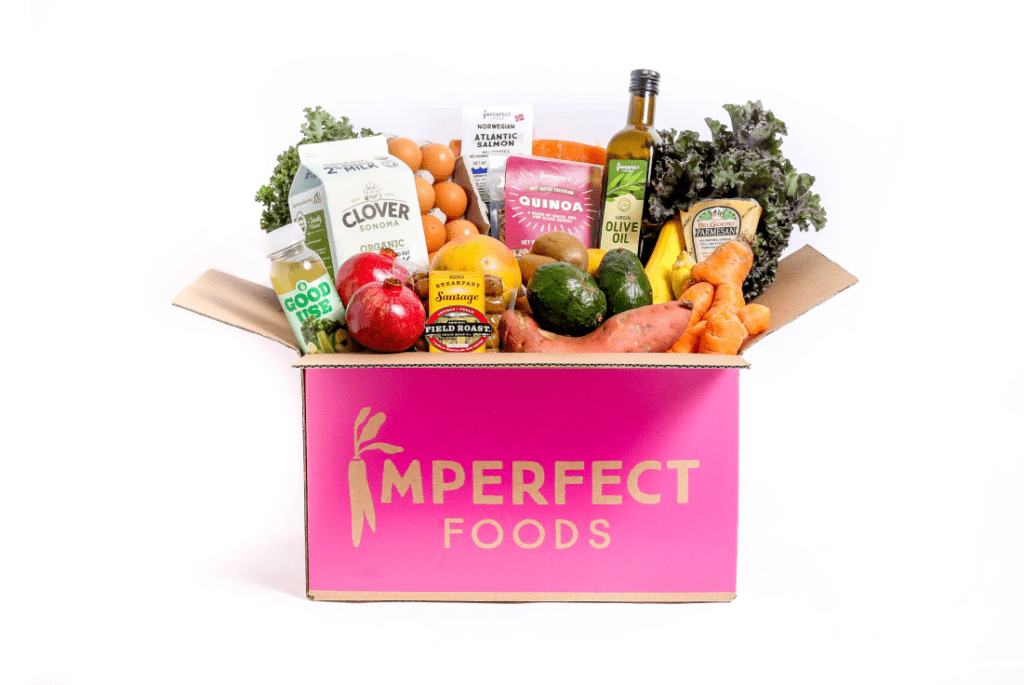 An Imperfect Foods delivery box. Source: Imperfect Foods
Maryland-based startup Hungry Harvest offers a similar subscription model. The company sources "undesirable" produce from farms and delivers it to the customer's door on a weekly or bi-weekly basis. In August 2021, the company invested in a bigger warehouse to meet the growing demand for sustainable food deliveries.
Delivery route optimization
Optimizing delivery routes by automating dispatch routing, implementing fleet management software, and more helps companies improve their delivery speeds while cutting down on costs and emissions. To this end, savvy businesses are optimizing their routes with delivery management platforms like Bringg.
The Israel-based company offers a platform for last-mile delivery optimization, which includes third-party delivery and click and collect — a streamlined system for customers to pick up their orders. Bringg has attracted clients such as Coca-Cola and Walmart. In April 2021, the company launched BringgGreen: sustainable solutions that reduce fuel consumption, offer eco-friendly fleet vehicle selection, and more. The startup reached a $1B valuation after raising a $100M Series E in June 2021.
While Bringg's solution is aimed at businesses, Farmstead allows the end consumer to order groceries in a more sustainable way. The app attracts customers with its fee-free deliveries and flexible business model. Users can opt for a weekly subscription or make one order at a time. If a user chooses the sustainable delivery option, the app groups orders from the same neighborhood to deliver them at the same time, minimizing emissions.
As for its business-facing offering, supermarkets can leverage Farmstead's Grocery OS solution to set up a micro-fulfillment center for quick deliveries using a dark store model.
Upcycling and automating to reduce emissions
From textiles to packaging, many industries rely on resource-intensive, high-emissions materials. On the end-consumer front, many people are unaware of how to properly sort waste products. Tech companies are working to improve and automate the recycling process by introducing solutions such as robotic trash cans, biodegradable materials, and more.
Recycled textiles
Ten percent of global carbon emissions come from the textile industry, according to the World Economic Forum. What's more, textile production uses an exorbitant amount of water, and most textiles end up in landfills rather than being recycled.
Infinited Fiber aims to help the fashion industry reduce pollution by transforming materials high in cellulose into a special fiber called Infinna, which resembles cotton. The company plans to produce 30,000 metric tons of Infinna per year by 2024. In July 2021, Infinited Fiber raised a $36M Series B from investors including H&M and Adidas.
In the UK, Worn Again is recycling textiles and plastic, allowing them to be reused in the manufacturing process.
The company's recycling process starts with sorting. It determines which parts of an item can be worn again, which can be recycled, and which need to be incinerated. Then, recyclable materials are treated and put back into the supply chain.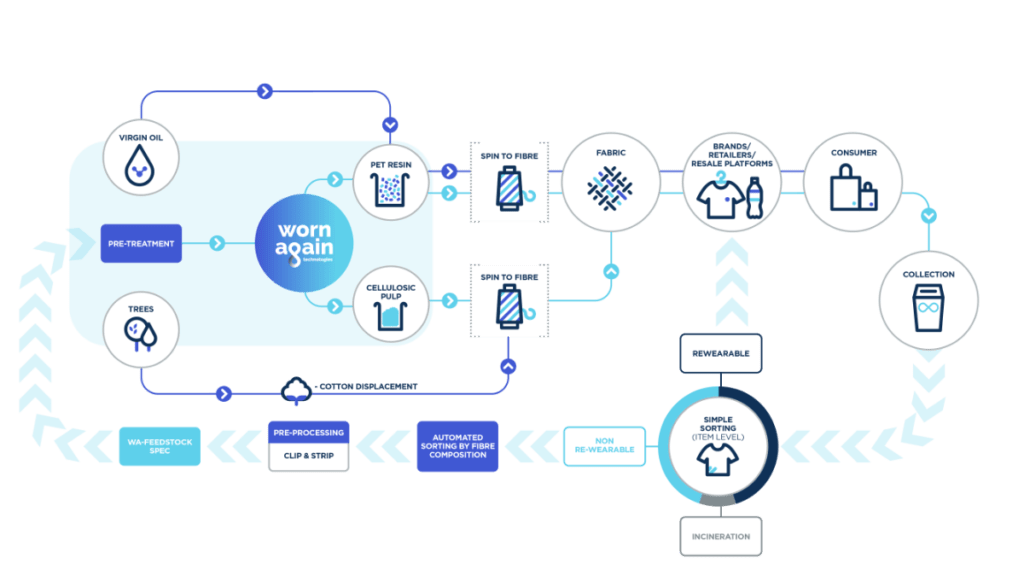 The Worn Again recycling process. Source: Worn Again
Worn Again opened a pilot R&D facility in England in early 2020. The company has raised over $15M from H&M and other investors.
Another startup in the textile recycling space is Seattle-based Evrnu. Its proprietary technology NuCycl turns old clothing into fibers that can be made into new items. The company raised a $15M Series B in October 2021.
While this space is still in the early innings, we can expect demand for these technologies to grow as new regulations push countries toward a more circular economy. In the European Union, for instance, member states will need to start separating textile waste in 2025. This creates an opportunity for textile recycling companies to launch their solutions on a larger scale.
Biodegradable and compostable packaging
Some retailers are opting for packaging made from biodegradable materials rather than reusable or refillable ones.
For example, Footprint's plant-based materials can replace plastic lids, frozen food packaging, packaging for consumer goods, and more. The packaging is compostable and recyclable and withstands being frozen or exposed to moisture.
In December 2021, the company announced it was going public through a SPAC merger.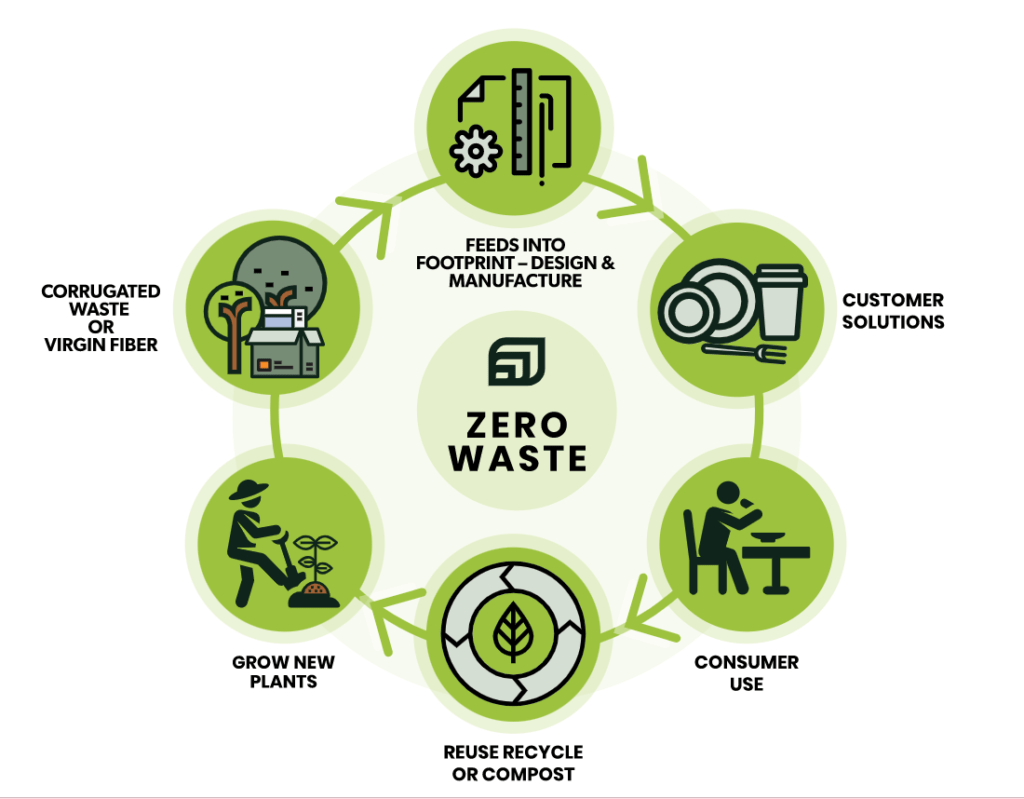 Footprint's zero-waste model. Source: Footprint
Meanwhile, Notpla makes packaging from seaweed extract. The product reportedly degrades in less than 2 months, and consumers can compost it at home. Notpla's products include small sachets to hold liquids, takeaway boxes, pipettes, and biodegradable coatings for food packaging. The startup raised a $13M Series A in December 2021 to further its production.
NatureWorks has developed a biodegradable alternative to plastic called Ingeo. While consumers have to send Ingeo-based products to an industrial composting facility, the material has a wide range of applications. It can be used to manufacture beauty products and toys, as well as electronic devices and phone cases.
Ingredient upcycling
Food that would otherwise be thrown out is given a new purpose through upcycling. During this process, goods can be turned into other edible or non-edible products.
Snack company Barnana, for instance, turns bananas with cosmetic flaws into chips. The company partners directly with certified organic banana farms, preventing imperfect bananas from going to waste. Barnana also repurposes banana peels into pellets that heat the ovens used to make the chips.
Dairy Distillery makes alcohol from milk permeate, a byproduct of dairy production. Milk permeate is usually thrown away, but Dairy Distillery upcycles it into vodka. This process reduces food waste and also conserves energy and water.
Meanwhile, agtech company Re-Nuble upcycles food into nutrients for soilless farming. The New York-based company is exploring international expansion to Africa and the Middle East after raising a $1.2M seed funding round in late 2020.
Automated recycling
Recycling is a key aspect of a circular economy, but sorting through waste can be a time-consuming endeavor, and many consumers confuse non-recyclable and recyclable waste. To simplify the process, companies are using robotics and AI provided by startups such as AMP Robotics to automate the process.
AMP Robotics uses computer vision to sift through materials and categorize them. Its robotics system, AMP Cortex, reportedly picks and sorts waste at a speed of up to 80 picks per minute with a 99% accuracy rate.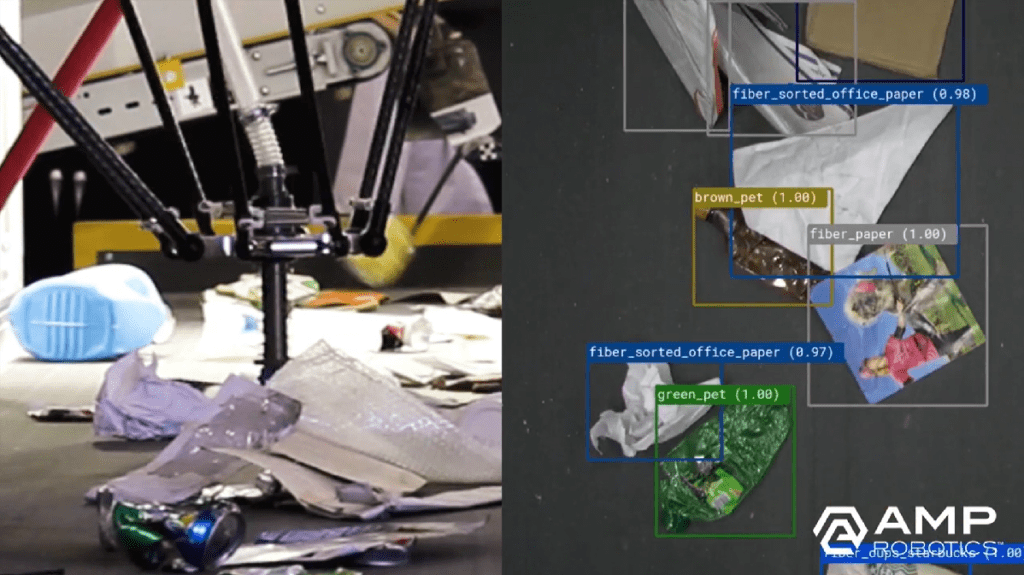 The AMP Cortex robotics system. Source: AMP Robotics Vimeo
In December 2020, the company raised a $55M Series B to expand its operations and look into new ways of using AI at material recycling facilities.
CleanRobotics has taken the sorting process one step further by developing a trash can that sorts waste before it arrives at a recycling facility. The machine uses AI to decide which trash needs to go to the landfill or be recycled or composted. CleanRobotics offers the smart trash can in three different models: TrashBot, TrashBot Slim, and TrashBot Zero.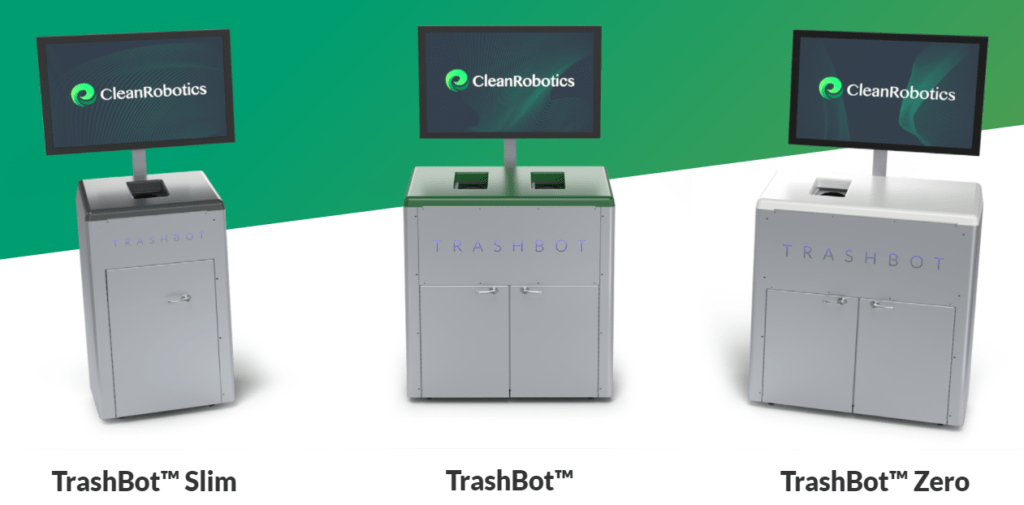 TrashBot models. Source: CleanRobotics
The company claims its technology is 90% accurate when deciding which trash should be recycled or not — 3x better than humans.
Incentivizing sustainable behavior
By adopting sustainable practices, retailers can reduce the impact their businesses have on the environment. But this is just one part of the solution. Consumers also need to support sustainable brands and adopt sustainability as a daily practice.
To help them do this, tech companies are making it easier for individuals to track their carbon footprint and adopt more mindful shopping practices.
Carbon footprint calculators
While large companies need to invest in emissions-tracking platforms to track their carbon footprint, consumers can do this with a simple smartphone app.
For example, Joro has developed an app that connects to a user's bank account and estimates their carbon footprint based on their purchase history. Users can also go net-zero by investing in carbon-eliminating projects selected by Joro. So far, the company has raised $3.3M in seed funding.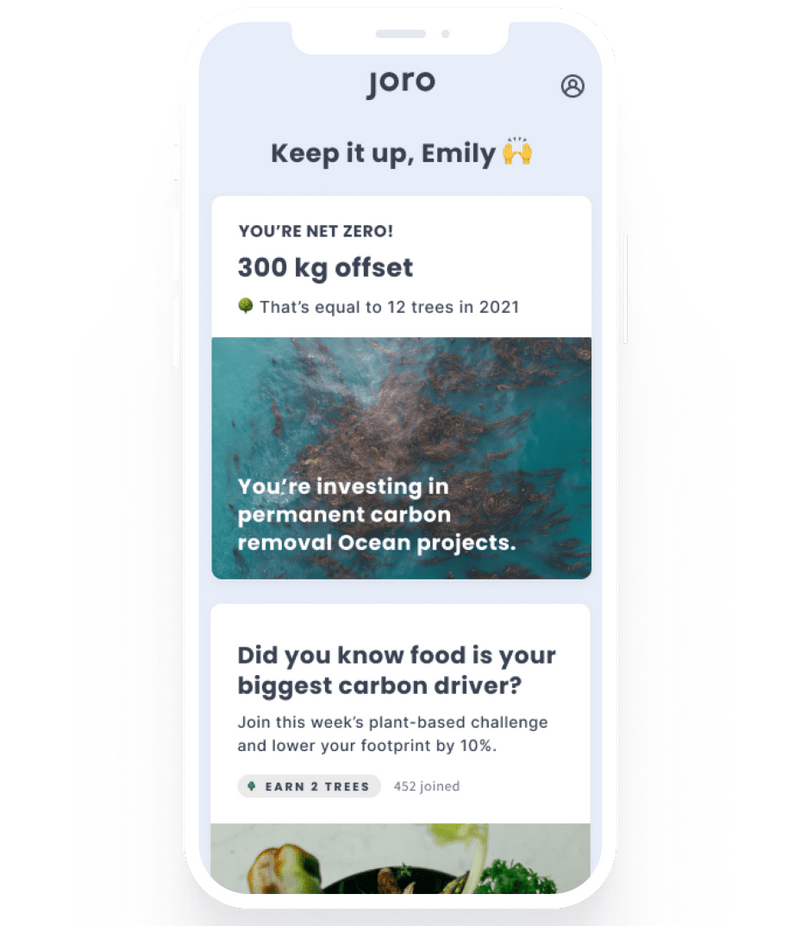 The Joro app. Source: Joro
Another company in the space is Adva. Users provide information about their daily food, travel, and housing habits and the app provides personalized action plans to help achieve sustainability goals. Like Joro, Adva also lets users invest in carbon offsetting projects.
Project Wren lets consumers invest in projects that tackle climate change, such as reforestation, protecting rainforests, and developing clean-burning stoves. The startup also has a business-facing solution that allows companies to create profiles for their employees and help entire teams go net-zero.
Behavior-based rewards
Consumer reward programs are nothing new in the retail industry, but special rewards that incentivize sustainability are gaining traction.
Shoppers who sign up with Merryfield can get at least 5% back on purchases from sustainability-focused brands like Beyond Meat and Harmless Harvest. Merryfield has raised $3.5M in seed funding.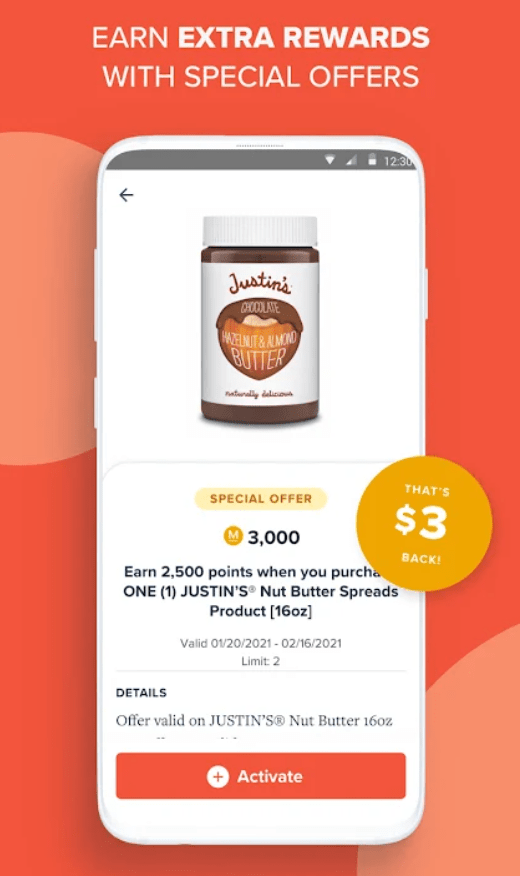 The Merryfield app. Source: Merryfield
Meanwhile, France-based startup Yoyo is helping individuals adopt better recycling habits. When a user signs up with the platform, they are connected to a local coach who gives them recycling tips and provides them with support when they get off track. The platform also rewards users when they win points.
In China, Unilever teamed up with e-commerce giant Alibaba to launch a plastic recycling program called Waste-Free World. As part of the program, Unilever deployed AI-powered recycling machines equipped with an Alibaba QR code. When the user scans the code and throws plastic packaging into the machine, they are rewarded with Unilever coupons and Alipay Ant Forest credit.
Transparency & traceability
Seventy-six percent of consumers say they gravitate toward companies with an ethical approach to sourcing materials and services, according to a 2021 Accenture report. Moreover, a majority of consumers in a variety of industries say they would switch brands if they didn't invest in forms of "positive social impact" such as diversity and environmental protection.
In the fashion industry, the "slow fashion" movement — which focuses on sustainable materials and fair labor conditions — is making consumers more conscious of how and where their clothes are made. Blockchain technology has the potential to address this shift, enabling a traceable supply chain by recording each step on a decentralized, distributed ledger.
For example, London-based designer Martine Jarlgaard collaborated with blockchain startup Provenance for a proof-of-concept implementation of blockchain in the fashion supply chain. Upon scanning a garment's smart label, consumers can view a digital history of the garment's journey — from shearing alpaca fleece in the farm to knitting and assembling in a designer's studio.

Source: Provenance
Another initiative from the UK is the Sustainable Supply Chain Optimisation project, a collaboration between IBM and retailers like New Look and COS with the goal of improving product transparency through blockchain and AI.
Meanwhile, Sourcemap, a social network platform for the supply chain, allows farmers, textile mills, and sewing factories to communicate with brands using their products and services. Sourcemap has teamed up with Provenance to use the company's blockchain technology to verify communications between brands and suppliers.
Elsewhere, EON has created Digital IDs that resemble regular clothing tags but can be scanned, providing consumers with a wealth of information about a product's history. In late 2020, the company helped the Yoox Net-a-Porter Group launch a Digital ID pilot, offering details about an item's origin alongside other helpful information like care instructions.
Applied DNA Sciences has created a tagging system to tag and track fabrics, fibers, and yarns throughout the supply chain. Known as CertainT, the platform is already used by cotton suppliers PimaCott and HomeGrown Cotton to verify cotton purity.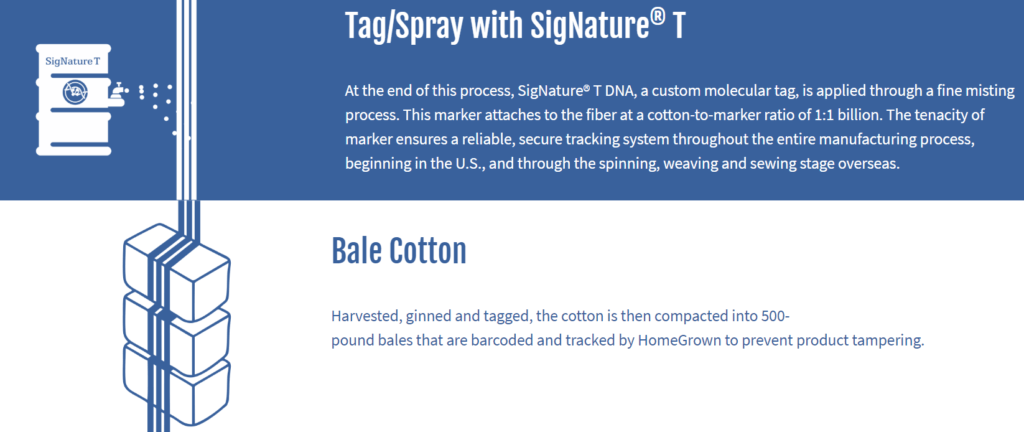 Source: Applied DNA Sciences
These applications are still in the prototyping or commercialization phase, and they will likely need time for refinement before going mainstream.
In the food industry, CarbonCloud is helping manufacturers understand their climate footprint and share it with their customers. The solution calculates the carbon emissions of a single food product, providing the brand with an overview of emission categories such as transport or storage. The brand can then choose to share the product's carbon footprint to improve transparency.
For example, CarbonCloud has worked with oat milk brand Oatly to offer this type of labeling on its packaging.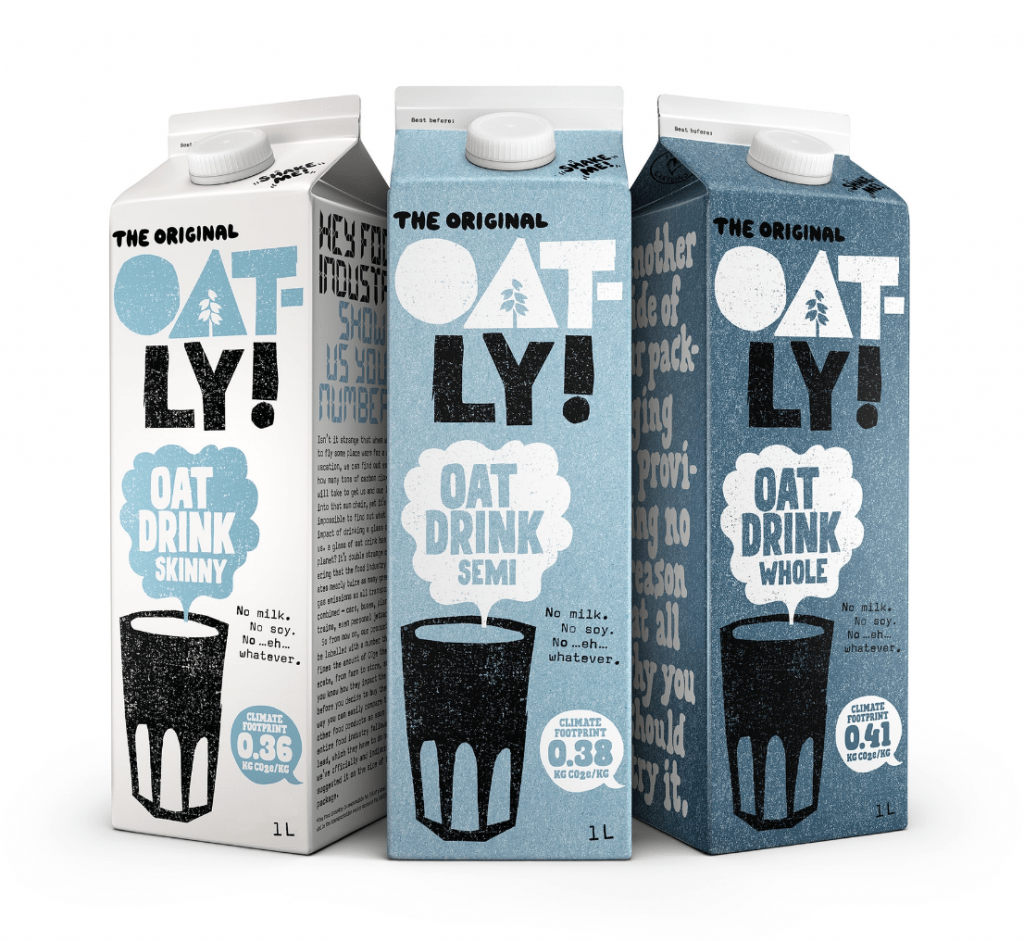 Oatly packaging, featuring a climate footprint disclosure in the lower right corner. Source: CarbonCloud
Unilever is also introducing carbon emissions labels on a number of its products — an indication that carbon footprint labels could become the norm in the near future.
However, there are concerns over the accuracy of these numbers and the risk of unscrupulous brands deliberately misrepresenting their emissions for profit.
Still, efforts to create a more transparent supply chain could provide accountability for brands, build brand trust, and appeal to consumers who want proof that the brands they're supporting are employing environmentally sustainable materials and processes.
If you aren't already a client, sign up for a free trial to learn more about our platform.