Using the CB Insights NExTT framework, this report analyzes emerging trends across supply chain and logistics tech, with a particular focus on retail and consumer supply chains.
CB Insights analyzed 13 emerging trends across supply chain and logistics tech, ranging from robotic fulfillment to on-demand warehousing.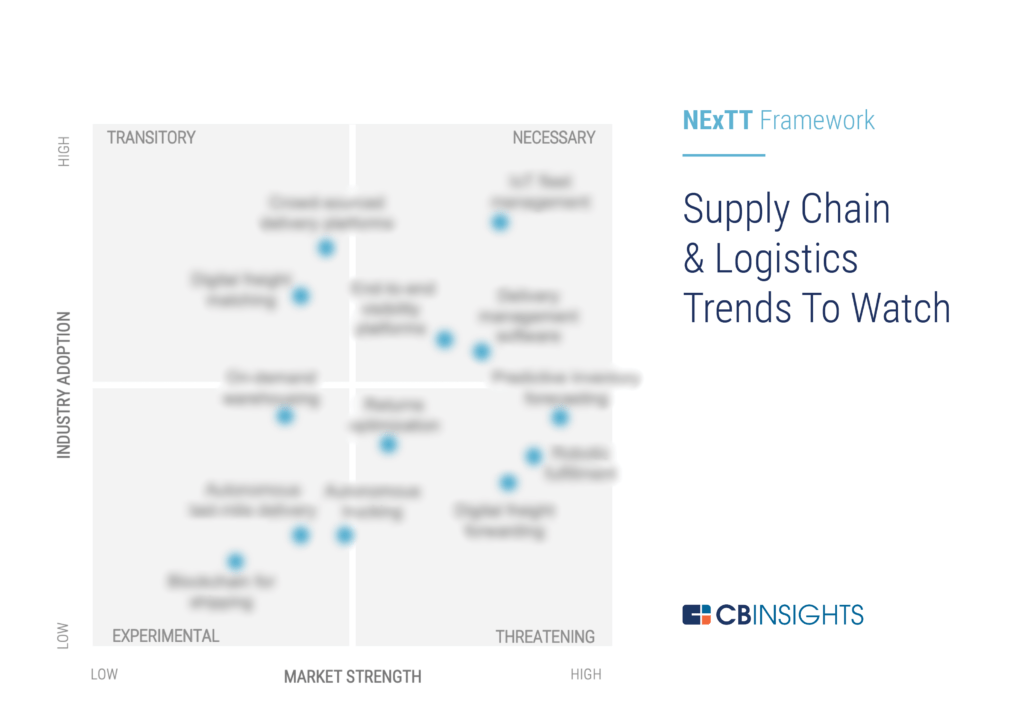 Covid-19 has upended the global economy, causing major supply chain disruptions. Nevertheless, a rising ecosystem of technology-focused trends and solutions is promoting supply chain resilience to address current market uncertainty, particularly for retailers and brands.
Using the NExTT framework, we looked at the industry adoption and market strength of these supply chain and logistics tech trends, categorizing them as necessary, experimental, transitory, or threatening (NExTT). The framework educates businesses about emerging trends and helps guide their decisions. While this report primarily focuses on retail and consumer product supply chains, many trends are applicable across other verticals.
Report highlights include:
Autonomous drones and vehicles are gaining traction as a way to provide efficient and contactless last-mile delivery for retailers.
Robotic fulfillment solutions are helping meet the growing demand for speedy online order fulfillment.
On-demand warehousing solutions are repurposing commercial real estate to help retailers and brands improve storage and fulfillment flexibility.
The well-capitalized digital freight matching space, which pairs shippers and carriers, continues to face formidable challenges.
Download the report to see how all 13 trends will shape the industry in 2020 and beyond.