Supply chain & logistics tech funding held steady in Q1'22, despite slowdowns in retail tech and broader VC.
Global supply chain deals and dollars reached $9.4B across 223 deals in Q1'22, down 5% from the previous quarter's funding. Despite the slight dip, Q1'22 marked the third-largest quarter for funding on record.
In our State of Supply Chain Q1'22 Report, we dive into global investment trends to spotlight takeaways including:
With 9 new supply chain unicorns, the space has seen the fifth consecutive quarter of 5+ unicorn births
$100M+ mega-rounds made up lion's share of quarterly funding at 77%
The length of time between early- and mid-stage funding rounds is increasing, currently at 22 months up from 15 in 2018
Europe had a blockbuster quarter in funding, surpassing $2B in capital raised
And much more
Below, check out a few highlights from our 70-page, data-driven State Of Supply Chain & Logistics Tech Q1'22 Report. For deeper insights, full funding breakdowns, and boatloads of data, download the full report.
Q1'22 SUPPLY CHAIN FUNDING HOLDS STEADY, ON TRACK TO MEET 2021 LEVELS
See who's leading the explosion in global supply chain funding, from the startups seeing the biggest deals to the regions with the largest funding booms.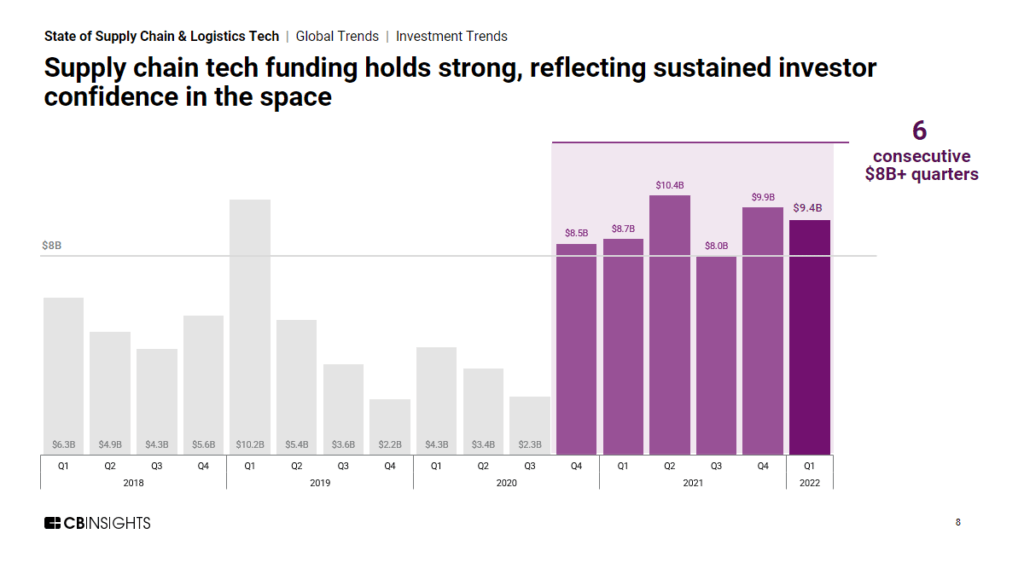 If you aren't already a client, sign up for a free trial to learn more about our platform.