2021 was a record year for global supply chain & logistics funding, mega-rounds, exits, and more.
Global supply chain deals and dollars reached record highs in 2021. Funding nearly doubled year-over-year, while mega-rounds reached a new record.
In our State of Supply Chain 2021 Report, we dive into global investment trends to spotlight takeaways including:
Global supply chain investment activity, up 86% YoY
$100M+ mega-rounds, up 107% YoY to hit a new milestone
Which investor backed the most supply chain companies in 2021
Which region had a blockbuster year in funding, rising past the $17B+ mark
And much more
Below, check out a few highlights from our 79-page, data-driven State Of Supply Chain & Logistics Tech 2021 Report. For deeper insights, full funding breakdowns, and boatloads of data, download the full report.
2021 SUPPLY CHAIN FUNDING BLOWS PAST 2020 TOTALS BY NEARLY DOUBLE
See who's leading the explosion in global supply chain funding, from the startups seeing the biggest deals to the regions with the largest funding booms.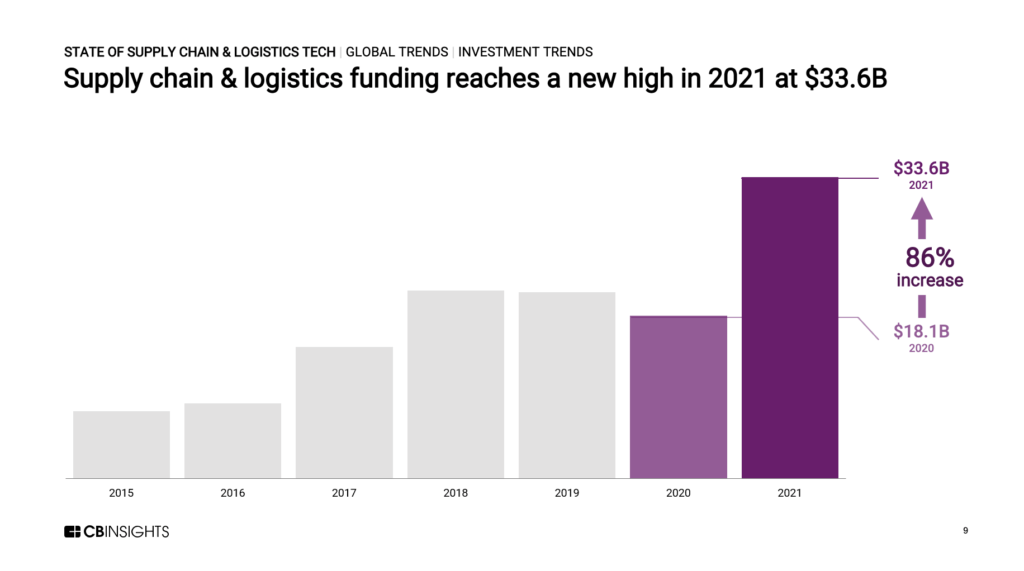 ANNUAL MEGA-ROUNDS PASS THE 80+ MARK, A NEW RECORD
See which companies are raking in the biggest funding rounds across deal stages and geographic regions.