Supply chain and logistics tech deal activity is poised to increase 12% in 2020. In this interactive report, we dive into the industry's investment activity, emerging trends, notable deals, and more.
---
Stories is CB Insights' interactive presentation builder, which helps you create stunning market landscapes and always fresh data visualizations — so you can tell beautiful, data-driven stories.
---
Despite growing economic uncertainty from the Covid-19 pandemic, the global supply chain and logistics tech space has seen more than 400 deals in 2020. Though funding is down year-over-year, Q1'20 witnessed a quarterly record for overall deal activity.
ALTERNATIVE PROTEINS, FITNESS TECH, AND GAMING SURGED IN Q3'20
Consumer product startup investment activity spiked in Q3'20 as funding reached an all-time high. Download our free report now.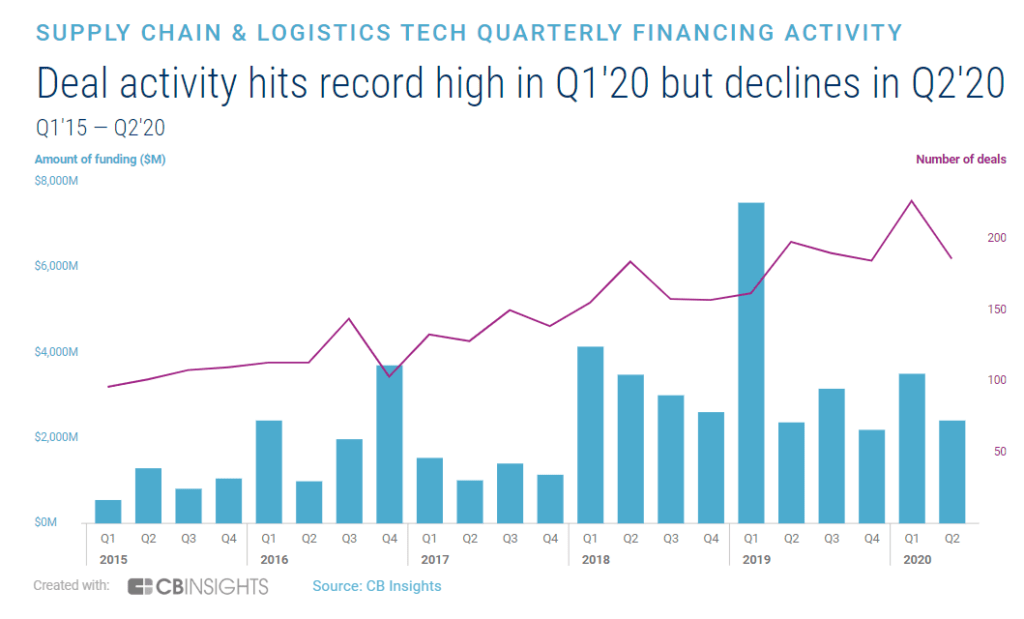 Startups focusing on robotic fulfillment, predictive inventory forecasting, digital freight forwarding, and returns optimization are likely to see continued traction. For an in-depth analysis of each of these trends, see the "Threatening" category of our Supply Chain & Logistics Tech Trends To Watch report.
In this interactive report built with CB Insights Stories, we look at the latest trends in supply chain and logistics tech. This 20-slide interactive deck covers:
Global annual and quarterly funding trends

Deal share by stage and by geography

Global funding sector breakdown

Emerging themes across notable deals