You've heard of subscriptions to meal kits and wine-of-the-month clubs — but what about to your annual physical, or access to overhead bins? From gaming to education, we look at service-focused industries that are embracing subscription business models.
Over the last few decades, industries everywhere have begun to adopt subscription business models.
Netflix subscriptions have replaced DVD collections, and Spotify has taken the place of CD shelves. Meanwhile, companies like Blue Apron, Dollar Shave Club, and Stitch Fix deliver everything from dinner to dresses straight to customers' doors on a "set and forget" recurring schedule.
This is the subscription economy — and the sector is growing fast. Revenue among subscription businesses grew roughly 5x faster than both the retail sector and the S&P 500 from January 2012 through June 2019, according to data from Zuora.
There are several factors driving this growth, including advances in the tech infrastructure that supports it. Perhaps more importantly, the subscription model aligns incentives on both sides of the equation, offering stability for businesses and affordability and convenience for consumers.
Increasingly, subscription models have grown to include companies where the "product" being offered isn't a product at all — it's a service, and the value being provided isn't ownership, but access. For example, car subscription companies are letting drivers rent cars for occasional trips rather than owning one, while fitness brands are turning customers' basements and living rooms into membership gyms.
In this report, we dive into 7 surprising industries where subscription models are cropping up for service-based offerings from education to travel to home improvement.
Table of Contents
The rise of subscription business models
Surprising industries adopting subscription business models
Lessons from the expanding subscription economy
What's next in service subscriptions
The rise of the subscription economy
Well before the internet, people paid for subscriptions to services like newspaper and milk delivery. But adopting and implementing new subscription business models has historically been difficult for companies. For decades, one of the biggest challenges of subscription models was simply collecting payments. Businesses lacked sufficient infrastructure to collect recurring payments from thousands — or even millions — of customers.
Today, digital payments platforms such as PayPal, Stripe, and WePay have made it possible to set up and process recurring payments without the massive investment of manpower that was once required.
Meanwhile, analytics platforms like Zuora, ProfitWell, and Recurly have given businesses better insight into consumer behavior, which companies can use to hone their subscription models over time.
On the physical product side, advances in logistics — best exemplified by Amazon — have made it more efficient and cost-effective to ship products reliably and at scale.
These infrastructural developments have made subscription business models increasingly feasible, but feasibility alone can't account for the growth numbers that the subscription economy has seen. To understand that, it's important to examine the appeal that the subscription model holds for businesses and the customers they serve.
Appeal for businesses: predictability, recurring revenue, and customer insight
Once a company has started acquiring subscribers and has a solid view into metrics like customer lifetime value and churn rate, subscription businesses become easy to track and predict. Because they're based on recurring payments, subscription models offer a surer source of revenue that business leaders can count on for strategic planning and investment purposes.
Subscription models can also offer deeper customer insights. When interactions with customers are restricted to one-off purchases, it's difficult to develop a nuanced understanding of consumer behaviors and preferences. But when businesses have ongoing relationships with their customers, they can maintain contact and gain deeper insights into how customers interact with products. Those insights can be used to inform a wide range of business choices, from product alterations and new products to marketing decisions.
Consumers also tend to stick with a subscription service once they've signed up. As angel investor Eric Stromberg notes:
"Subscription is a powerful business model because it creates an environment where the default customer behavior is retention, as opposed to one where the default behavior is churn."
There's some controversy about this idea: churn is mentioned as a risk of subscriptions as often as retention is identified as a benefit. But for subscription businesses that nail product/market fit and successfully spark customer obsession, being able to count on subscribers to stick around for the long haul is a huge benefit.
Appeal for customers: cost, convenience, and customization
For consumers, subscription business models address practical needs and promise added simplicity.
First, there's cost. Consumers today have more demands on their budgets than ever before, as big-ticket expenses such as housing, health care, and education continue to climb faster than wage growth. For many types of goods, a monthly subscription fee is more accessible than a higher one-time expense.
Next, there's convenience. As consumers seek out ways to simplify their lives, the "set and forget" nature of subscription services can help them do so.
The slogan on Audi's subscription service website captures this appeal: "All of the power. None of the responsibility." Subscription business models offer consumers the promise of one less thing to worry about.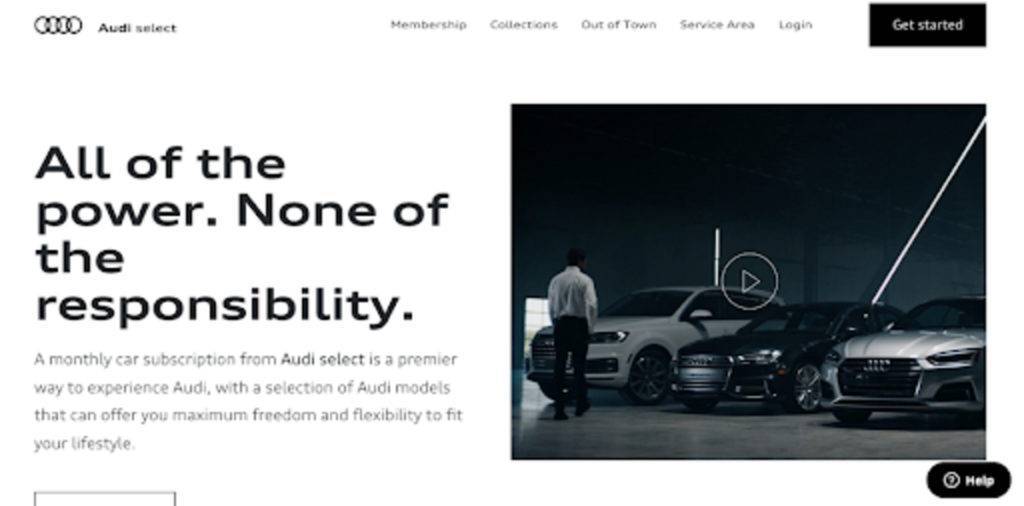 Source: Audi select 
Subscription models can also offer variety. Rather than watching the same movies repeatedly, Netflix users have a library of thousands of films. Instead of deciding which car to purchase, people with car rental subscriptions can drive all kinds of different vehicles. Subscription models give customers the feeling of owning many different products without the cost, responsibility, and clutter of actually buying them.
Finally, subscription models can provide greater customization. Over the past few years, personalization and curation have emerged as major consumer trends. With tiered pricing structures and tailored recommendations, subscription models can let consumers choose the level of service that meets their personal needs — no more, no less.
Challenges of subscription models
While subscription businesses are enjoying unprecedented popularity, the model is far from bulletproof. High-profile struggles like MoviePass and Blue Apron serve as reminders that plenty can go wrong with a subscription business model if product, pricing, positioning, and incentives are not aligned.
Managing churn
Repetitive purchasing is one of the key benefits of adopting a subscription business model. But as the struggles of subscription meal kit service Blue Apron illustrate, that's not always guaranteed.
Blue Apron was an early success story of the subscription economy, but it began to publicly falter after its 2017 IPO due to customer attrition. Blue Apron found itself on what a Harvard Business Review article called a "customer acquisition treadmill," churning through customers in great numbers and constantly spending more money to replace them.
Churn rates vary from segment to segment within the subscription economy, ranging from 4.79% to 10.54%, depending on the industry, according to data from Recurly. But with month-to-month subscription plans that are easy to cancel, it's a risk that businesses considering the model must address.
"Consumers are quick to cancel services that don't deliver a superior experience — for example, because of poor product quality, dissatisfaction with the assortment or a lack of perceived value." — McKinsey
Battling competition
Another challenge facing businesses in the subscription economy is the sheer volume of subscription options out there. In a 2019 survey by Fetch, 75% of respondents reported that the variety of options made it harder to choose a subscription, while 40% stated that they planned to reduce the number of subscription services they subscribed to.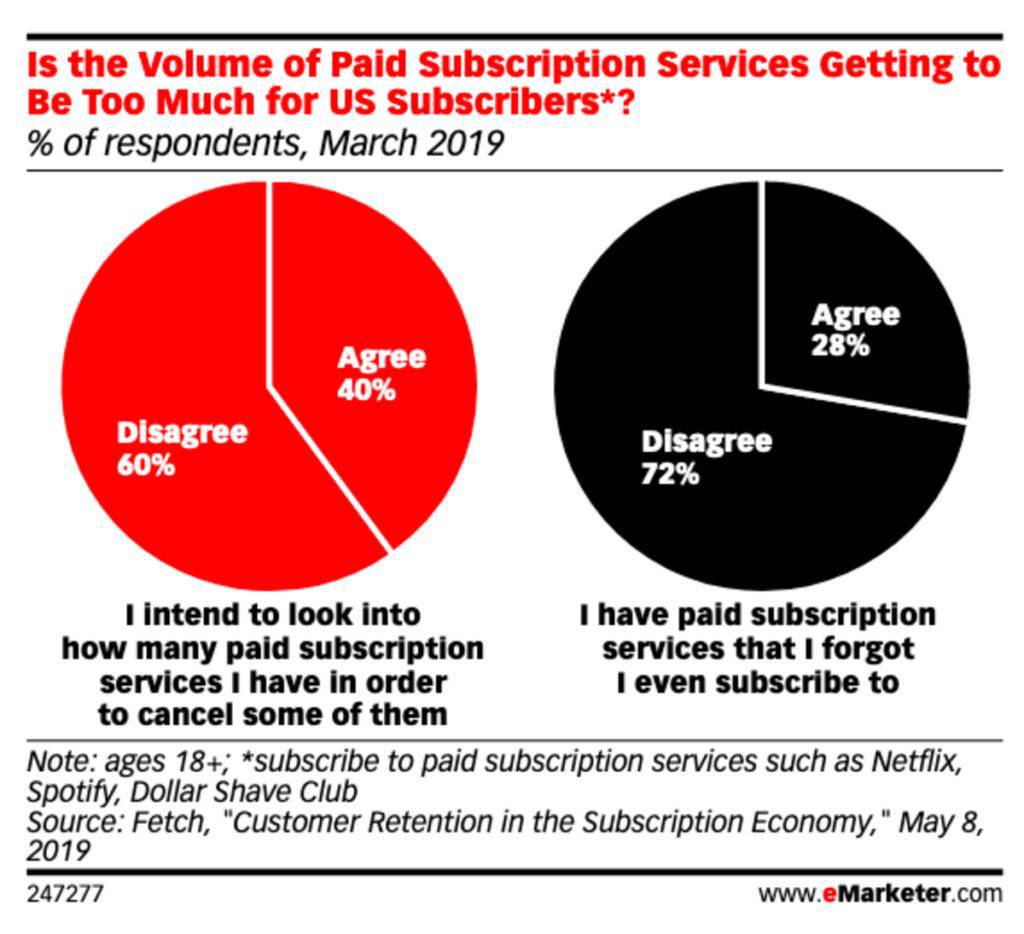 Source: Fetch 
In the earliest days of subscription video, Netflix was a mostly unchallenged giant in the space with Hulu in a comfortably distant second place.
But as major media brands and networks, including Disney, Apple, Facebook, CBS, NBC, and even Amazon Prime have thrown their hats into the streaming ring, the space is quickly growing more crowded — leading to frustration for consumers who feel overwhelmed by choice and intense competition among platforms vying to host the most in-demand content.
Some industry observers are even starting to warn of subscription fatigue, speculating that there may simply not be enough consumer dollars to go around and that consumers will start to drop one service in favor of another.
The phenomenon may already be underway: one research company estimated that as many as 1M Netflix subscribers canceled their subscription following the Q4'19 launch of Disney's streaming service, Disney+.
Balancing profitability & accessibility
Companies operating under subscription models must strike the right balance between accessibility and appeal for consumers on one hand and profitability on the other.
A marquee failure on this front is subscription movie ticket service MoviePass. The company grew its customer base to over 3M subscribers by promising unlimited movie tickets for a flat monthly fee. But it struggled to deliver on that promise profitably, ultimately shuttering in September 2019.
MoviePass' struggles are a case study in what happens when a subscription service's success is contingent on customers not using it. As Rafat Ali, founder and CEO of Skift, explains:
"The subscription economy works because they're betting on people not using it that much. If the utilization is very high, that will affect their margins."
Surprising industries using a subscription business model
Potential perils aside, a growing number of businesses are adopting subscription business models — in many cases, in industries that you might not expect.
Cars: OEMs turn to subscriptions to adapt to the realities of shifting consumer habits
In March 2019, prominent tech journalist Kara Swisher published an op-ed in the New York Times proclaiming that "Owning a Car Will Soon Be as Quaint as Owning a Horse."
The evidence to support that claim is growing: private car ownership declined globally for the first time in 2018. For more and more people, car ownership is not a daily necessity in the same way that it was for previous generations.
Faced with this paradigm shift, car companies are embracing the ethos of "usership instead of ownership" to offer subscribers all-in-one subscriptions that include insurance, roadside assistance, maintenance, and the car itself for a monthly fee.
The rise of subscription car services comes at an inflection point for the automotive industry. Cost is one likely factor in the decline: the average price of a new car in the United States hit a record high of $37,401 in 2019. Increased urbanization also plays a role, as more consumers — particularly younger ones — opt to live in metropolitan areas with plentiful alternatives to car ownership.
However, car access continues to have its appeal, and a growing number of car companies are harnessing subscription models to meet that demand.
One of the earliest companies to do this was Zipcar. Founded in 2000, Zipcar allows members to reserve vehicles on demand for $7 per month, plus an hourly rate for each individual drive. Legacy car-rental companies Hertz and Enterprise have also introduced subscription car services as a way to expand beyond their core use case of short-term travel rentals.
Automotive OEMs are also testing out subscription models. Audi, BMW, Cadillac, Jaguar Land Rover, Mercedes-Benz, and Volvo have all introduced subscription-based models. These programs can offer companies a way to get unsold merchandise off their floors while generating some revenue. Piloting a subscription product can help OEMs fine-tune their business models in anticipation of the arrival of autonomous vehicles, which many in the industry expect to be used in proprietary fleets before they're used as vehicles for personal ownership.
The takeaway: The shift toward subscriptions in the car industry highlights how a subscription business model can help legacy businesses adapt to the changing habits and preferences of their target market. Consumers aren't buying cars as frequently, so OEMs are evolving to engage with consumers in a way that works for them.
The automotive industry's approach to subscriptions also illustrates the power of all-in-one pricing. Virtually all car companies pursuing subscription models offer all-inclusive subscriptions, bundling roadside assistance, maintenance, insurance, and access to the car itself into one monthly payment, and eliminating the need for consumers to manage those components individually through additional vendors.
Airlines: Subscriptions reward loyalty with convenience
Travel companies turning to subscription models can offer a couple different value propositions: subscription models can make travel cheaper for frequent travelers, but the more attractive benefit may be saving time.
For example, for frequent business travelers who put a premium on their time, the promise of less time spent in airports can justify a costly subscription.
Surf Air bills itself as California's "private air travel membership," offering members unlimited flights on its private planes for $1,950/month — and claims to be a more efficient service than commercial flying.
Another company looking to take the annoyance out of air travel with a subscription service is FlyLine, which focuses on saving subscribers money on tickets. For a $49.99 per year Basic subscription or $79.99 per year Premium subscription, FlyLine promises "extraordinary flight deals you can't find anywhere else." The company reports that its customers save an average of 10-15% on domestic multi-carrier bookings, and anywhere from 20-60% internationally.
Surf Air and Flyline can also aim to simplify choice, saving loyal customers from having to hunt for deals on multiple websites or airlines.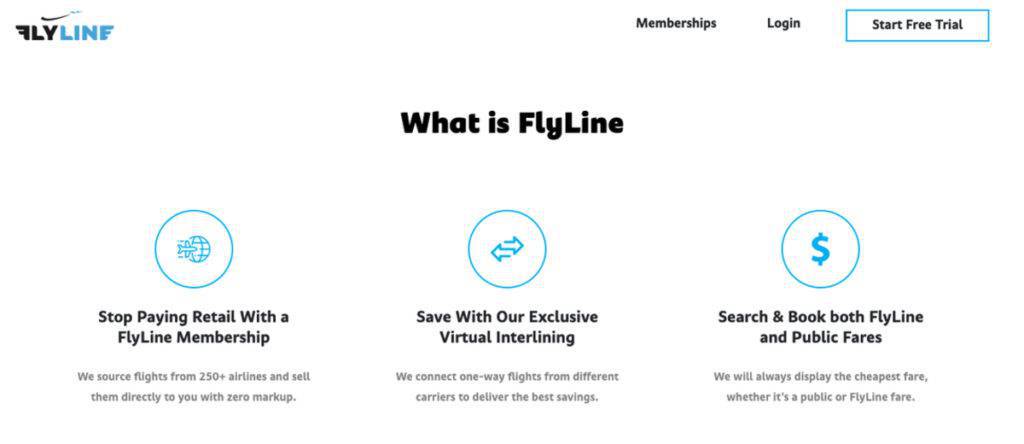 Source: FlyLine
Major commercial airlines are also introducing subscription services, often in a bid to boost customer retention and loyalty.
In October 2019, Delta introduced SkyMiles Select, a $59-per-year "travel benefits bundle" that offers subscribers perks, including drink vouchers and priority boarding, with the promise of guaranteed overhead bin space. As one travel industry expert notes, the offer appears to be geared toward "Average Joes and Average Janes" who fly a few times a year, with the goal of incentivizing these travelers to keep choosing Delta for their flights.
United, JetBlue, and Southwest also offer subscriptions, with perks such as priority boarding and overhead-bin access.
The takeaway: The expansion of airline subscription services shows that subscriptions models don't have to just offer cost savings to be attractive. Comfort and convenience — like saving time in airports, or making flying a little more comfortable in the case of commercial airline offerings — can carry as much or even greater weight with customers if the overall improvement to their experience is significant enough.
In-home fitness: Personalization in every way
Subscriptions aren't exactly new to the world of fitness: gyms have run on monthly and annual membership plans for decades.
But in the digital era, subscription fitness programs that let customers sweat it out in their own homes are becoming more popular.
Fitness is emerging as a top priority in a culture that emphasizes the importance of wellness and self-care, but as personal and professional obligations continue to mount, people are looking to streamline their lifestyle. At-home workout programs offer a solution that lets consumers work out when they want, how they want — going beyond an at-home treadmill or exercise video with offerings like interactive digital classes or one-on-one remote coaching.
Subscription models also enable brands to reach consumers in smaller cities and less-populated regions, where high-end brick-and-mortars gym like SoulCycle or Equinox might not be accessible.
Peloton is the most prominent player in the emerging subscription-fitness space. The company combines one-off product sales of its bikes and treadmills with a $39/month subscription for ongoing access to a library of workout-related content.
According to public offering documents filed in 2019, Peloton had sold 577,000 of its "Connected Fitness Products" as of June 2019 — but it sold 1.4M members to its subscription services.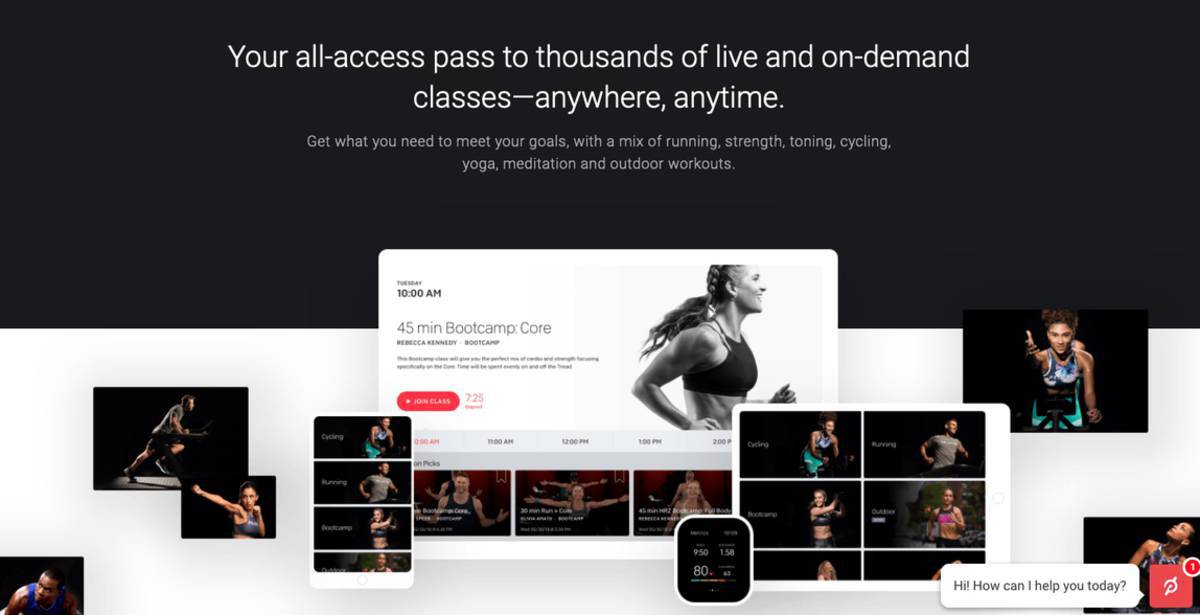 Source: Peloton
Several other brands in the fitness space are following in Peloton's footsteps, combining high-end, single-purchase hardware with ongoing subscriptions for access to content.
For example, Mirror combines its $1,500 smart mirror with an ongoing subscription. Like Peloton, Mirror puts a lot of emphasis on convenience and personalization, offering the ability to customize workouts based on personal preferences and goals. The company, which started selling its product in September 2018, has raised $72M at a $300M valuation, and counts Lululemon among its backers.
Tonal applies this model to weight training, combining a digital weight system and interactive display with a library of personalized workouts available for a $49/month subscription. Tonal closed a $45M Series C funding round in April 2019.
While the sticker price of products like Peloton and Mirror might seem prohibitive, their costs can end up being lower than that of boutique classes in the long term — for example, one SoulCycle class costs while Peloton's  stationary bike and streaming membership is $97 per month.
And not all subscription-based fitness brands require hefty initial purchases. Daily Burn offers subscribers a library of video fitness content for $15-$27 per month, depending on the program. Apps like Glo and CorePower apply the subscription model to yoga and pilates. Aaptiv takes an audio-only approach, offering more than 2,500 classes for $14.99/month.
The takeaway: The explosion of subscription businesses in the fitness space underscores how important experience is to a successful subscription brand. Companies like Peloton and Mirror place a lot of emphasis on personalization because they recognize that this that will keep customers engaged and help combat churn.
Gaming: The power of variety
Last year, GameSpot dubbed 2019 the "Year of Subscriptions" for the video game industry. As broadband connectivity and streaming technology have improved, millions of gamers have started playing through subscription services, paying a monthly fee for access to a variety of games rather than buying individual ones outright.
In a digital ecosystem, the concept of owning a video game makes less and less sense: when games are purchased and streamed over the internet, there isn't a physical product to own in the first place. Subscriptions can offer players variety and novelty while still allowing platforms and publishers to maintain control of their products.
As Dr. Daniel Joseph, an academic specializing in the economics of digital app stores, notes:
"Subscriptions give platform owners a lot of power. It lets them curate and gain control of distribution."
Early concerns that switching to a subscription model would hurt the play time of individual games have proved to be unfounded. In fact, subscribers spend 4x the amount of time, 3x the amount of money, and play 2.5x the number of games compared to non-subscription-based gamers, according to The Gamer.
The model has particularly benefited smaller publishers and independent game creators, as subscribers are more likely to take a chance on a new game that they would not have bought themselves.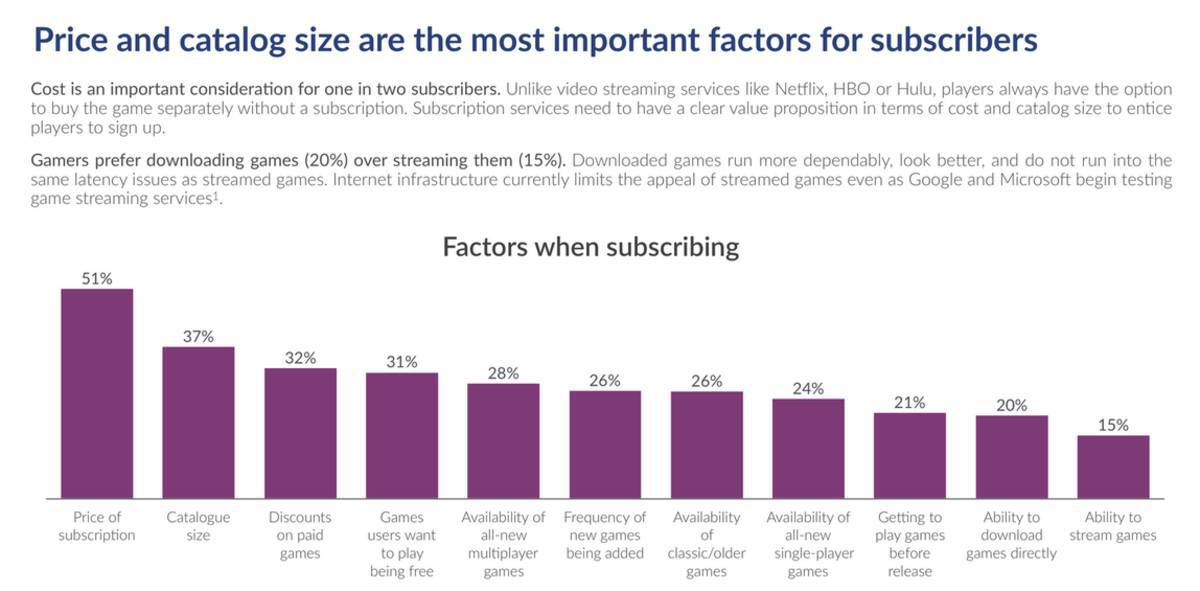 Source: SuperData 
Most of the major video game console creators have launched subscription services in the past 3 years:
Xbox Game Pass gives subscribers access to over 100 games for $10 per month. Microsoft has not disclosed total subscriber counts since launching the service in 2017, but some reports place monthly players as high as 9.5M, and 30% of total Xbox revenue.
PlayStation Now has a library of 650 games available for $9.99 per month or $59.99 per year. Sony placed PlayStation Now's subscriber count at 1M at the end of October 2019 — a 40% increase from 700,000 subscribers 6 months earlier.
EA Access offers subscribers early trials and 10% off purchases. Estimates put the total subscriber count for EA access at 5M across PC, Xbox One, and PS4.
Even major tech companies that aren't primarily known for gaming are following suit. In September 2019, Apple introduced its own gaming subscription, Apple Arcade, which is playable only on Apple hardware and has a selection almost entirely made up of exclusive games.
The same month, Google introduced Google Play Pass, which grants subscribers access to 350+ games for $4.99 per month.
The takeaway: Subscription business models' success in gaming highlights what powerful value propositions selection and variety are for consumers. The appeal of the ability to discover and try out a variety of games without the financial burden of having to buy them all individually is exactly where the subscription business model thrives.
Health & wellness: Subscriptions building mutually beneficial relationships
The idea of access rather than ownership has particular relevance in the health and wellness space. Healthcare providers are exploring how subscription services might offer a solution that lowers point-of-service cost and reduces the load on individual providers.
One example of a subscription-based approach to healthcare is MDVIP. Rather than covering visits through a combination of insurance and out-of-pocket expenses, MDVIP members pay a flat yearly fee (ranging from $1,650 to $2,200) that covers preventive care and diagnostic tests, as well as a variety of value-added services like meal plans, fitness plans, and 24/7 physician availability.
MDVIP illustrates how a subscription model solves problems on both sides of the interaction.
Under a subscription model, a physician can earn the same amount as they would by working under a traditional model — and sees only about one-sixth the number of patients. For doctors, this means lessening case loads without losing money. For patients, this means more personalized care and reduced up-front costs, because they pay gradually throughout the year rather than all at once at the point of service.
Subscription business models in the health and wellness space are not limited to in-person medical care. A growing collection of software and services are emerging, with the goal of improving users' physical and mental health.
In 2019, wearable tech company Fitbit launched its first paid subscription service, Fitbit Premium. The program provides "advanced insights" that go beyond those offered to all device owners; coaching tailored to address common health concerns, such as diabetes and weight management; and health and wellness reports that subscribers can share with their doctor.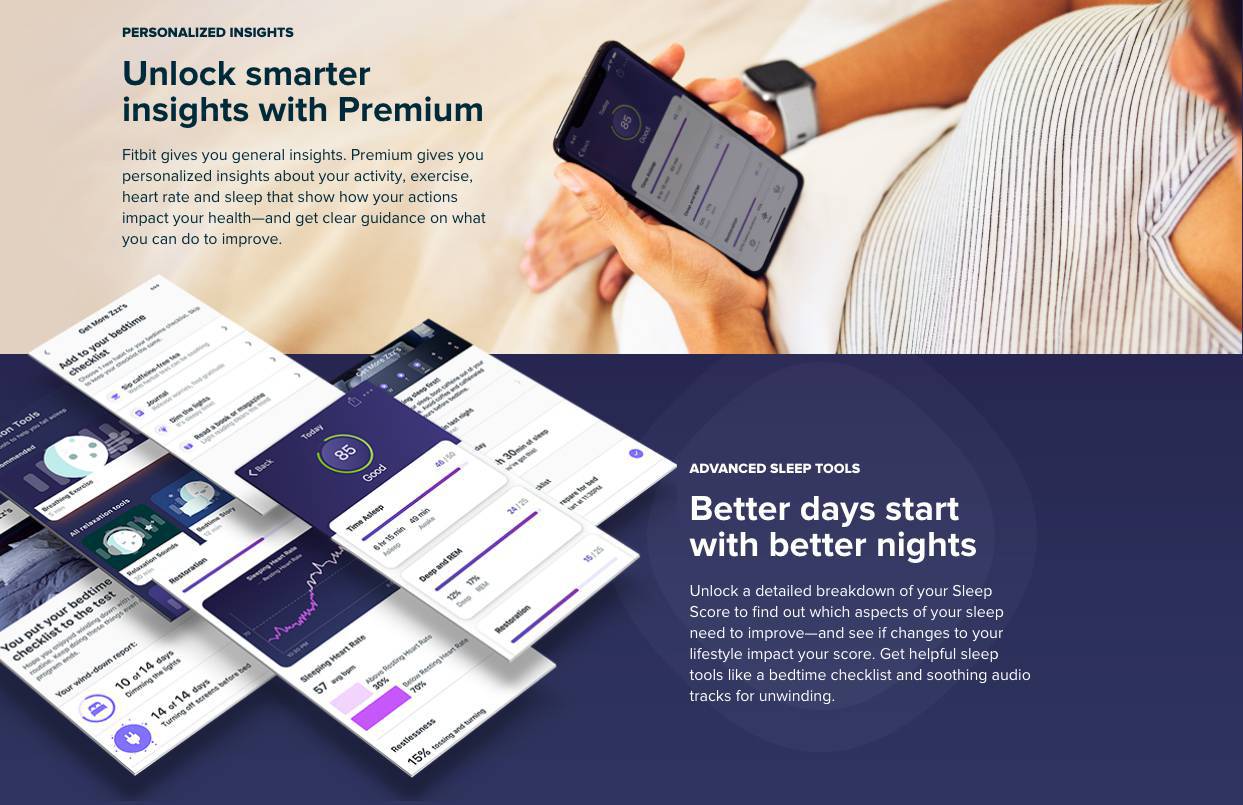 Source: Fitbit
Meanwhile, sleep-tracking app Sleep Cycle follows a freemium model, offering core features like intelligent wake-up and sleep analysis free of charge, while reserving certain advanced features — like sleep aid, snore detection, and heart-rate tracking — for paying subscribers.
Meditation app Headspace offers subscribers a full library of themed courses, as well as new daily meditations and sleep assistance, for $12.99/month or $69.99/year, down from its early pricing of $99.99. Headspace has been gaining traction with employers, as well: Starbucks announced in January 2020 that it was adding Headspace subscriptions to its list of employee benefits.
Another subscription service aiming to improve users' wellness is Happify, which provides personalized programs aimed at improving users' emotional health and happiness. Like Headspace, Happify is seeking greater market penetration through employers with its Happify Health program.
Happify and Headspace's moves into the workplace are part of a larger trend of health and wellness businesses seeking access to large groups of customers through employers. Benefits of employee wellness programs include reduced healthcare costs, higher engagement and productivity, greater job satisfaction, and higher retention — all things likely to appeal to employers looking to optimize their workforce.
However, the transition to subscription-based health care hasn't always been smooth. Online medical booking service Zocdoc discontinued its subscription offering in early 2019, opting to switch to a per-patient fee. In a letter to New York doctors explaining the decision, Zocdoc wrote:
"As we have grown, we have realized that our flat subscription fee is a financial barrier that excludes too many providers from participating in Zocdoc. Importantly, it also limits patients seeking care from finding providers. On Zocdoc, the total number of patient bookings a provider receives varies widely, but a flat subscription fee does not account for that."
The takeaway: Subscription healthcare services highlight how a subscription business model can provide value to stakeholders on both sides of an equation. In the case of subscription healthcare like MDVIP, patients get more personalized, attentive care, and providers get less hectic case loads. In the case of services like Headspace and Happify, employees gain access to wellness services while employers get the benefit of a calmer and more focused workforce.
Education & professional development: Meeting continuous customer needs
With the economy evolving at an accelerating pace, workers are facing more pressure to update their skills to stay in an increasingly global job market.
In one survey by West Monroe Partners, 55% of respondents agreed with the statement, "I need to learn new technologies to remain competitive in my skillset." Twenty-four percent of respondents in the same survey said, "The skillset needed in my role is becoming more complex."
For decades, that meant going back to school for a continuing education course or an advanced degree. But with the costs of higher education continuing to climb and student debt already at an all-time high, professionals and employers are seeking alternative models for education and training — and businesses are looking to subscriptions as a way forward.
Codecademy, a virtual platform that teaches computer programming skills, offers many of its courses free of charge; however, a subscription to the platform's Pro service gives learners a more focused learning experience that includes exclusive content.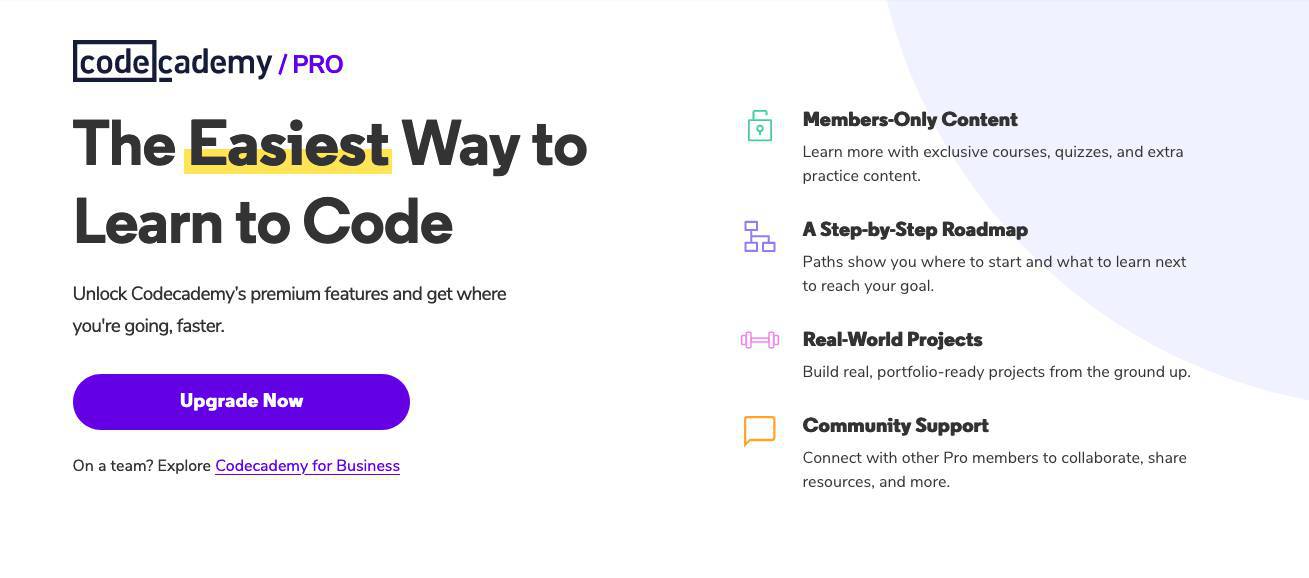 Source: Codecademy
Perhaps the biggest player in subscriptions for professional development is LinkedIn. The social network for professionals acquired e-learning startup Lynda in 2015 for $1.5B and rebranded it as LinkedIn Learning. For $19.99–$29.99 per month, LinkedIn Learning subscribers can choose from more than 15,000 expert-led "business, tech, and creative" courses.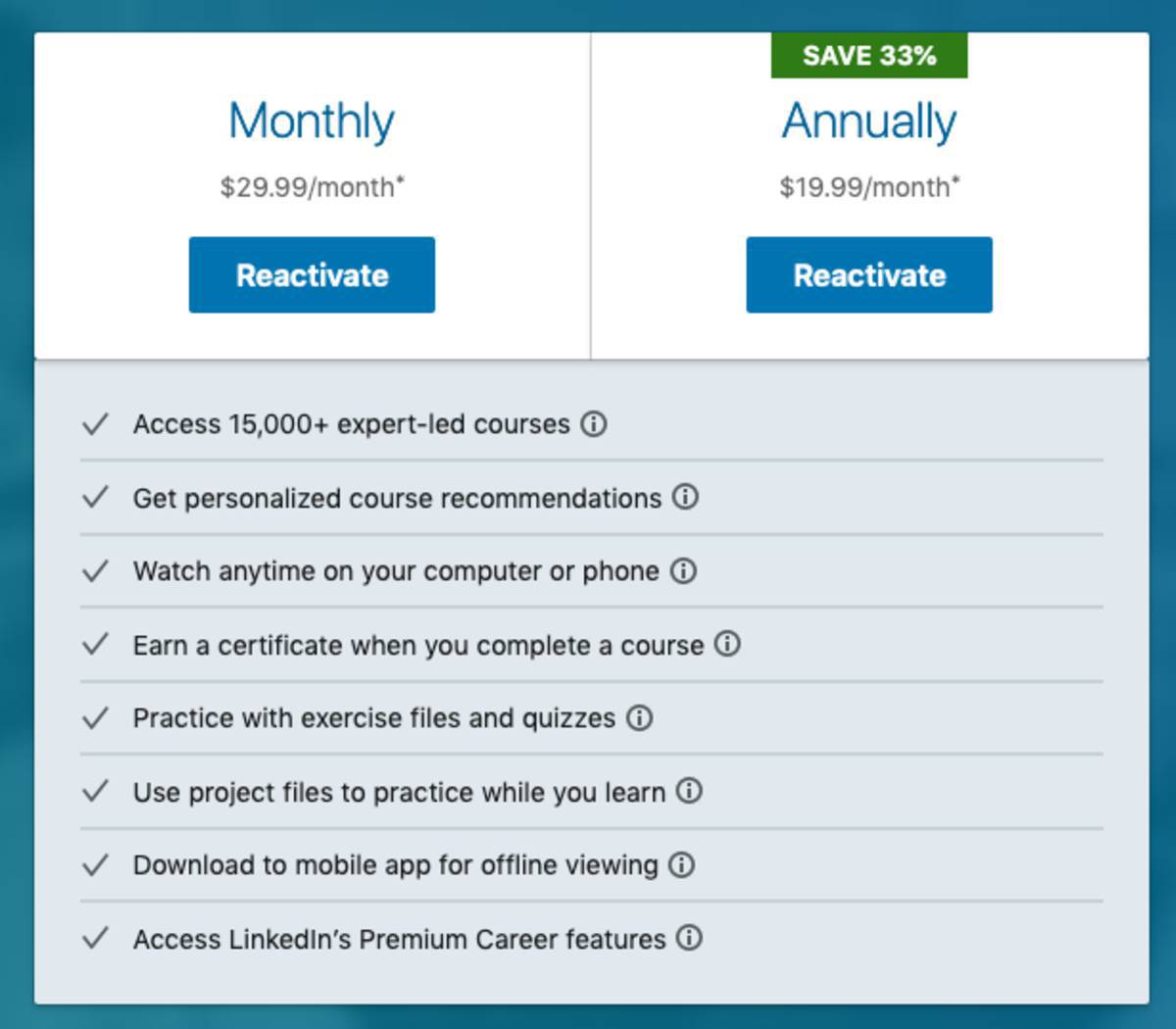 Source: LinkedIn
LinkedIn also partners directly with businesses to offer LinkedIn Learning courses to employees. The company website reports that 78% of Fortune 100 companies offer LinkedIn Learning.
Other companies offering learning-as-a-service include employee coaching platform Bravely, online educational platform Coursera (which now offers bachelor degrees), and language learning apps like unicorn company Duolingo, which offers a premium version of its app for a monthly charge.
Not all subscription businesses in the e-learning space are focused solely on professional development. For $15/month, MasterClass offers subscribers the opportunity to learn a variety of skills from top practitioners in their field. In addition to career and business courses, classes include TV writing with Shonda Rhimes, cooking with Gordon Ramsay, and tennis with Serena Williams.
The takeaway:  The subscription model's expansion into the professional development space shows how subscriptions work well for industries where customers need a continuing service. Businesses need to be able to train new employees continually, and offering professional development opportunities for employees has been shown to be essential to employee retention. With a subscription model, that service is "always on."
Home maintenance: Startups introduce supers-as-a-service
In the home maintenance space, companies are exploring ways to turn everything from home repairs to tree removal into a subscription service.
One company in this category is Super, which bills itself as "subscription care" for the home. Super fills the role of a superintendent for homeowners, offering on-call maintenance staff in exchange for a monthly subscription fee.
Super falls in the consumer sweet spot for subscription services on a few fronts. One way is cost: members pay a monthly or yearly fee, and Super covers the cost of home maintenance and repairs, from a broken refrigerator to a malfunctioning AC unit, that could otherwise cost homeowners hundreds or even thousands of dollars. Super also offers homeowners convenience, eliminating the need to find and vet service providers individually, which can involve a lot of time and uncertainty.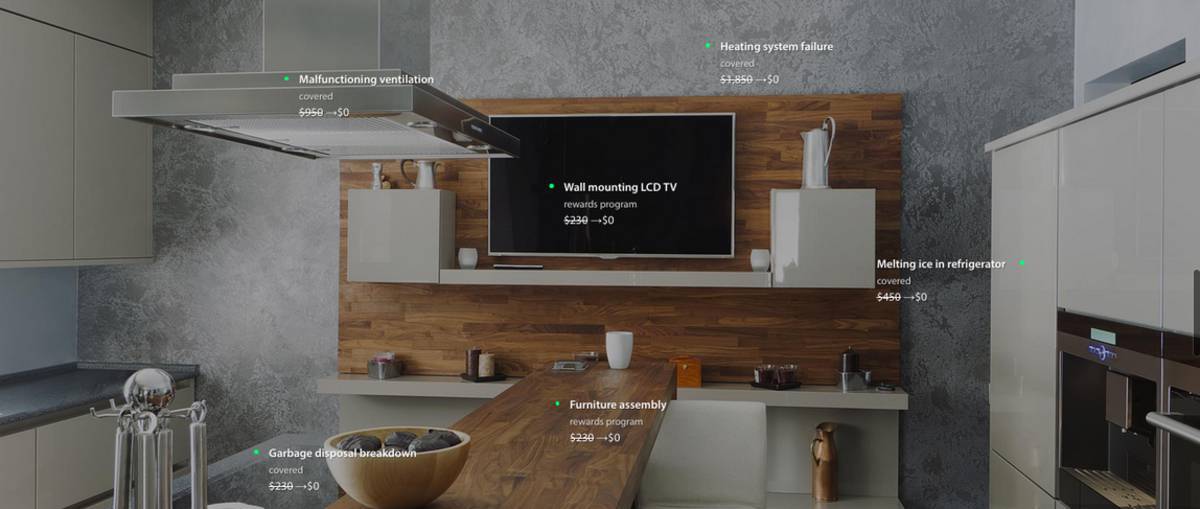 Source: Super
Another startup bringing the subscription approach to home maintenance is Handy. From its core service of house cleaning, Handy has expanded into a range of home maintenance services, from tree removal to furniture assembly. The startup has also partnered with retailers to sell its services, with companies such as Walmart making it possible for online shoppers to add Handy's in-home installation services at checkout.
Handy's move toward subscriptions comes in the wake of the failure of another high-profile startup in the space: Homejoy, which foundered after the service "pushed relentlessly for high growth numbers instead of fixing its poor retention rates," according to Forbes. Just 15%-20% of Homejoy customers booked a second cleaning within a month — not nearly the retention rate needed to make the model work.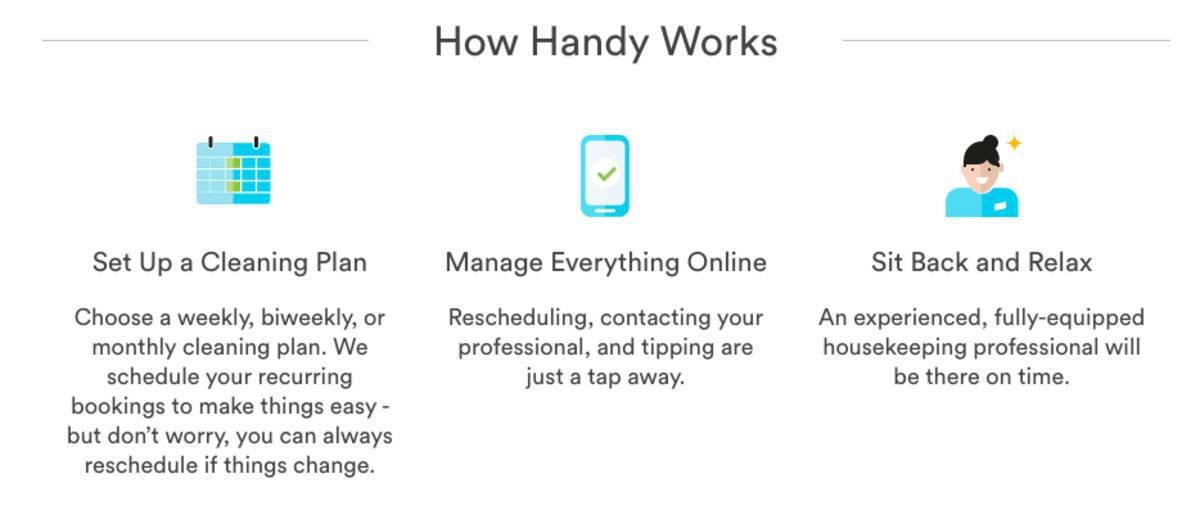 Source: Handy
By adopting a subscription model, Handy sidesteps Homejoy's customer retention problem, as customers are prompted to set up recurring appointments. With an expectation of recurring service built in from the outset, Handy has seen better retention rates than Homejoy: 35% of Handy customers book a second cleaning within a month, and the number reaches 45% in larger markets.
"Our product is almost entirely a recurring business product — the economics are all about driving repeat use. That's so, so important in this category."  — Handy CEO Oisin Hanrahan
The takeaway: Frequency of use is commonly thought of as the key to a "sticky" subscription service, but the success of subscription models in the home maintenance space underscores the value of convenience. Sometimes, the peace of mind that comes with knowing that a problem will be taken care of with minimal time and effort on your end is worth the price — even if you're not using the service on a constant basis.
Lessons from the expanding subscription economy
Businesses in the above industries that have found success with subscription models have tapped into principles of the subscription economy that go much deeper than price. Here are a few of the most important things they teach us:
Reclaim or re-engage customers: Several of the businesses and industries above show that adding a subscription model can help bring fleeing customers back into the fold, or increase engagement when an audience is flagging.
Car companies are using subscriptions to retain drivers, if not owners; and game publishers are using subscriptions to expand payership for their games, even if they no longer buy the games outright.
For those worried that younger consumers in particular are fleeing their industry, exploring a subscription model as a means of reducing commitment could be well worth the try.
Synergize stakeholders: In many of the industries above, businesses are finding success by using the subscription model to balance interests between multiple communities of stakeholders: employers and employees; healthcare providers and patients; and gamers and game publishers. It's worth considering what other sectors present a similar balance to strike.
Not all value is visible: In product-based subscription businesses, as well as the traditional buy-sell paradigm, the value-for-value exchange is clear-cut: pay money, get the product. In the service-based subscription economy, that dynamic isn't always so simple.
As the implementation of subscriptions in home repair, air travel, and video games show, sometimes just the knowledge that the service is there is worth the price of membership. Each of these businesses promises a service in addition to some higher-order practical or psychological benefit, whether that's saving time with air travel, eliminating the effort and responsibility of owning a car, or providing greater selection of goods.
What's next in service subscriptions
The subscription economy is growing, and the opportunities it presents aren't just limited to SaaS products and subscription boxes. As the logic of the subscription economy continues to expand into new industries, it's likely we'll see even more unexpected verticals adopting service subscription models in the years to come.
Some likely candidates include:
Elder care: As the Baby Boomer generation ages, ensuring their comfort and care is a growing problem, both personally and for the economy at large. "Grandkids on demand" service Papa already connects older adults with college students for help with transportation, chores, and technology on an on-demand basis, while Umbrella focuses on home help. These companies and others could introduce subscription models as a way of ensuring consistent service and convenience to their populations of older customers.
Camping: Revenue from camping equipment sales topped $2.5B in 2018. But in the spirit of "access, not ownership," introducing a subscription model could help the industry expand its reach still further to those who want to enjoy the experience of camping, but are unwilling or unable to buy equipment of their own.
Camping is particularly popular among millennials, who are already a prime subscription demographic, and there are currently several product-based subscription boxes in the camping space. Meanwhile, property is already being commoditized and modularized for camping via services like Hipcamp — it's reasonable to imagine that subscription campsites might not be far behind.
Skincare & nutrition: Skincare and nutrition are next logical steps for companies looking to offer a wellness-focused subscription service. Skincare company Atolla expands its subscription service beyond the typical replenishment model by offering subscribers personalized serums based on their individual skin measurements. In the nutrition space, Lumen pairs a hardware device that assesses the customer's metabolic levels with personalized meal plans calibrated to subscribers' unique needs. In a similar vein, Little Spoon provides custom baby food formulated to a baby's individual nutritional needs.
Fashion & apparel: Rent the Runway was the first to validate that the "access instead of ownership" model best exemplified by Netflix's original DVD rental business could be applied to fashion — with significantly less risk of obsolescence, since there's no digital alternative to clothing. The clothing rental service became a unicorn in 2019 and has launched a number of new services, including athleisure and maternity rental services. Le Tote is following a similar model, offering members the option to either wear and return products or purchase items they love for up to 50% off the retail price.
If you aren't already a client, sign up for a free trial to learn more about our platform.