After suffering heavy losses in 2020, SoftBank Group has seen record profits in 2021 and is on pace to triple its investment volume this year. We take a look at where the investor is placing its bets on the future of technology.
SoftBank Group, headed up by Masayoshi Son, has made enormous and varied bets on the future. 
It has ratcheted up its investment activity since 2017, when it launched its first Vision Fund, which sized up at nearly $100B — the largest tech-focused investment fund ever. In 2019, the firm launched a $5B Latin American Fund, as well as a second Vision Fund, which has since grown in size to roughly $30B.
SoftBank's capital firepower has helped it become the #2 unicorn investor in the world. At the same time, it has faced intense scrutiny with the high-profile challenges at portfolio companies like WeWork and Uber. In the fiscal year ending March 2020, SoftBank disclosed a loss of nearly $18B from its Vision Fund 1, with almost $10B in losses coming from WeWork and Uber alone.
But SoftBank has wasted no time in seeking returns elsewhere. 
It's starting to see big payoffs from some of its bets, such as South Korea-based e-commerce giant Coupang, which went public in March 2021 at a $56.6B valuation. Despite 2020's heavy losses, SoftBank's profit grew to $46B in the fiscal year ending March 2021 on the back of its Coupang investment — setting a record for the largest profit ever for a Japanese company.
So far in 2021, SoftBank is investing in a record number of deals. It's on track to reach 197 deals by year-end — nearly 3x its previous record in 2019.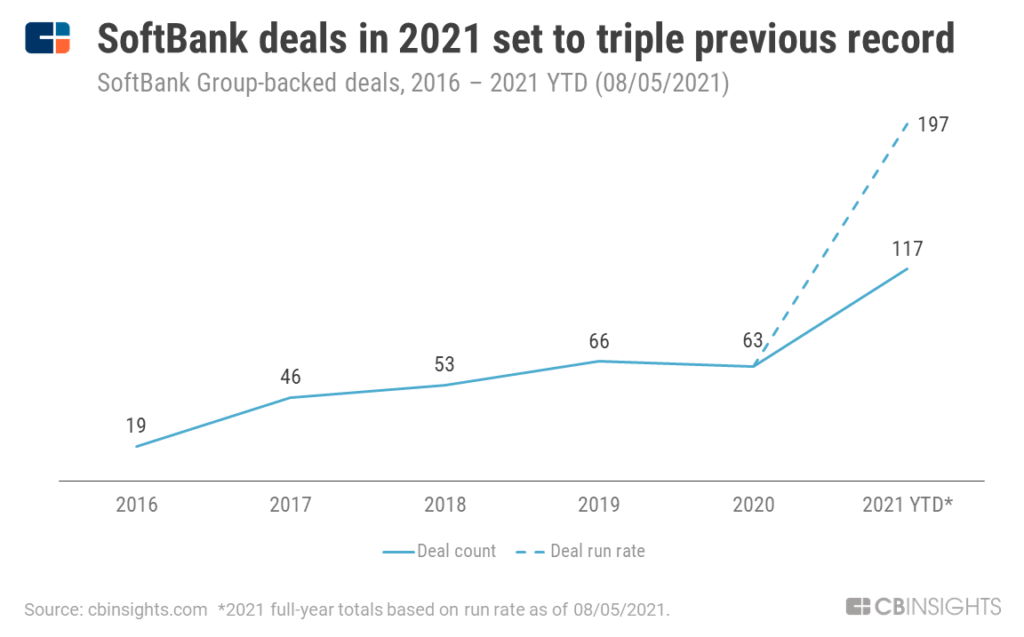 Meanwhile, the average deal size has decreased steadily in the past few years, and the firm is cutting checks to many first-time investments as it aims to diversify its portfolio and build out a wide-sweeping ecosystem of disruptive tech brands.
Download the full report for a look at SoftBank's equity investments in 2021 to see what they say about the firm's current investment strategy — and future vision.
If you aren't already a client, sign up for a free trial to learn more about our platform.