After suffering heavy losses in 2020, SoftBank Group has seen record profits in 2021 and is on pace to triple its investment volume this year. We take a look at where the investor is placing its bets on the future of technology.
SoftBank Group, headed up by Masayoshi Son, has made enormous and varied bets on the future. 
It has ratcheted up its investment activity since 2017, when it launched its first Vision Fund, which sized up at nearly $100B — the largest tech-focused investment fund ever. In 2019, the firm launched a $5B Latin American Fund, as well as a second Vision Fund, which has since grown in size to roughly $30B.
SoftBank's capital firepower has helped it become the #2 unicorn investor in the world. At the same time, it has faced intense scrutiny with the high-profile challenges at portfolio companies like WeWork and Uber. In the fiscal year ending March 2020, SoftBank disclosed a loss of nearly $18B from its Vision Fund 1, with almost $10B in losses coming from WeWork and Uber alone.
But SoftBank has wasted no time in seeking returns elsewhere. 
It's starting to see big payoffs from some of its bets, such as South Korea-based e-commerce giant Coupang, which went public in March 2021 at a $56.6B valuation. Despite 2020's heavy losses, SoftBank's profit grew to $46B in the fiscal year ending March 2021 on the back of its Coupang investment — setting a record for the largest profit ever for a Japanese company.
So far in 2021, SoftBank is investing in a record number of deals. It's on track to reach 197 deals by year-end — nearly 3x its previous record in 2019.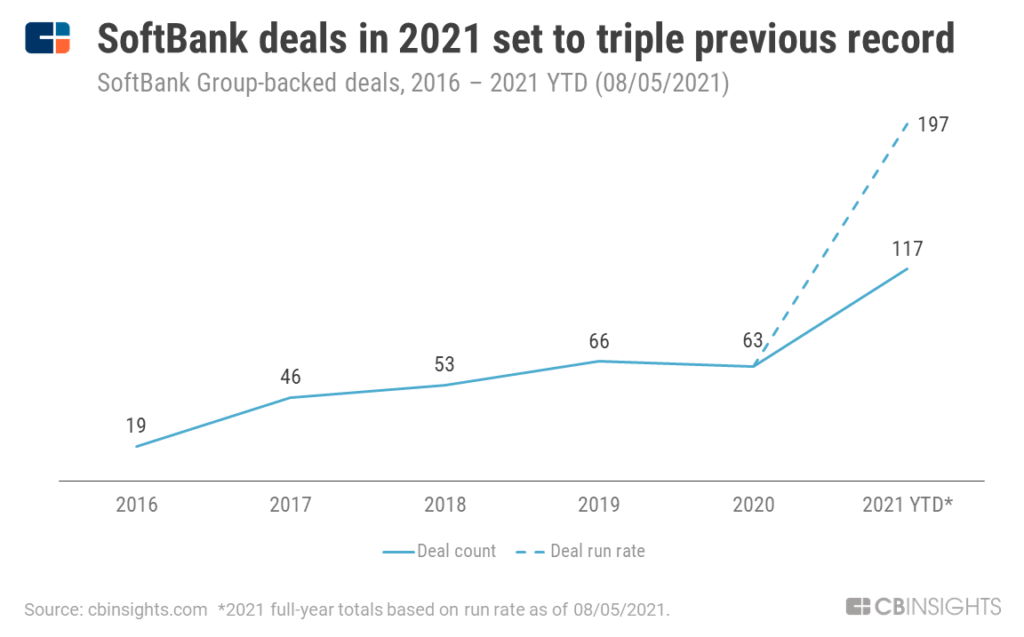 Meanwhile, the average deal size has decreased steadily in the past few years, and the firm is cutting checks to many first-time investments as it aims to diversify its portfolio and build out a wide-sweeping ecosystem of disruptive tech brands.
Below, we take a detailed look at SoftBank's equity investments in 2021 to see what they say about the firm's current investment strategy — and future vision.
Our analysis focuses on equity investments made in 2021 (as of 8/5/2021) by SoftBank Group only, excluding other SoftBank investing arms. Our analysis includes investments in companies that have since exited. Bubble size and proximity to center correspond to number of investments.
We've categorized companies according to top focus areas. These designations are not exhaustive or mutually exclusive. Many of SoftBank's portfolio companies operate across a variety of different industries.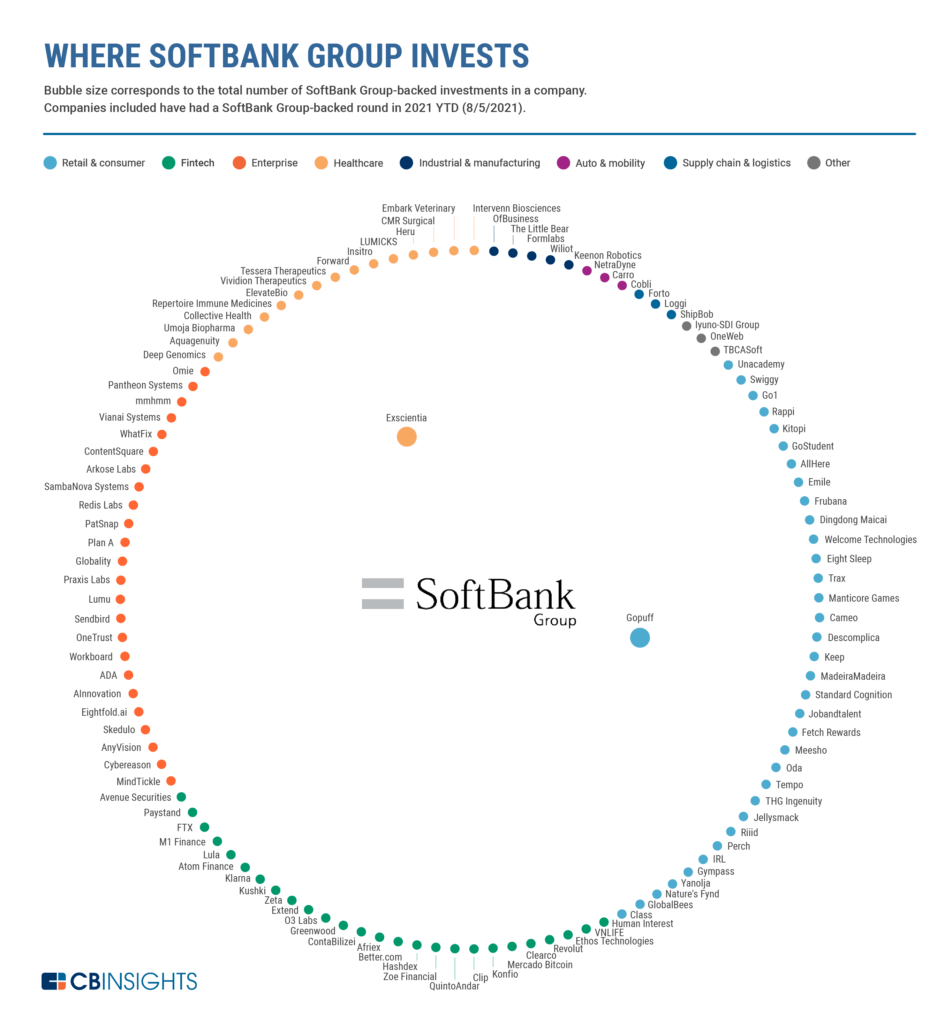 Retail & consumer
SoftBank has invested in 35 companies in the retail & consumer sector in 2021 so far, making it the most popular sector among its 2021 investments.
Key focus areas include:
Food & grocery delivery
SoftBank has placed wide-ranging bets on the consumer delivery space to complement its existing stakes in ride-hailing & delivery platforms Uber and Didi Chuxing. 
SoftBank has backed on-demand convenience store Gopuff across 2 rounds this year: its $1.15B Series G in March and its $1B Series H in July. Gopuff and SoftBank portfolio company Uber also recently announced a partnership to allow Uber users to access Gopuff's services across the US. 
SoftBank has also backed a number of food delivery apps across regions in 2021, including India-based Swiggy, Colombia-based Rappi, China-based Dingdong Maicai (which went public in June), Norway-based Oda, and UAE-based Kitopi, a ghost kitchen that prepares and delivers food on behalf of restaurants.
E-commerce
Historically, some of SoftBank's biggest winners have been pioneers in the e-commerce space, starting with Alibaba and extending to Coupang's recent public debut. 
SoftBank's e-commerce bets include marketplaces like hotel accommodations platform Yanolja and home goods site MadeiraMadeira. It has also backed companies like Perch and GlobalBees that acquire and scale third-party brands on Amazon and other retailer marketplaces, also known as "Amazon market jockeys."
Fitness & wellness tech
SoftBank has backed Gympass, which provides access to in-person gyms, across multiple rounds since 2019. 
More recently, as remote workout options have grown in usage, the firm has backed digital fitness brands like fitness community Keep and at-home gym Tempo.
Edtech
SoftBank has backed a slew of edtech startups in 2021, from AI tutor Riiid to online education platform Unacademy to employee upskilling company Go1. 
Many of these edtech companies digitize traditionally in-person services like tutoring or test prep — a use case that accelerated tremendously during the pandemic. 
Fintech
The fintech sector represents the second-most frequent investment target for SoftBank in 2021, with 26 fintech companies garnering deals. 
Key focus areas include:
Financial services for businesses
A number of SoftBank's fintech portfolio companies are focused on providing financial services for enterprises. Konfio, for instance, provides business credit and lending. Human Interest offers affordable and transparent 401K plans for small- and medium-sized business (SMB) employers. Clearco provides growth capital for small businesses.
Blockchain & crypto fin services
The largest fintech deal SoftBank has backed in 2021 is cryptocurrency exchange FTX's $900M Series B-II in July.
SoftBank has also backed a number of other crypto-focused vendors, including investment firm Hashdex, Brazil-based exchange Mercado Bitcoin, and digital asset wallet O3 Labs.
Digital banking
The digital banking space has grown increasingly stratified in recent years as more challengers banks emerge to target different groups and needs. 
SoftBank's investments in the space have been accordingly varied. The firm joined Revolut's latest funding round, which valued the challenger bank at $33B. SoftBank also backed segment-focused challenger bank Greenwood, which aims to bring banking to underserved minority communities.
This year, SoftBank has also backed wealth management app M1 Finance, banking-as-a-service provider Zeta, and money transfer app Afriex, which received one of the few seed investments SoftBank has made this year.
Enterprise
In 2021, SoftBank has invested in 24 companies in the enterprise category, which includes companies offering IT, cloud, cybersecurity, HR, developer, and general enterprise software solutions.
A number of these companies aim to improve how businesses use artificial intelligence. For instance, SambaNova Systems, which was valued at $5B in its Series D round in April, develops software and hardware for AI in business applications. Meanwhile, AI 100 winner AInnovation brings AI business solutions to clients in retail, finance, and manufacturing.
SoftBank's enterprise investments also include cybersecurity companies like Cybereason and Lumu.
Healthcare
In 2021 so far, SoftBank has invested in 16 healthcare companies across a range of applications.
One focus area is drug discovery. Companies like Insitro, Deep Genomics, and Exscientia (which raised both a $225M Series D led by SoftBank and a $300M controvertible note from the investor this year) use AI to accelerate drug R&D. (We surveyed each of these vendors in our evaluation of AI drug discovery platforms in healthcare.)
Among SoftBank-backed healthcare companies, robotic surgery company CMR Surgical raised the largest round — a $600M Series D in June, which SoftBank led.
Other categories
SoftBank has also backed companies outside of the above sectors, although to a lesser extent. These include: 
Industrial & manufacturing
In 2021, SoftBank has backed 5 companies here, including 3D printing company Formlabs, as well as The Little Bear (aka Xiaopangxiong), a B2B renovation materials marketplace.
Auto & mobility
The firm has backed 3 companies in this sector in 2021, including Singapore-based used car marketplace Carro and Brazil-based fleet tracking platform Cobli.
Supply chain & logistics
SoftBank has backed 3 supply chain & logistics companies in 2021, including full-service logistics firm Forto (fka FreightHub) and shipping service Loggi.
Other
Other companies backed by SoftBank operate in areas like media & entertainment (Iyuno-SDI Group) and satellite connectivity (OneWeb).
---
Below, find our previous analysis of SoftBank's investment strategy from January 2018 – February 2020.
Our Business Social Graph below includes all equity investments since 2018. Bubble size and proximity to the center indicate the total number of rounds with SoftBank participation. Categories are not mutually exclusive. We included exited companies in the analysis. Click to enlarge.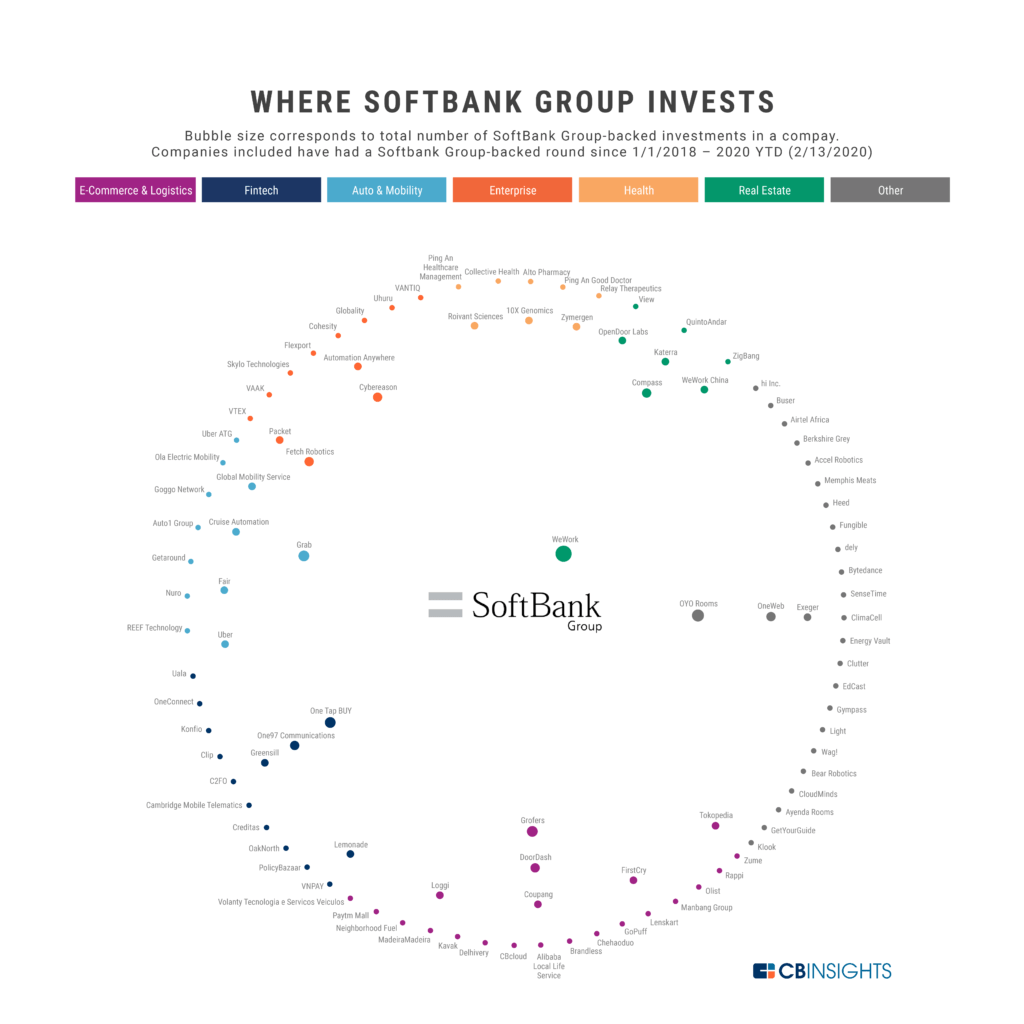 E-commerce & logistics
SoftBank has invested in 22 companies within the e-commerce & logistics categories since 2018. Investments into e-commerce appear to be more regionally focused than other industries. The investor identifies a key player within each geographical location and floods them with capital. For example, it has invested in Coupang (South Korea) and Tokopedia (Indonesia), which are both market leaders in their respective countries.
SoftBank also has investment in e-commerce companies with a relatively narrow focus. For example, FirstCry is an India-based baby product site, which received a $300M Series F from SoftBank in two tranches, including a $150M round in February 2020.
Notably, portfolio online retailer Brandless recently announced it would cease operations and lay off 90% of its staff due to the highly competitive D2C retail market. This is the first reported startup death of a company funded via SoftBank's Vision Fund.
On the logistics front, the firm has invested in a wide variety of startups from food delivery apps like DoorDash to freight trucking company Manbang Group.
In late 2018, SoftBank invested $375M into Zume Pizza, a food delivery company that used autonomous vehicles to make pizza en route to delivery. Upon its investment, the investment firm saw the company as a play on the future of logistics. However, in January 2020, Zume announced it had shuttered its pizza-making business and had pivoted into making sustainable packaging for pizza boxes. Zume had raised nearly $450M before pivoting.
SoftBank has also invested in major food delivery startups fighting for market share in Latin America. The 3 companies — Uber, Rappi, and Didi Chuxing — have received a total of $20B in SoftBank funding and are all reportedly using that capital to compete against each other in these markets.
Fintech
SoftBank has invested in a number of different fintech and insurance companies. For example, it participated in a $100M Series D round to Mexico-based online lending startup Konfio in December 2019, and invested a total of $1.5B into working capital financing company Greensill in 2019. In May 2019, SoftBank participated in a $100M Series C round to Mexico-based Clip, a business payments platform that provides small businesses with the PoS hardware to accept card payments.
Many of these fintech investments are focused on Latin America in part due to the $5B Innovation Fund, which targets tech companies in the region. Latin America was one of the fastest-growing regions for fintech funding in 2019. (Check out over 180 fintech startups in the region in our LatAm fintech market map.)
On the insurance side, SoftBank has invested in PolicyBazaar, an India-based insurance comparison platform, and Lemonade, a renter's insurance app.
SoftBank also has a minority stake in One97 Communications, the parent company of India's payment app Paytm.
Auto/mobility
SoftBank has invested in 12 automotive & mobility companies in the past 2 years, including ride-hailing giants Uber and Grab.
But SoftBank's auto bets go far beyond ride-hailing.
The company has poured billions into autonomous startups. In February 2019, the firm invested $940M in Nuro, an autonomous vehicle startup that is currently focused on the delivery of goods like groceries. Nuro has a very specific use case for its technology — delivering groceries — but it could eventually expand to broader use cases like autonomous long-haul trucking and logistics. Softbank has also participated in a $1B corporate minority round with Toyota and DENSO to Uber's autonomous driving unit — Uber ATG — when it spun out from the ride-hailing giant before the company's IPO.
Enterprise
Another key focus for SoftBank is enterprise. The investment vehicle has put money into 12 companies that primarily bring efficiencies to other businesses.
Automation Anywhere is a robotic process automation (RPA) startup that helps businesses automate the more repetitive functions of a workplace, from data entry to customer service. RPA is a budding industry that promises to increase efficiency and decrease human error, and has the potential to reduce significant back office costs for many industries. SoftBank invested $300M into the company in November 2018 and participated in its $290M Series B that valued Automation Anywhere at $6.8B in November 2019.
Fetch Robotics, another SoftBank portfolio company, provides companies with on-demand robotics automation for inventory management, among other things. SoftBank participated in a $46M round into the company in July 2019.
Health
Since the beginning of 2018, SoftBank has invested in 8 healthcare companies spanning from biotech to pharmacies to health insurance.
It participated in a $250M Series D in January 2020 to online prescription delivery startup Alto Pharmacy, which valued the company at $1B. It also saw a successful healthcare exit in September 2019 with the IPO of biotech company 10X Genomics. SoftBank participated in the company's $50M Series D in April 2018 — the company's public debut valued the company at $3.6B.
Other healthcare investments from the firm include biotech company Roivant Sciences, drug discovery firm Relay Therapeutics, and health insurance startup Collective Health.
Real estate
SoftBank's most high-profile real estate-based investment is the $9.5B+ it has poured into WeWork. It has invested in WeWork through 5 equity rounds, not including convertible notes, secondary market offerings, and loans (which amount to $6B+), and has led at least one deal into each of the coworking giant's 3 Asia-Pacific-based offshoots: WeWork Japan, WeWork China, and WeWork Pacific (only 1 of which has happened since 2018).
The investments into the coworking giant helped make WeWork one of the most valuable private tech companies in the world, at $47B. However, within 9 months of achieving that valuation, the company ran into a slew of issues, causing the valuation to drop by over 80% to $8B and the company to hold its plans to go public.
Outside of WeWork, SoftBank has invested in construction startup Katerra, eco-friendly glass maker View, and real estate platform Compass, among others.
Other areas where we see SoftBank making a number of bets include travel, energy, and telecommunications.
---
This report was created with data from CB Insights' emerging technology insights platform, which offers clarity into emerging tech and new business strategies through tools like:
If you aren't already a client, sign up for a free trial to learn more about our platform.